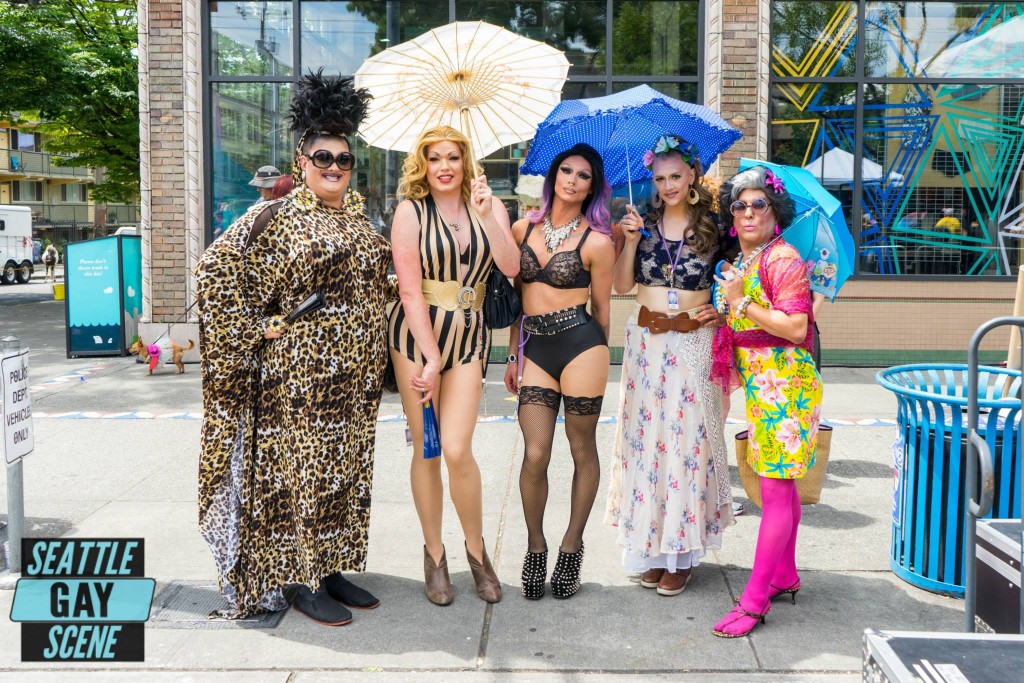 For a year still marred by the horrors of Covid-19 and living lives that still must feature social distancing and following health mandates like providing proof of vaccination and wearing masks while enteracting with other people, Seattle has still managed to produce rather a lot of events to celebrate LGBTQ Pride. The normal "official" weekend we get all "Pride-y" in Seattle is the last weekend in June and while there wasn't much going on, at least for in-person events, we still managed to have an event or two to attend, even if they were plagued with controversy such as was the case with the Capitol Hill Pride event (see long story HERE!)
Then, we had an official event from one of the two major official Seattle LGBTQ Pride event producers that took place over Labor Day Weekend in September. Seattle Pridefest staged a Broadway LGBTQ street fair that garnered a nice turnout and had cooperative weather.
NOW, Seattle's OTHER LGBTQ Pride producing non-profit, Seattle Out & Proud aka "Seattle Pride" aka "The People Who Put On The Annual Parade in Downtown Seattle On The Last Sunday In June" announced they were jumping on the live event bandwagon for 2021 as well. The group had produced an online festival of entertainment back in June, for the second year in a row, but were determined to give the city something "live" to do this year. Even if it meant holding a public outdoor event in October, not the most cooperative of months when it comes to weather of the dry and not cold variety.
Thus, we have ALL TOGETHER NOW to attend this Saturday, October 9th, an outdoor gathering at Volunteer Park which was the traditional home for Seattle's outdoor Pride events for many, many years until everything moved downtown and to Seattle Center circa 2006. It's your usual kind of Pride festival featuring live entertainment on a stage hosted by community drag queens with various booths and food trucks and 21st Century innovations like a video booth where you can tell your coming out story (for a special community project) or a 360 degree photo booth.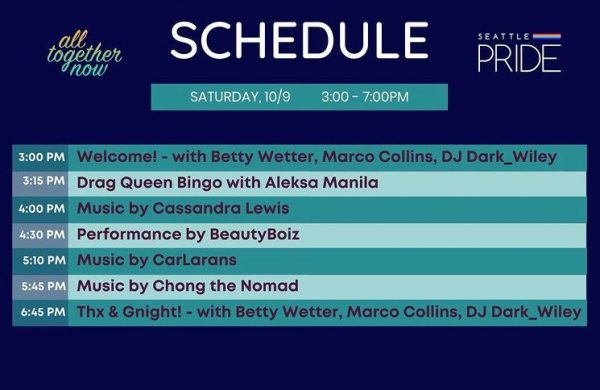 "All Together Now" is rather an ironic title for this event…you would think that Seattle Out and Proud, who are producing THIS event, could have partnered up with Seattle PrideFest who produced the September event to have one mega celebration (like they actually do normally in June where one group does the parade and the other does the festival) but Seattle, being uniquely odd and prone to being bassackward when it comes to doing things, of course must have TWO different groups competing for our Pride attention every year. Which is ridiculous but…I digress, as usual.
Here is the press release from Seattle Pride with ALL the details you need about what to expect from this Saturday's event. We're assuming it's happening regardless of weather (forecast is, not surprisingly, set to feature a high around 55 with a 40% of rain and cloudy for most of the day).
Which means….Dress warmly! Wear Boots! Bring an Umbrella! (Yes…we're Team Umbrella here! WHY get soaked if you don't have to?)
Seattle Pride Announces Programming for
LGBTQIA+ In-Person Fall Celebration
All Together Now on Saturday, Oct. 9th
Event will feature musical headliner Chong the Nomad, Drag Queen Bingo, and more!
SEATTLE – Seattle Pride, organizers of the LGBTQIA+ fall celebration event, All Together Now at Volunteer Park on Capitol Hill (3 p.m. – 7 p.m. on Oct. 9) today announced the programming featuring lots of food, drink, fun and games, and a can't-miss lineup of LGBTQIA+ performers.
Headlining the free event is Seattle-based producer, DJ, and artist Chong the Nomad who will be sharing the stage with local favorites including DJ dark_wiley, CarLarans and Cassandra Lewis, alongside BeautyBoiz presented by Tito's Handmade Vodka. The show will be hosted by KEXP-on air host Marco Collins and drag queen favorite Betty Wetter.
The event will also feature a crowd favorite, Drag Queen Bingo, presented by Jack Daniel's Tennessee Fire and hosted by Aleksa Manila. Bingo cards and daubers will be available for purchase at the event, with proceeds benefitting Seattle Pride.
Guests will also enjoy an alcohol garden offering Elysian Brewing, Mike's Hard Lemonade Seltzer, Ruben's Brews, Jack Daniel's Tennessee Fire, and Tito's Handmade Vodka, and local food trucks including Dumpling Tzar, Full Tilt Ice Cream, Mobile Mayan, and Monster Dogs. Additional fun and games at the event include a 360-degree photo booth presented by T-Mobile, oversized Jenga, cornhole, and more.
An onsite COVID-19 vaccination clinic will also be made available by UW Medicine to provide vaccinations to people who have not yet received them.
In recognition of National Coming Out Day, community members will be invited to reflect on their coming out stories at a My Coming Out Story video booth at the event and online at in advance of the celebration, hosted by Seattle Pride in partnership with C89.5 and Three Dollar Bill Cinema.
"Sharing your coming out story is incredibly important for our community – regardless of whether that experience was painful or humorous or something else altogether," shared Marx. "We want our community to participate in sharing their coming out stories because it allows other folks in our community to live authentically, creating a safer space for us all."
The surely powerful coming out video testimonials will be treated with sensitivity and the respect they deserve, and will be archived at C895.org/Pride and compiled for a Seattle Pride YouTube channel release on Coming Out Day to generate empathy, create new advocates — and inspire others to come out. Folks can submit their coming out stories online in advance of the event at C895.org/Pride.
The fall celebration will also see the return of Seattle Pride's Vote with Pride campaign – which it launched last year – sponsored by Seattle Pride's Seattle Out & Proud Foundation to grow LGBTQIA+ voter registration and participation in the upcoming general election. The Vote with Pride booth will help attendees register to vote, educate themselves about the candidates with the new, online Seattle Pride Voter's Guide, and offer Vote with Pride campaign stickers and yard signs.
Masks are required for all attendees at this event. Proof of vaccination (both vaccination cards and cellphone photos of vaccination cards accepted) is required for event and alcohol garden entry; patrons unable to be vaccinated – regardless of age – can show proof of negative COVID PCR test within 48 hours of the event. Details regarding COVID safety precautions and requirements are available on the event webpage.
To make the event accessible to the larger community, ASL interpreters will be utilized for the stage performances.
For more information and to view the weekend's complete program schedule of featured performers, activities, and more, visit SeattlePride.org and follow Seattle Pride on Facebook, Instagram, and LinkedIn at @SeattlePride and on Pinterest and Twitter @OurSeattlePride.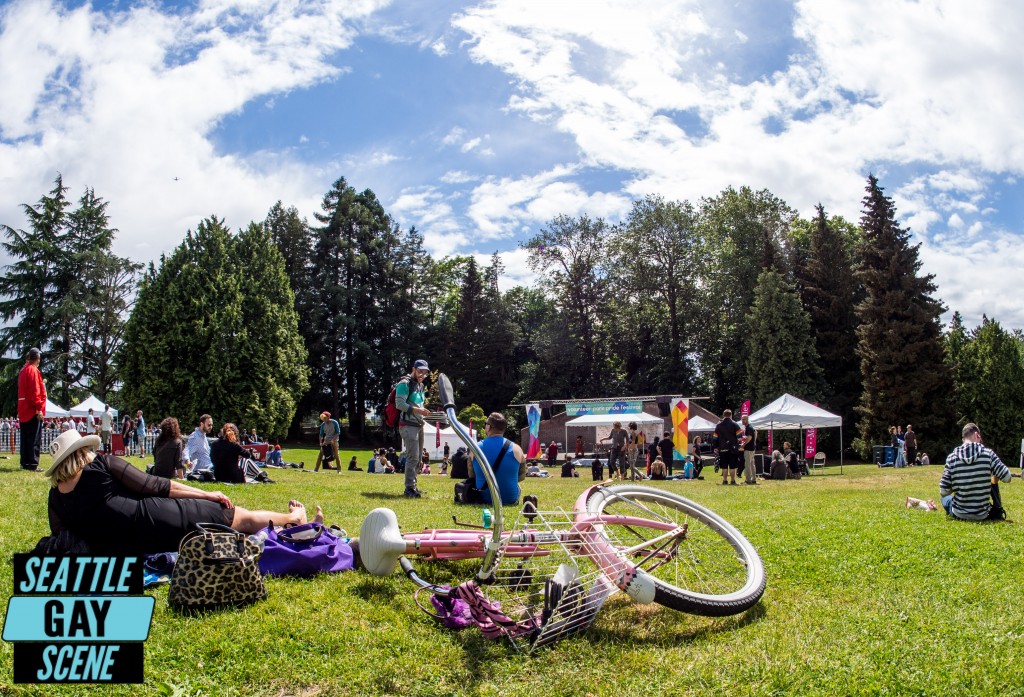 (Visited 1 times, 1 visits today)