at the Seattle Outdoor Theater Festival being held in Volunteer Park this Saturday and Sunday, July 9 and 10 with performances from: GreenStage, Theater Schmeater, Seattle Shakes' Wooden O Productions, Open Circle Theater, Last Leaf Productions, Young Shakespeare Workshop, Balagan Theatre, Wing-It Productions! AND, it's not all Shakespeare productions (for you Shakespeare-ophobes…); there's new plays mixed in there as well, with Arrh! A Dinosaur Ate My Spaceship from the Schmeater; In the Enchanted Forest from Open Circle and King of the Playground from the Balagan. AND-AND, for Shakespeare-ophiles there's performances of Macbeth, As You Like It, The Comedy of Errors, The Merchant of Venice, Antony and Cleopatra and The Tempest.
That's a lot of actors in tights…zexy!
Also remember that most of these shows can be seen in other venues all over the metro area in the weeks ahead. Check out the websites for the individual companies to find their schedules.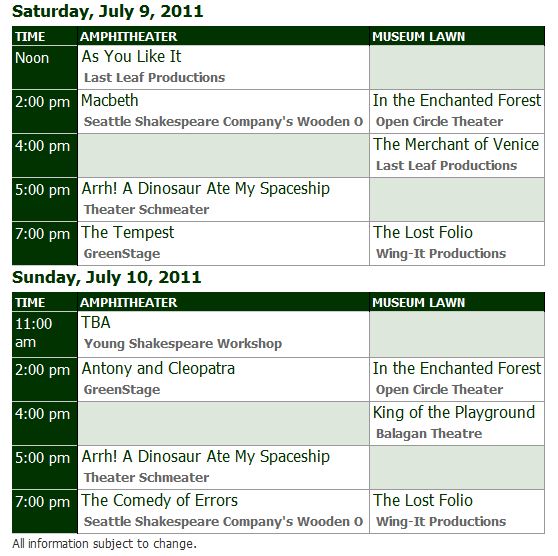 (Visited 1 times, 1 visits today)