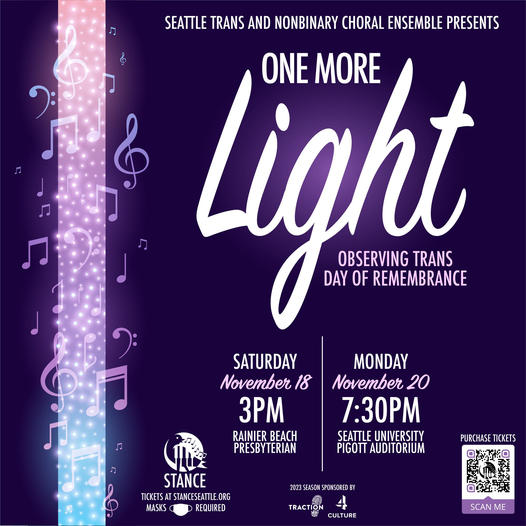 In honor of Transgender Day of Remembrance which occurs Monday, November 20th, the Seattle Trans and Nonbinary Choral Ensemble will stage two community concerts featuring music and poetry to honor and remember lost transgender lives. The first event will happen on Saturday, November 18th at 3pm at Rainier Beach Presbyterian Church, 9656 Waters Ave South and the second will be Monday, November 20 at 7:30 pm at Seattle University's Pigott Auditorium, 1002 E Marion Street.
Sliding scale tickets at www.STANCEseattle.org.
Masks are required for audience members and the Monday event will be livestreamed at www.youtube.com/@STANCEchoir
More info: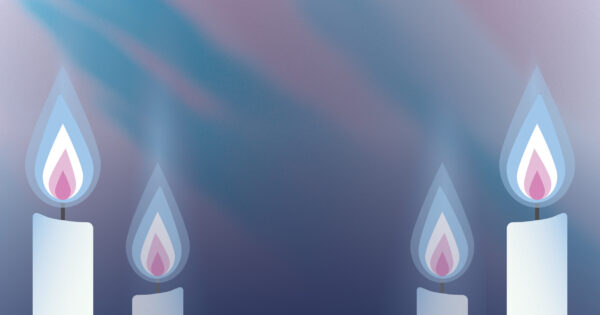 Seattle's only choir by and for transgender and nonbinary singers is excited to announce our second season's Trans Day of Remembrance concert: One More Light. This afternoon of music and poetry is dedicated to our fallen siblings and will balance our feelings of loss with our hope for a better future.

Doors open at 2:30. Performances begin at 3 pm at Rainier Beach on Saturday.

Doors open at 7:00. Performances begin at 7:30 pm for the Seattle University performance on Monday.
Thank you to our partners at Traction, Queer Power Alliance, and 4Culture for making this event possible.
Featuring the poetry of Subhaga Crystal Bacon.
Accessibility: Masks are required of all audience members to protect the safety of our immunocompromised and disabled community members. Thank you for your understanding. Our venue is wheelchair accessible and will be ASL interpreted. If you cannot attend in person, the event will be recorded and posted the following week.
Your support of our event will allow us to continue building community for the Seattle area gender diverse community.
(Visited 60 times, 1 visits today)