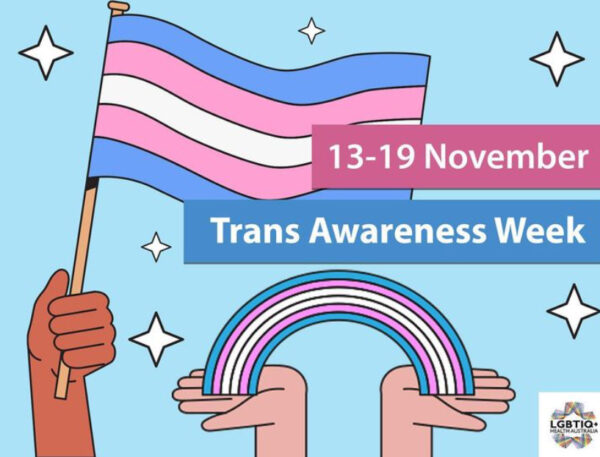 It's Trans Awareness Week and the fine folks at Diversity Alliance of Puget Sound have put together a calendar listing all the things going on this week in the area.
It all leads up to Transgender Day of Remembrance events happening this weekend. On Saturday, Nov 19th, Tacoma will hold a TDOR event from 3pm to 5pm at ALMA, 1322 South Fawcett Avenue. More info at the FB invite: https://www.facebook.com/events/458102579547891/
On Sunday, Nov 20th, a similar event will be held from 6pm to 9pm in Seattle at University Unitarian Church, 6556 35th Ave NE. For more information on that event, go to: https://www.facebook.com/events/419955883628727/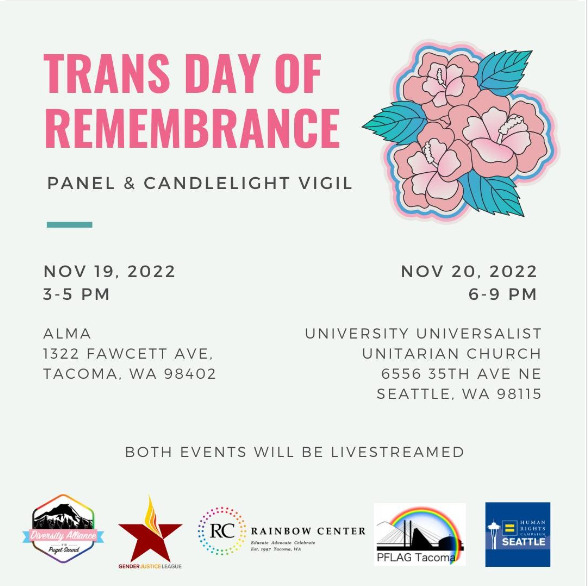 Via their Instagram, some info on this year's remembrance events:
This Week's Calendar:
SAT12November 12 @ 4:00 pm – 4:30 pm PST
Ben Gilbert Park 700 Market St, Tacoma, WA
Join DAPS and the City of Tacoma for their 2nd year in raising the Trans flag over the Municipal Building, with Mayor Victoria Woodards and Council Member Kristina Walker. MON14November 14 @ 11:00 am – 3:00 pm PST
Mapu Maia Clinic 812 Central Ave. N, Kent, WA
We are kicking off Trans Awareness Week with a Community Outreach event distributing safety kits, safe sex supplies, PPE, and more to Sex Workers across King County. Meet us at our Mapu Maia Clinic at 11am on November 14. We will then have a volunteer orientation and head to our outreach locations. If you would…
MON14November 14 @ 7:00 pm – 8:30 pm PST
Lambert House 1818 15th Ave, Seattle, WA
Join Lambert House for their weekly Trans Youth discussion group on Monday 11/14 from 7-8:30pm. Please email onlinegroups@lamberthouse.org for more information  
TUE15November 15 @ 6:00 pm – 7:00 pm PST
Join UTOPIA for their special Talanoa during Trans Awareness Week where they dive into conversations on intergenerational violence and trauma. They will talk about how violence and trauma has impacted our community and themselves while observing ways to overcome and heal. This is a virtual event broadcasting LIVE on the UTOPIA Facebook and YouTube pages.
WED16November 16 @ 10:00 am – 2:00 pm PST
Mapu Maia Clinic 812 Central Ave. N, Kent, WA
In collaboration with Swedish and ACRS, we are hosting a Name Change and Citizenship Clinic in honor of Trans Awareness Week. This clinic is open to Trans and Gender Diverse folks who are seeking name changes, gender marker changes, or obtaining citizenship. Some financial aid will be available. To schedule an appointment, please fill out…
WED16November 16 @ 10:00 am – 2:00 pm PST
UTOPIA 841 Central Ave N Suite C-106, Kent, WA
In collaboration with Swedish and ACRS, we are hosting a Citizenship Clinic in honor of Trans Awareness Week. This clinic is open to Trans and Gender Diverse folks who are seeking citizenship. Some financial aid will be available. To schedule an appointment, please fill out the form at bit.ly/LegalClinic11-16 *Name Change Clinic events are posted separately
WED16November 16 @ 6:00 pm – 9:00 pm PST
Mapu Maia Clinic 812 Central Ave. N, Kent, WA
In collaboration with Swedish and ACRS, we are hosting a Name Change Clinic in honor of Trans Awareness Week. This clinic is open to Trans and Gender Diverse folks who are seeking name and gender marker changes. Some financial aid will be available. To schedule an appointment, please fill out the form at bit.ly/LegalClinic11-16 *Citizenship Clinic…
THU17November 17 @ 2:00 pm – 7:00 pm PST
Mapu Maia Clinic 812 Central Ave. N, Kent, WA
In honor of Trans Awareness Week we are taking care of our minds, bodies, and souls with Navigating Ecosystems of Care. A day for our queer and trans community to thrive inside and out. Through our various partners, we will be offering mental health counseling, HIV/STI testing, COVID-19, Monkeypox, and Flu vaccines, HEP A, B,…
FRI18November 18 @ 12:00 pm – 3:00 pm PST
Duwamish Longhouse and Cultural Center 4705 W Marginal Way SW, Seattle, WA
Join UTOPIA as they memorialize our fallen trans siblings and plant a tree in remembrance. They will be gathering on the native lands of the Duwamish Tribe at the Duwamish Longhouse and Cultural Center on November 18, from 12pm-3pm. Let us plant trees so they will grow strong, bountiful, and proud like the way our…
FRI18November 18 @ 6:00 pm – 9:00 pm PST
Trinity Community Gym 3807 S Reith, Kent, WA
Youʻve all been waiting for it… The OFFICIAL screening of Le Nofo: The Rise to the Throne! Our sold out show of 2022 with over 750 attendees! Watch the whole show and hear from our cast and creators with some behind the scenes content. Bring your cozy chairs and pillows and letʻs laugh, cry, and…
FRI18November 18 @ 6:30 pm – 8:00 pm PST
Tacoma Historical Society 406 Tacoma Avenue South, Tacoma, WA
In honor of Transgender Awareness Week, please join us at the THS Museum, 406 Tacoma Avenue South, for a talk by THS Curator Elizabeth Korsmo, "Dr. Alan L. Hart: Transgender Doctor in the 1930's." Learn about the life and works of Dr. Hart, transgender doctor and author in Tacoma in the 1930's. If you aren't able…
SAT19November 19 @ 2:00 pm – 4:00 pm PST
UTOPIA 841 Central Ave N Suite C-106, Kent, WA
Calling all Trans and Gender Nonconforming youth members! Join us for our Open Mic on November 19 from 2pm-4pm. Take the stage or sit back and enjoy the talents of our younger generation! Register at bit.ly/ManaOpenMic
Tags: City of Seattle Transgender, City of Tacoma Transgender, Trans Awareness Week 2022 Puget Sound, Trans Day of Remembrance, Trans Day of Remembrance 2022, Transgender Awareness Week