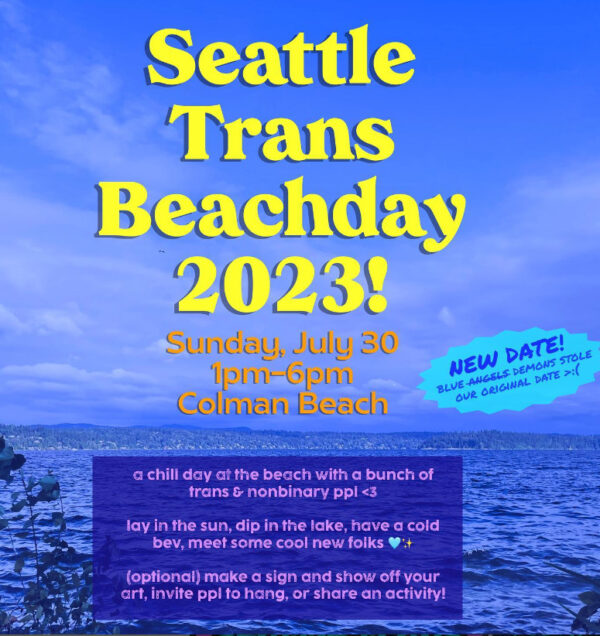 Seattle Trans Joy has been busy planning and producing all sorts of great events for Seattle's Transgender community. This summer, they've already a camp out and a picnic and the next thing up on their agenda is SEATTLE TRANS BEACH DAY set for Sunday, July 30th at Colman Beach, 1732 Lakeside Ave South on Lake Washington. The beach party had originally been set for August 5th but has been moved to this new date.
Check out all the info for event, down below!!
Seattle Trans Beachday 2023 is this Sunday, July 30! Come to Colman Beach 1pm-6pm to spend a chill low-key day at the beach with a bunch of trans & nonbinary people. Lay in the sun, dip in the water, have a cold beverage, meet some new transes.

We'll have signmaking materials if you'd like to share any of your creations or interests, or invite others to say hi!

Parking is limited in the park, but there's lots of street parking on nearby streets and some at nearby Mt Baker Beach.

Bus route #27 from downtown and the Central District has a stop nearby, or you can take a rideshare or bike.
Some cold hydrating beverages will be provided, but no food – bring your own snacks (and feel free to bring some to share!).

We'll have some community blankets or bring your own. Bring your swimsuit & towel if you want to dip in the lake (NO lifeguard!).

Restrooms are unfortunately gendered and a little bit away at Mt Baker Beach (1min drive with ADA parking, ~5min walk).
(Visited 93 times, 1 visits today)