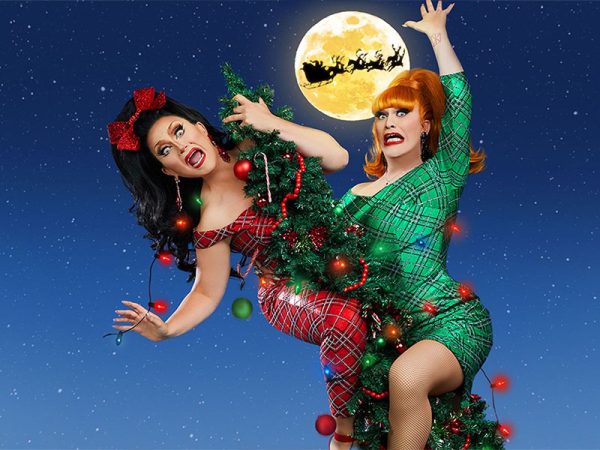 Perhaps thinking about the dreary dark chill of December can help us deal with the current sunny warmth of July (for those of us of the gothic persuasion) so it's a good thing that tickets for the just announced return of the Jinkx Monsoon and BenDeLaCreme Holiday show go on sale this Wednesday, July 19th. Yes, our beloved "they formerly both lived here prior to superstardom" drag divas will be embarking on yet another highly lucrative winter holiday season tour of major cities in North America and the UK for 2023.
Was there any doubt? I mean, why would they stop doing a successful, beloved, profitable annual tour? They're not stupid!
It's been a busy year for both gals…Jinkx started the year with a very successful Broadway debut in "Chicago" followed by a stint filming a guest role for the upcoming season of the long running BBC sci-fi fantasy show, "Dr Who" and now she's on her own hugely successful solo-ish tour with sold out dates all over the place including a stop at Seattle's Paramount Theatre on August 12th. DeLa's been busy popping on all sorts of shows including an appearance on Celebrity Family Feud on ABC.
And, it's an all NEW edition of the holiday show…NO REPEATS!
You better watch out, you better not cry, because "The Queens of Christmas" (Entertainment Weekly) are coming back to YOUR town with a brand new edition of the internationally acclaimed The Jinkx & DeLa Holiday Show!

Another holiday season brings another year of fabulous spectacle, whip-smart comedy, brand new songs, and annual favorites. Join the sugary DeLa and spicy Jinkx for an evening the New York Times says is "sure to lift your spirits and make you howl with laughter."
Their Seattle run is the longest run of the tour! Four nights at the Moore from December 21 through 24! Snag tix at : https://www.stgpresents.org/calendar/14554/the-jinkx-dela-holiday-show
(Visited 64 times, 1 visits today)