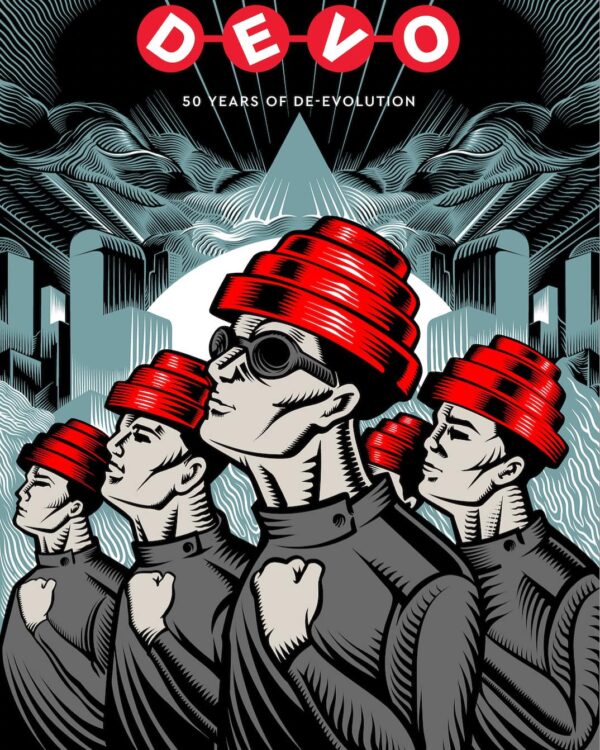 The seminal rock band DEVO is celebrating 50 years of "Whipping It" with ttheir anniversary tour this year. They just added a west coast swing to that tour, with stops all along the Left Coast including gigs in Portland Oregon on November 8th and a stop at Seattle's Paramount Theatre on November 7th!
Tickets go on sale this Friday at 10am…don't dawdle! They'll go FAST…like a WHIP!
https://www.ticketmaster.com/event/0F005EF4F29065E6
ALSO: LOVE that artwork!!!
DEVO is near and dear to my elderly heart…they were the "naughty" punky band that upset the adults back in the olden days of 1982. When our high school cheerleaders did a routine set to the band's big hit "Whip It", the powers that be got all pissy wissy and threatened to get all "Footloose" and ban all the fun music!
Then we burned down the school!
No…wait. That was the Ramones in "Rock n Roll High School"!! Still…good times were had by all.
More skinny:
DEVO have added the following concerts to their upcoming tour celebrating 50 Years of De-Evolution! Tickets on sale this Friday. 'Fanclub' presale begins Wednesday at 10 PST (Fanclub Presale Password: DEVOLVED). All dates at: ClubDevo.com

Nov. 3 – Paso Robles, CA (Vina Robles Amphitheatre)
Nov. 7 – Seattle, WA (Paramount Theatre)
Nov. 8 – Portland, OR (Revolution Hall)
Nov. 11 – Del Mar (San Diego), CA (The Sound)
Nov. 14 – San Francisco, CA (Golden Gate Theatre)
Nov. 16 – Los Angeles, CA (Youtube Theatre)
Nov. 18 – Huntington Beach, CA (Darker Waves Festival)

new art by: Tomo77
(Visited 41 times, 1 visits today)