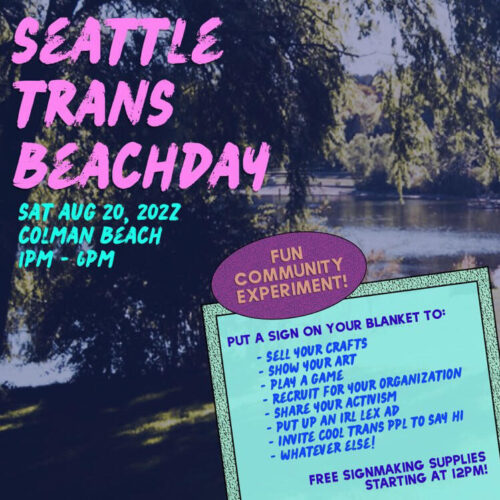 The Seattle Trans Joy group has had much success in the last year in planning fun events for Seattle's transgender community including July's Trans Picnic in Volunteer Park, last October's Transoween event at Seward Park and Seattle Trans Beach Day last summer. They're bringing back that Beach Day for 2022 and it's happening this Saturday, August 20th at Colman Beach on Lake Washington in South Seattle.
Unlike the Trans Picnic which had much sponsorship and food provided, Seattle Trans Beach Day 2022 will be much more casual…which means you'll need to bring your own food, drinks and equipment for a fun day at the beach.
More info from their FAQ on their website:
---
What is Seattle Trans Beachday?
Trans & nonbinary people hanging out at the beach and having a great time!This will be a casual event! Nothing significant will be provided – bring your own snacks, drinks, blankets, and fun.This event is by and for the local trans community, and not affiliated with any sponsor or organization.
---
What should I bring?
You can bring a picnic blanket, drinks, foods, and anything else you need for fun. Nothing will be provided (probably!).Wear your transest swimsuit if you want! It should be very sunny and there's a swimming area!Floaties, kayaks, beach toys, anything else you think is fun is very welcome!Feel free to bring anything else that makes sense for a public park — games, pups, sunscreen, sunglasses, etc. Remember there will be cis people in the park doing park things, so nothing too loud or drawing-lots-of-cis-attention please!
---
Who is invited?
All trans & nonbinary people! We use these as big umbrella terms for the sake of convenience, but we greatly welcome ALL gender diverse folks who are not cis. So, two-spirit, intersex, agender, all of the diverse indigenous and diasporic non-binary genders, and others – please come! We often use the word "trans" just for brevity.Please no cis people who aren't invited by another trans person. Trans folks are welcome to invite emotional support cis as needed so you feel as comfortable and welcome as you can be at the event.We use the word "Seattle" but people came from Portland and even further last year.Lots of folks will come alone so please don't feel awkward if you don't have trans friends to come with! The purpose of this event is to build trans community and grow trans joy — and that means you coming and meeting new folks or just enjoying this rare transnormative space! You won't be alone!
---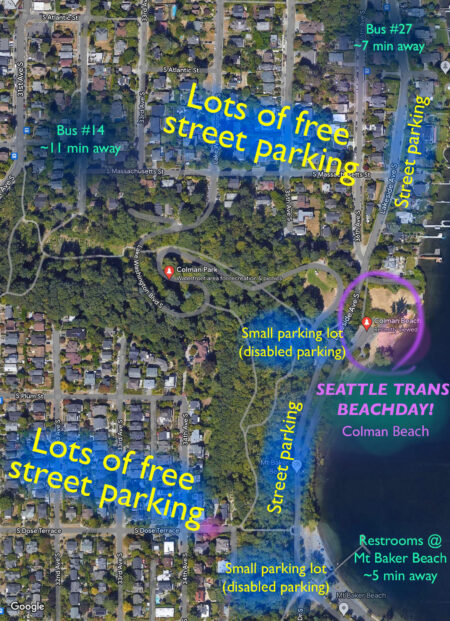 When & where is the beachday?
Colman Beach in Seattle from 1pm-6pm. We'll start on the north end of the park, but we'll spread out all over depending on the size of our group. Check our Instagram for details if this changes and a map close to the event.Look up "Colman Beach" on Google Maps, not "Colman Park" which will take you a bit inland.There is a very small parking lot, another parking lot a 5 minute walk away at Mt Baker Beach, street parking nearby, limited disability parking spots in the park, metro bus line stops #27 nearby.We highly recommend taking the bus, ridesharing (Lyft/Uber), or biking! Parking will fill up fast.
---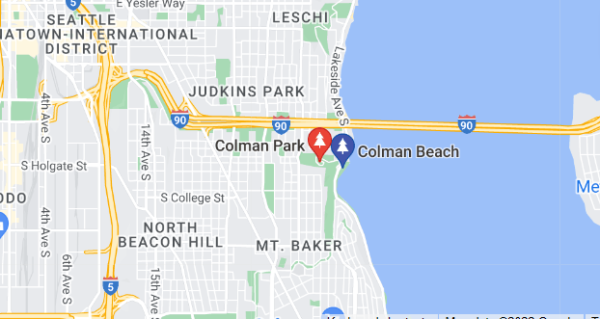 Is this accessible?
"Accessible" can mean a lot of things of course. There is limited ADA parking at Colman Beach. Restrooms nearby are ADA compliant and have limited ADA Parking nearby at Mt Baker Park.The beach has paths, and most of the park is hard grass. Some of the park is downhill, and getting in the water may be difficult depending on ability.Please ask for assistance if you'd like it at any time — and I don't need to tell folks to offer assistance when asked because trans community is awesome and we help each other & keep each other safe!If you have any other accessibility needs or questions, please email jeryche @ gmail.com or Seattle Trans Joy on Instagram.
---
What about COVID??
Soo. Everything we know says that being outdoors reduces the risk of COVID transmission veeerrry much. We are very fortunate that we haven't heard of any COVID cases likely transmitted from our 3 events last year, despite hundreds of people attending each.BUT, we ask that you must 1) be vaxxed!, 2) don't crowd tightly, 3) wear masks when you aren't distancing, 4) take an at-home or PCR test the morning of the event or the Friday before.
---
How can I help?
Thank you!! The biggest things you can do to help are: 1) Spread the word to as many trans & nonbinary folks as you can! 2) Keep an eye out to make sure everyone feels included & safe during the event! Please say something if you see bad behavior (including from gawking cis) & feel safe doing so, or ask other community members to help you out.
---
What about bathrooms?
There are bathrooms at nearby Mt Baker Beach, about a 5 minute walk south of Colman Beach.They are gendered, but we plan to have temporary all-gender restrooms that day.There's also the lake………..
(Visited 38 times, 1 visits today)