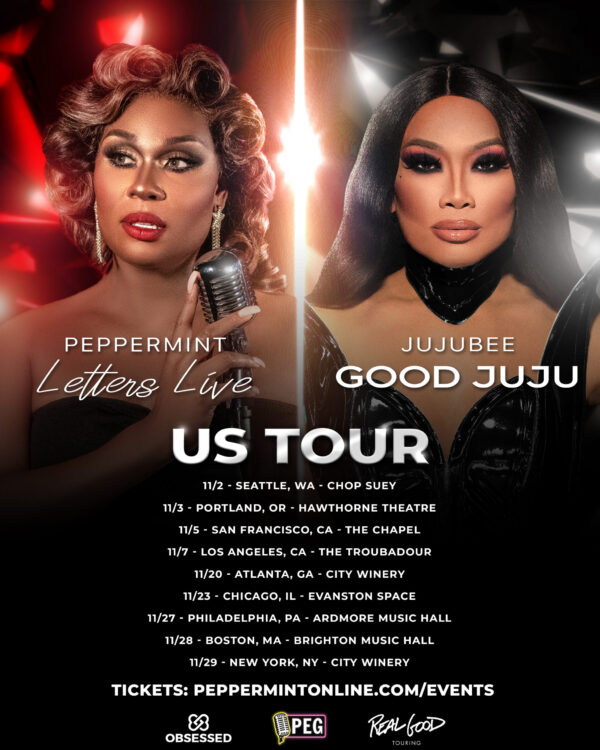 MORE national drag tours to mark on your calendar! This one stars beloved RPDR stars PEPPERMINT who is hitting the road to promote her latest music release. She's teaming up with fan favorite JUJUBEE for an all live singing tour with a live band on hand.
The tour actually kicks off here in Seattle at Chop Suey on Capitol Hill, on Wednesday, November 2nd before heading to Portland's Hawthorne Theatre on Thursday, November 3rd and continuing down the coast to San Francisco and Los Angeles and then more cities across the country.
Tickets for all shows are on sale Here:
Peppermint – the trailblazing actress, singer, reality star, and activist who continues to defy limitations has announced she has teamed with RuPaul Drag Race favorite Jujubee to hit the road this November for a North American tour.  The "Letters Live/Good Juju" tour presented by Obsessed will hit such major cities as Los Angeles, Chicago, Boston and New York.

The "Letters Live/Good Juju" tour will feature the 2 divas performing with a live band (no lip syncing for their lives on this stage). The tour is in support of Peppermint's  latest R&B project "Letters To My Lovers" which includes her latest release, Moment of Weakness: Letters To My Lovers  HERE and Jujubee's Top 10 chart-topping (#1 and #7 on iTunes Songwriter Album Chart) EP's good juju – vol. 1 HERE & Vol. 2 HERE
Fans will get an intimate experience with a full show from each artist and maybe even some surprise moments together.  Peppermint's rhythm & blues set will take you not only on a journey of music with song selections from Letters To My Lovers Volumes 1 (nominated for a GLAAD Media Award for Best Songwriter) & 2 and a few unreleased nuggets from the forthcoming Volume 3, but also some humorous and very personal stories included in the live show.   Jujubee's set will highlight songs from both good juju EPs combined with her signature storytelling sharing memories of her time on RuPaul's Drag Race, Queen Of the Universe and her new Wonders produced podcast 'Queen Of Hearts.  Check out Jujubee's fan- favorite video – "bad juju feat. Shea Coulee'  HERE
While Jujubee said, "Excitement doesn't even begin to express what I feel about this tour with Peppermint! I can't wait for everyone to experience a different facet of our shine. It will be the first time I get to perform my original music with a live band — this live concert tour is going to be pure magic!"
Tour Dates
November 2 @ Chop Suey – Seattle, WA
November 3 @ Hawthorne Theatre – Portland, OR
November 5 @ The Chapel – San Francisco, CA
November 7 @ Troubadour – Los Angeles, CA
November 20 @ City Winery – Atlanta, GA
November 23 @Evanston SPACE – Chicago, IL
November 27 @ Ardmore Music Hall – Philadelphia, PA
November 28 @ Brighton Music Hall – Boston, MA
November 29 @ City Winery – Loft – New York, NY
A Girl Like Me: Letters To My Lovers, released in October 2020 was the first in the trilogy and featured Peppermint's steamy single & video, "Best Sex." The "Best Sex" official music video HERE is available HERE  The album trilogy took over a year to complete and focuses on Peppermint's personal diary set to music tackling the subjects of flirtation, lust and love. Moment of Weakness :Letters To My Lovers  via PEG Records/Warner Music Group/ADA available HERE is the second installment of the trilogy and highlights the point in a relationship when doubts and resentment start to set in…especially the beginning of the end. "Broken Home" is the first single HERE which features a sultry duet with Jerome Bell Bastien. 
"Broken Home" is that moment that you KNOW, it's the beginning of the end. Contrary to the feelings expressed every morning, "maybe if we don't go any further we can at least keep things pleasant". says Peppermint.
Watch the live performance of "Broken Home" from Peppermint's SOLD OUT run of shows at Joe's Pub in NYC earlier this year HERE
(Visited 7 times, 1 visits today)