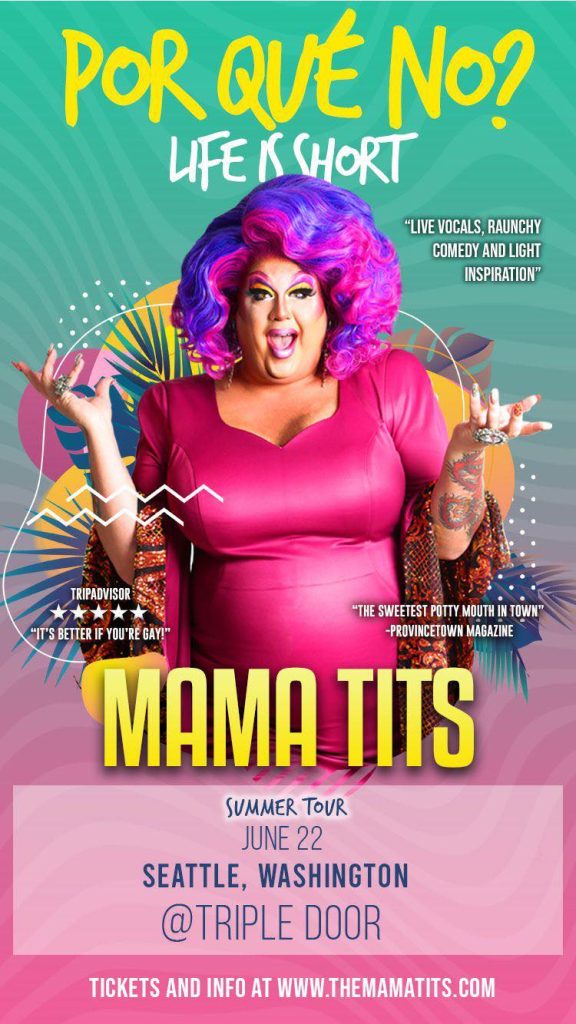 YAAAAAAS….the larger than life and twice as loud drag dive herself, MAMA TITS is back in Seattle this week for a show at The Triple Door. Seattle is where Mama T. was created and where she became a star with gigs hosting the LeFaux show at Julia's before starting her own highly successful drag brunch, MIMOSAS WITH MAMA at the Grill on Broadway. After the sad failure of that venue, Mama took Mimosas to the Unicorn, creating a uniquely fun drag brunch experience that included 30 minute-ish versions of popular Broadway musicals that still continues today at that popular bar.
Of course, Mama hit the national scene after she went face to face with an anti gay protester at the downtown Pride Parade back in 2014. In a video that went viral, you can see Mama Tits gettin' BUSY with the idiot and driving him away. It won Mama a slew of fans all over the world and helped get her gigs all over the place including Puerto Vallarta Mexico where Mama and hubby eventually settled to create residency shows in the gay resort capitol of Mexico.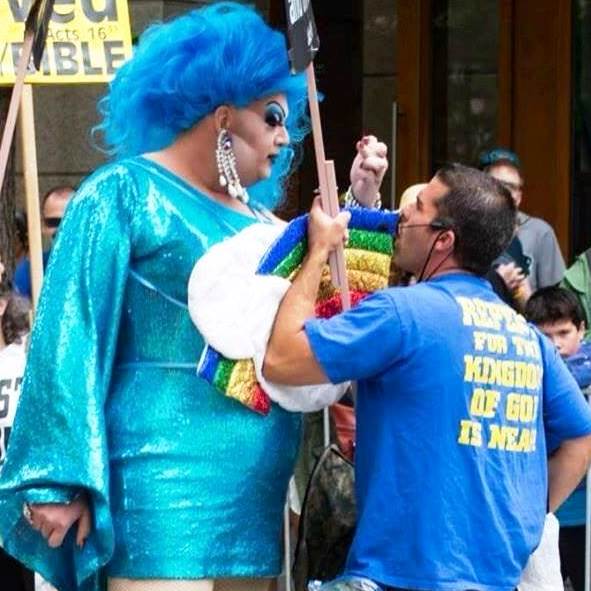 But, Mama likes to pop back into the States to visit fans and pick up new crates of industrial stength spackle, er, I mean MAKE-UP and she's embarking on a big tour this summer that includes stops in Palm Springs, LA, San Francisco, a return visit to Provincetown and best of all, her show at The Triple Door on Thursday, June 22nd.
The show is her latest PV show, Por Qué No?! – Life is Short! which she performed all year at The Palm Cabaret. It's an all live show (no lip syncing for this queen…) and she'll be singing some of her favorite pop/B'way hits and soulful, bluesy ballads.
And, telling some tall tales.
A few tickets remain at https://tickets.thetripledoor.net/eventperformances.asp?evt=1964
AND, Boise fans of Mama Tits can check her out NEXT week when she returns to her hometown for a gig at The Balcony Club: https://www.eventbrite.com/e/por-que-no-life-is-short-a-live-vocals-comedy-cabaret-tickets-623033599267
In fact, here's the rest of her tour:
June 30
July 1
July 14
July 22 – August 1
Provincetown, MA @ The Crown & Anchor (Tickets coming soon)
​August 3
(Visited 79 times, 1 visits today)