June 27, 2019

•
by
Michael Strangeways
Wow! It's been five years already?!?!?!? Since Seattle Diva Mama Tits stood up to a bunch of religious bigots trying to disrupt the 2014 Seattle Pride Parade!
How time flies!!!!
Check out our coverage back then from Brad Gilligan, right HERE!
Really, Seattle Pride needs to ask Mama back to host the parade…she was the BEST at it!
Mama T. is in Seattle this weekend. You can find her hosting events at the beautiful W Hotel in downtown Seattle including their pre-Pride Parade Brunch on Sunday, June 30th. 
THEN, you can check her out for FREE down at Pridefest at Seattle Center later in the afternoon!
Hint: She's singing Judy Garland songs!
Also: if you're in Provincetown Massachusetts later this summer, you can check out the Skyscraper Hostess/Cabaret Diva performing at the Post Office from July 24th to September 8th! She's joining the 42 other Seattle acts in P-town for the summer like Dina Martina and Jinkx Monsoon!
(Visited 5 times, 1 visits today)
As the Editorial Director/Co-Owner, Michael Strangeways writes, edits and does about a million other jobs for Seattle Gay Scene, Puget Sound's most visited LGBTQ news, arts and entertainment website now celebrating its 14th year as a media outlet. A semi-proud Midwesterner by birth, he's lived in Seattle since 2000. He's also a film producer who would like you to check out the Jinkx Monsoon documentary, "Drag Becomes Him" now available on Amazon.com. In his spare time, he gets slightly obsessive about his love for old movies, challenging theater, "otters", vodka, chocolate, "I,Claudius", Lizzie Borden, real books made out of paper, disaster films, show tunes, Weimar era Germany, flea markets, pop surrealistic art, the sex lives of Hollywood actors both living and dead, kitties, chicken fried steak, haute couture and David Bowie. But, not necessarily in that order.
Related Posts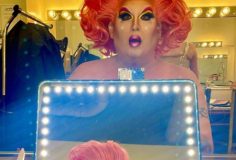 *Dragolicious • Arts & Entertainment • Arts News • Cabaret Clubs • Drag • Drag O'Tainment • Legends • Mark Your Calendars • Music • News • Nightlife • Pride • Provincetown Gay Scene • Puerto Vallarta Gay Scene • Queer Theater • Seattle Pride 2023 • Stage
YAAAAAAS….the larger than life and twice as loud drag dive
...