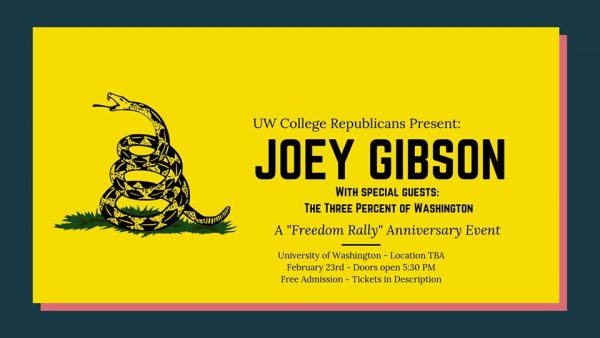 Seattle area LGBTQ social media is abuzz with concerns over a scheduled alt-right rally happening at the University of Washington Saturday evening, February 23rd. The University of Washington's College Republicans group is hosting an event with Joey Gibson, an alt-right activist and a founder of Patriot Prayer, a group associated with hate groups recognized by the Southern Poverty Law Center such as the Proud Boys, a misogynistic/racist/homophobic paramilitary group. Attacks on LGBTQ people by alleged members of the Proud Boys have occurred in the Pacific Northwest including Portland, Oregon and here in Seattle and in Vancouver, Washington. 
The following message is being shared on area social media accounts, asking LGBTQ citizens to be on alert to the presence of alt-right hate groups in Seattle this weekend:
🚨 SEATTLE AREA ALERT🚨

Joēy Gíbson (Patriot Prayer) and Proud Boys are in Seattle for an Alt-right rally at UW today.

They are believed to be responsible for attacks on 14 LGBTQ individuals in the Portland area within the last couple of weeks.
Copy & Paste to spread the word.
Stay alert and be safe.
The UW College Republicans have a Facebook invite for this evenings event, which is open to the public but apparently requires ticketing. Info and link from the invite:
Joey Gibson of Patriot Prayer will be back at UW for an anniversary event of last year's "Freedom Rally" which got national news coverage for both the event and the Lawsuit that it was at the center of. Along with him, the Three Percent of Washington will also be joining us to answer questions.

Joey will be giving a talk then we will be hosting an open Q&A with Joey and the College Republicans.

February 23rd
Doors open at 5:30 PM
Event starts at 6:15 PM
Location to be announced soon.
In addition to the Proud Boys, Patriot Prayer has also organized with groups tied to the 2017 alt-right rally in Charlottesville, Virginia which resulted in deaths and injuries.
Read more about Patriot Prayer and their history of violence over HERE.
(Visited 1 times, 1 visits today)