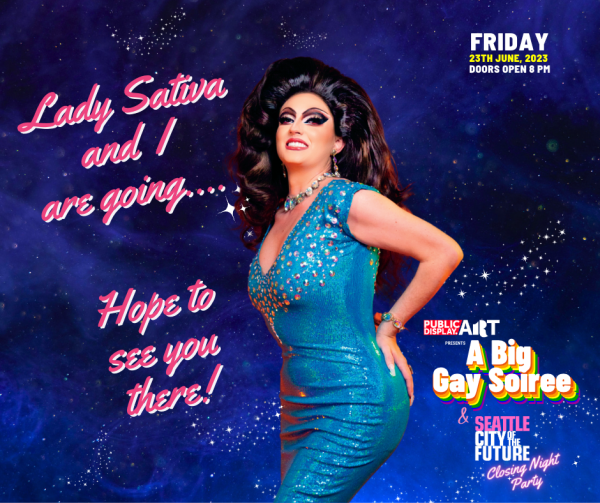 There's a LOT going on this week because of LGBTQ+ Pride celebrations in Seattle and especially on Pride Friday, June 23rd. In fact, you can check out our BIG GAY PRIDE CALENDAR to find stuff to do every day (and year round for that matter). Go to https://seattlegayscene.com/calendar-2/2023-06-23/ to check out Friday's events.
But, if you're in the market for a chill, arty, more 'grown up' event, we might suggest checking out The Big Gay Soirée the closing night gala party for the fantastic art installation SEATTLE: CITY OF THE FUTURE which has been on display since the first of June. It was the cool art project that invited local artists to contribute works about their take on what Seattle and the surrounding area might be like in the future….with visions both idyllic and dystopic!
It all takes place in what is now known as THE TEAL BUILDING at the corner of Pine Street and Boylston Avenue on Capitol Hill or what most of us still call it "the building formerly known as old gay bar, Rplace". The building was bought by the folks who own the Vietnamese restaurant The Tamarind Tree after Rplace lost their lease during the Covid pandemic. The original plan was to open up a new restaurnant in that space but that seems to be on hold and in the meanwhile, it's being rented out for various arts and entertainment type events.
The Big Gay Soirée is a chance to not only check out the space and the cool art but to sniff around the former stomping grounds for so many LGBTQ people….it should be a fun party and advance tickets are only $15 which is quite inexpensive for a Pride weekend event. There'll be three levels of art to check out, some of it interactive plus live performances from Lady Sativa and the Drama Tops plus special guests…AND, two djs and opportunities to dance and drink and have a rip roaring time hopefully while wearing a cute outfit.
It's going down on Fri Jun 23 2023 at 8:00 PM at 619 East Pine Street…snag those tickets at https://publicdisplay.art/tickets
Oh, and best to get them NOW at $15…the door charge day of is $25!
And, check out more on Seattle City of the Future at https://publicdisplay.art/city-of-the-future
(Visited 97 times, 1 visits today)