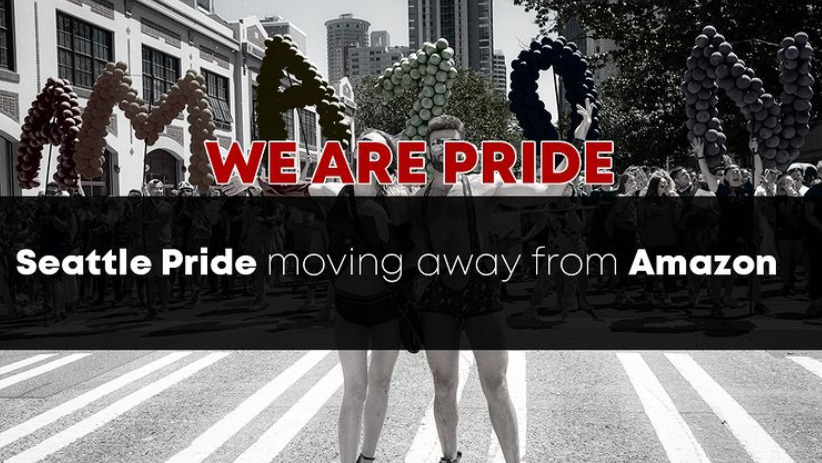 Well, many relationships come to an end and the party is over for the long affair between global corporate super power Amazon.com and Seattle Pride, the producers of Seattle's annual LGBTQ+ Pride parade and other events every June. Seattle Pride announced today that they're ending the sponsorship arrangement with Amazon as a presenting sponsor because the company has donated money to anti-LGBTQ causes and politicians.
From their executive director:
Seattle Pride's announcement also states their decision was motivated by a recent movement for LGBTQ+ groups and specifically Pride organizations to examine where their corporate sponsorship money is coming from and if those sponsors are also supporting groups and politicians harmful to LGBTQ+ causes and equality. No More Fake Allies is a group created to prevent partnerships "based on token gestures in hopes of motivating corporate entities to eliminate harmful business practices and instead actively help the LGBTQIA+ community."
Seattle Pride's statement in full:
Seattle Pride Parts Ways with Amazon
Seattle Pride, as an organization and the annual Pride celebrations it produces (Seattle Pride Parade & Seattle Pride in the Park), have grown significantly since the Seattle Pride March/Parade began 46 years ago. We've worked closely with corporate partners to support our growing celebration which is now one of the largest in the country.
Because Pride and our LGBTQIA+ community are here year-round, we are evaluating all of our corporate partners, with an emphasis on Presenting (higher-level) partners, to ensure they are of the highest caliber and actively support – and do not harm – our community. Through this evaluation process, Seattle Pride has decided to not partner with Amazon for the 2022 Seattle Pride Parade because of their financial donations to politicians who actively propose and support anti-LGBTQIA+ legislation, oppose pro-LGBTQIA+ and other human rights legislation, and for allowing anti-LGBTQIA+ organizations to raise funds from their AmazonSmile program.
As an organization that has supported Seattle Pride and other Pride organizations over the years, we are saddened to learn about Amazon's support of anti-LGBTQIA+ politicians. In 2020, Amazon donated more than $450,000 to lawmakers who voted against the Equality Act. Amazon's Political Action Committee also donated nearly a million dollars ($966,500) to 193 elected Congressional delegates and their PACs (2020 cycle), with 191 of those individuals receiving an "F Grade" from the Human Rights Campaign according to data from the 116th Congressional HRC Scorecard, 115th Congressional HRC Scorecard, and the 2020 Amazon.com PAC Contributions to Candidates report on OpenSecrets.com. In Washington state, Amazon made $11,000 in donations (2020 and 2022) to legislative sponsors of 2022 anti-LGBTQIA+ bills including anti-transgender bills HB 1556 and HB 1960, and critical race theory bills HB 1886 and HB 1807. We simply cannot partner with any organization actively harming our community through the support of discriminatory laws and politics.
We are also deeply concerned that AmazonSmile, the shopping program which enables customers to donate to charities as they shop, has allowed more than 40 anti-LGBTQIA+ organizations to list and raise funds through the program, according to this December, 2020 article. As-of March 21, 2022, one anti-LGBTQIA+ organization still listed on the platform is The Family Council in Little Rock, Arkansas. This conservative organization touts their anti-gay marriage stance as "pro-marriage", stating, "In 2004 we formed the Arkansas Marriage Amendment Committee and, after gathering over 200,000 petition signatures, we worked for the successful passage of a State Constitutional Amendment that defines marriage as the union of one man and one woman. The amendment passed with 75% of the vote." Another anti-LGBTQIA+ organization still listed on AmazonSmile is Concerned Women for America with their transphobic stance on female sports, opposition to gender-affirming care for children and more. Also listed is the National Organization for Marriage Education Fund, an organization "… founded in order to respond to the growing need for an organized promotion and defense of marriage in state and federal legislatures, in the courts at all levels, and in the general culture." AmazonSmile, according to its participation agreement, is not supposed to allow organizations that "engage in, support, encourage, or promote: intolerance, discrimination or discriminatory practices based on race, sex, religion, nationality, disability, sexual orientation, or age."
It's critical Amazon and other corporate partners of Seattle Pride – and for other Pride events nationally – do not allow their platforms to be used by organizations which are actively working against the rights of LGBTQIA+ people.
As Seattle Pride continues to grow, it is our duty to partner with corporate organizations which actively support the LGBTQIA+ community, and whose values align with our own. Unfortunately, the Human Rights Campaign (HRC) employer grading system is not comprehensive enough for Pride organizations to rely on when vetting and selecting partners. We must make a more concerted effort to determine an alignment of values and actions. For example, Amazon has a perfect HRC score despite the aforementioned support of anti-LGBTQIA+ politicians and organizations, as well as publicly reported workers' rights issues including instances of employee discrimination and bullying. This is why Seattle Pride is requiring all corporate partners to participate in a diversity, equity, and inclusion survey and evaluation process.
Seattle Pride is requesting Amazon – and all other corporate partners – take their business actions into account when sponsoring Pride events in Seattle and around the world. The LGBTQIA+ community is forced to fight for equality, and basic human dignity, year-round; not just in June. Seattle Pride is asking Amazon to request the return of political donations from anti-LGBTQIA+ politicians, and actively remove and deny requests by anti-LGBTQIA+ organizations for the AmazonSmile program prior to being considered for future partnership opportunities.
Seattle Pride is also asking the LGBTQIA+ and allied communities to stand together and act as advocates in their workplaces for business practices not actively harming the LGBTQIA+ community.
By standing up for our values, we are losing sponsorship funds used to produce our growing events, which we hope to offset with donations from our community and trusted allies, so we can continue to produce one of the largest Pride Parades in the U.S. while still holding our values above all else. Pride cannot be bought by corporate partners, it must be earned.
No word on how Amazon.com is taking the break-up. The billion dollar company was founded by Jeff Bezos in his garage in Bellevue, Washington in 1994. It now employees over a million and a half people globally and over 75,000 people in the greater Seattle area.
Seattle Pride is hoping local individual contributions will help make up the difference in their funding. You can read more about this decision and also contribute here: https://www.seattlepride.org/corporate-sponsorship-statement
(Visited 4 times, 1 visits today)