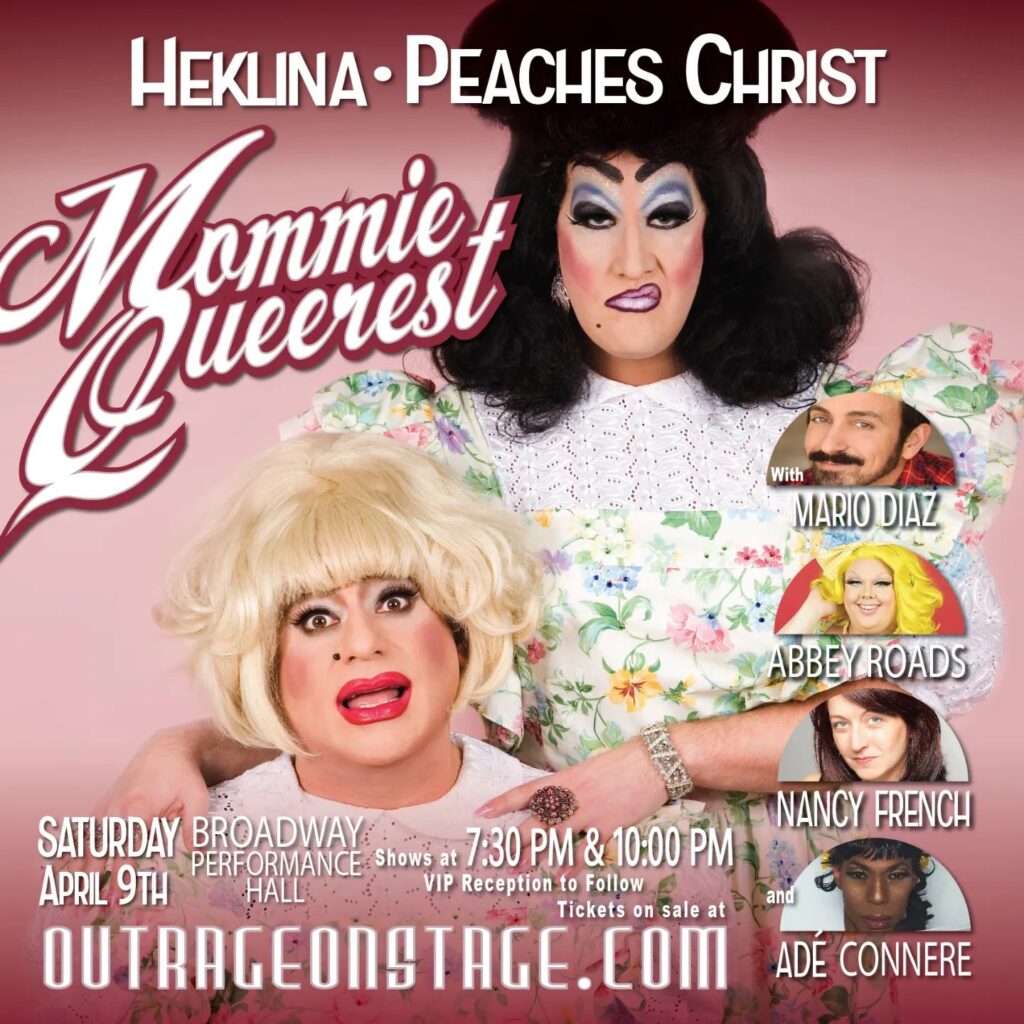 It's been a long time but Seattle is FINALLY getting to see another divine parody production from the twisted mind of beloved San Francisco drag impressario PEACHES CHRIST and it's a show we've long wanted to see…MOMMIE QUEEREST, a parody of the demented Faye Dunaway as Joan Crawford biopic from the early 1980s and based on the scandalous book by Christina Crawford!
And, instead of taking the stage at the Egyptian Cinema on Capitol Hill, MOMMIE QUEEREST will tread the boards across the street from that venue at Broadway Performance Hall on the Seattle Central College campus at Pine and Broadway. It's all happening on Saturday, April 9th with shows at 7:30pm and a just added 2nd show at 10pm! (And, for fans in Palm Springs, they'rea also doing a show on Sunday, April 3rd!) Get tickets HERE: https://www.eventbrite.com/d/wa–seattle/mommie-queerest/
AND, co-starring WITH Peaches will be the equally legendary San Francisco drag diva (and also an impressario in her own right) HEKLINA as the drag daughter that Peaches loves to beat. Co-stars for the Seattle shows will include Club King Mario Diaz and Adé Connere, Abbey Roads, and Nancy French.
We got a chance to have a chin wag with Peaches and Heklina through the magic of Messenger where we discuss all the important things like, the show they're plugging and the weather and Peaches' fascination with poop jokes…
Enjoy!
---
Strangeways: Where is everyone? I'm sadly in cold, moist, dreary Seattle.
Heklina: I am in cold, moist, dreary San Francisco.
Strangeways: Have you acclimated to preferring the dry heat of Palm Springs?
Heklina: Yes, my old bones much prefer it.
Strangeways: LOL…oh, god. We're doing the old people thing and talking about the weather…what next? Roughage? How is your colon, Heklina?
Heklina: Clean as a whistle. I get colonics regularly down in Palm Springs.
Strangeways: That's so Cali!
Heklina: I guess it's true what people say about me….I really am full of shit!
(Peaches enters the room…dramatically)
Peaches: I thought they said you LOOK like shit.
And, I've just returned to a warm and sunny San Francisco.
Heklina: It is NOT warm!
Strangeways: LOL…So, you're in competing parts of San Francisco…one part is too cold and wet and one part is warm and sunny.
Peaches: It's practically HOT today.
Heklina: Has the interview started?
Strangeways: Oh, sure! And, I will edit this! And, fix spelling/typing errors because god knows I will make them. I don't want the world to find out we're all illiterate. "GAYS! They're so DUM!"
Heklina: Many are.
Strangeways: Well, just Drag Race fans…
I keed! I keed! Here's a warm up question…do you both still actually watch "Drag Race"?
Heklina: "Still" would imply that I ever watched in the first place.
Peaches: Honestly, I can't keep up. There's too much of it to watch.
Strangeways: I haven't actively watched since Robbie Turner was on…in Season 7? 8?
Heklina: I've never watched it.
Strangeways: After she roller skated out of our hearts, I stopped because all reality shows get boring after that many seasons. Also: busy people have no time to watch TV.
Heklina: I barely had time to watch everything during the pandemic this is too much to keep up with.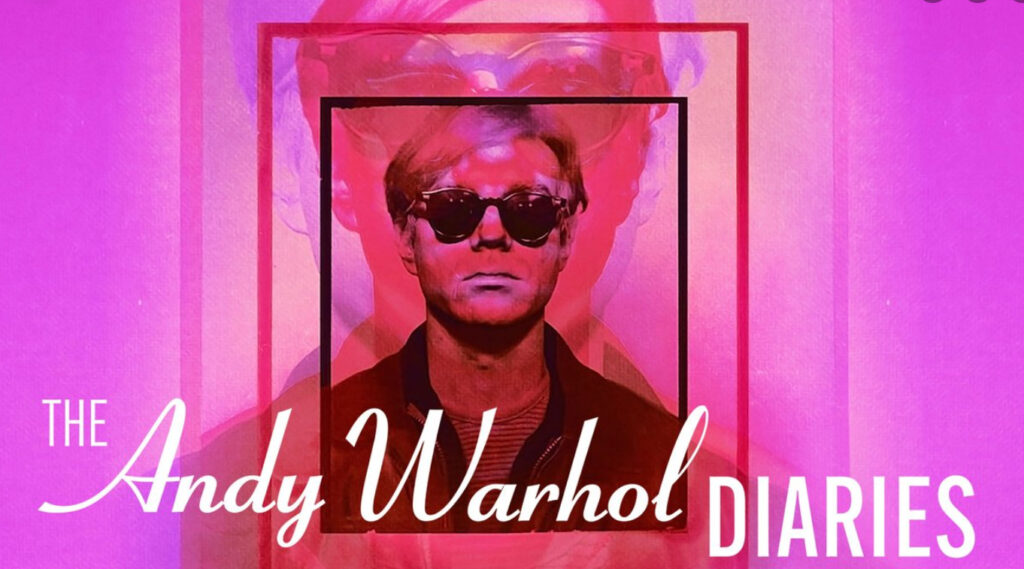 Just finished watching "Inventing Anna". Now I'm watching "The Warhol Diaries".
Strangeways: I'm waiting for "RuPaul's Drag Race: BOISE!"
Do you like it? (meaning "The Warhol Diaries")
Heklina: Yes! I mean I read the The Warhol Diaries so it's pretty interesting to watch this adaptation.
Peaches: I just started Warhol Diaries last night as a well and really liked the first episode. I'm surprised by how much of the first episode focused on his secret boyfriend and I loved learning about that.
Heklina: It's actually really good and the archival footage is great.
Strangeways: I will check it out. I'm a Warholophile.
Heklina: Have you read the Diaries? It's a Page Turner.
Strangeways: Even if he was a monster sometimes. Great artists usually are. Like you guys!
I HAVE THE DIARIES MEMORIZED! My favorite part of the diaries is when Andy wonders how long his paintings will last because it's just little dots of cheap acrylic paint on canvas and not actually that durable…So Andy.
Heklina: My favorite part of the diaries is when Liza and that ballet dancer show up to Halston's door and demand all the drugs he's got. But I digress.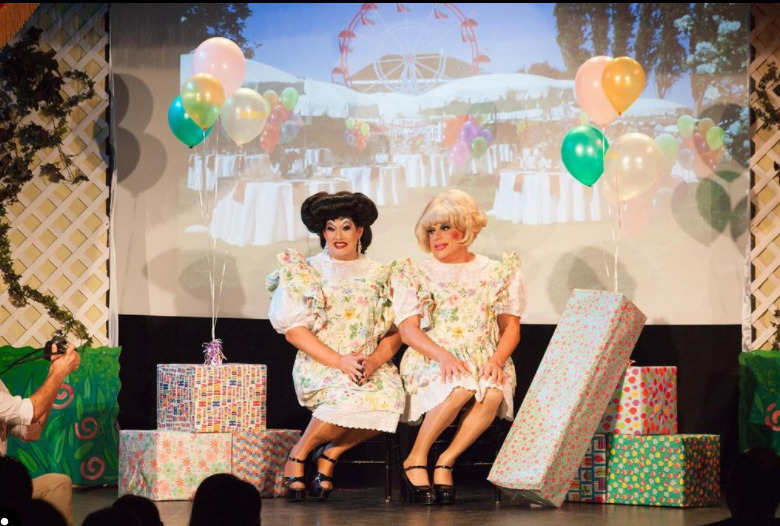 Strangeways: The Halston/Liza stuff is awesome. OK…let's talk about…Mommie Queerest. That thing we're here to push.
Heklina: Yes! We are thrilled that sales have been going so well we just added the late show.
Strangeways: Peaches, when did you originally produce Mommie Queerest? 3 years ago or 4? And, was Heklina the first person you thought of to cast as the daughter you'd like to beat the shit out of?
Peaches: Haha, the first time that I presented this show was back in 2007. And it was always written that Heklina would play "Hek-Tina". We've done this show MANY times over the years in San Francisco.
Strangeways: I knew you'd done it before but I wasn't aware it was that old! It's shocking you haven't brought it up here before.
Heklina: We've done it for so long it was originally called "Tranny Dearest".
Strangeways: I mean, Seattle and child beating go hand in hand!
Heklina: Haha
Strangeways:
(ominous chord of music followed by angry protesters)
Heklina: (ROFL emoticon)
Peaches: We've for sure talked about bringing it to Seattle in the past, but strangely it just never worked out…I'm glad we're finally doing it. The show is really silly and twisted and still very true to the way it was all those years ago.
Strangeways: Is Abbey Roads playing the YOUNGER version of Christina?
Peaches: No, Abbey is playing Mamacita, Peaches' maid.
Strangeways: OH! So, it's Heklina as both young and old?
That's a stretch…
Heklina: No I'm just young!
Strangeways: LOL. OK…
Heklina: Not even.
Peaches: Well, Heklina is playing herself. She's disguised herself as a child to infiltrate my world. It's not a straight-up restaging of the movie.
Strangeways: OH! You're trying to avoid being sued by both Christina Crawford AND Faye Dunaway…smart of you! Change that shit up!
Peaches: It's a PARODY!
Therefore no lawsuit.
Strangeways: (knock wood)
Peaches: Meh…if they sue me, I think it might be kind of amazing.
Strangeways: Mama Tits was doing musical parody drag brunch shows of Broadway shows and someone finked her out to Samuel French or whoever and she got a nasty cease and desist from them and then she replied back "it's a drag brunch parody" and they replied back, "Oh. That's fine! Carry on!"
Peaches: Aah!
Strangeways: When was the very first time you saw the film Mommie Dearest and what was your reaction?
I'm so old I saw it in its original theatrical run. In Atchison Kansas!
Heklina: I'm not kidding when I say my mother took me to see it in the movie theater when it came out because she read the book and I was too young to realize that it was a camp crazy classic.
Strangeways: Heklina, this was back home in Iceland, right?
Heklina: No. Was actually in Boston. My mother was working on her second husband at the time.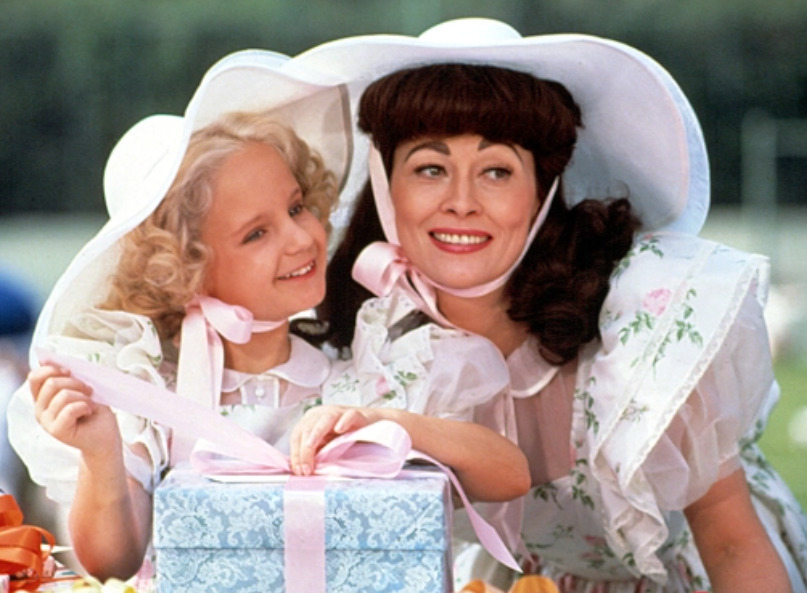 Peaches: I was in college when I first saw it and I had asked an older out gay professor to explain Judy Garland to me and he did, but he went even further and shared things like Baby Jane, and Auntie Mame, and Mommie Dearest with me. I was super lucky to have in elder gay like that kinda help me learn the ways of the gay.
Strangeways: Aw…you had a mentor!
Peaches: I did!
Strangeways: In Queer Pop Culture! Really, the kids today need that, too!
Peaches: Very much so. I wish young queer kids had that!
Strangeways: Maybe that's what we're here for!
Heklina: I'm sick of being a mentor to kids if they don't even know who Liza Minnelli's mother was I don't have time to talk to them.
(Editor's Note for the Children: Liza Minnelli is a beloved singer/actress known for the film "Cabaret". Her mother was the legendary singer/actress Judy Garland known for playing Dorothy in the film "The Wizard of Oz" and for being a messy gay icon. Both mother and daughter are also famous for frequently marrying gay men.)
Strangeways: Spreading the word about Camp Icons!
Peaches: I've thought about doing a course.
Teaching the youth.
Heklina: I was just having lunch and talking about this.
Strangeways: Well, the excuse that drives me nuts is: "Well, it was before MY time!" And, I'm always like, "Honey, EVERYTHING is before our time…that's what learning is all about! Finding out shit that happened before!"
Heklina: Exactly! It was all before my time to but back then we had to go to bookstores and video stores and do research!
Strangeways: 'Who fucked who in the Embarcadero in 1888!' To paraphrase Vertigo.
Peaches: I loved finding out about all the stuff that came before me..
Strangeways: So, back to the show…are you bringing up sets and props from SF like you did for the Peaches shows you were doing at the Egyptian?Also; are you sad you're not back at the Egyptian?
Peaches: Yes, we'll be bringing some stuff with us and also sourcing some stuff locally, very similar to how we did things at the Egyptian.
Straneways: I also wanted to ask you two about the Castro Theater situation. Are you going to be able to continue doing shows there or is that…in danger?
Peaches: I'll be announcing a show there for August soon.
I've been working with APE on getting that all set up.
Strangeways: APE are….new owners?
Peaches: New managers for the Castro….Another Planet Entertainment.
We had booked Drag Becomes Her there with Jinkx and Dela for March 14, 2020 but it got cancelled of course and we'll finally get to do it in August, 2.5 years later!
Strangeways: I guess I should clarify the Castro Theater is SAFE from being torn down but has new management and there's been concern in SF that it might change up its show schedule.
Peaches: Yes, I think there's concern that it will no longer be a cinema. But the new managers have assured us that it will be. It's a really special, historically significant community space so this shake-up has been really concerning to folks. I am cautiously optimistic.
Heklina: Vito Russo's ashes are there.
Peaches: Isn't that amazing?!? They're in the wall.
Strangeways: That is cool. And, a terrific place for them to be. Very apt.
(Editor's Note for the Children Part 2: Vito Russo (1946-1990) was an American LGBT activist, film historian, and author. He is best remembered as the author of the book The Celluloid Closet, described in The New York Times as "an essential reference book" on homosexuality in the US film industry. Wikipedia)
The Castro is loved by every gay person who's ever been there.
So, we should probably wrap this up since you're both busy, busy queens…
Heklina just opened a new cabaret show at the Oasis and I will say, I love your new look for it…very "Helen Lawson" grande dame.
Heklina: Ha! thanks!
Strangeways: Will you tour that new show eventually?
Heklina: Not sure. It was more I wanted to try and do a solo show and see if I could do it and I had fun doing it. But it was a bit San Francisco-centric. I'm already scheduled to do it in Palm Springs so will have to rewrite it a bit.
I'd love to do it in Seattle.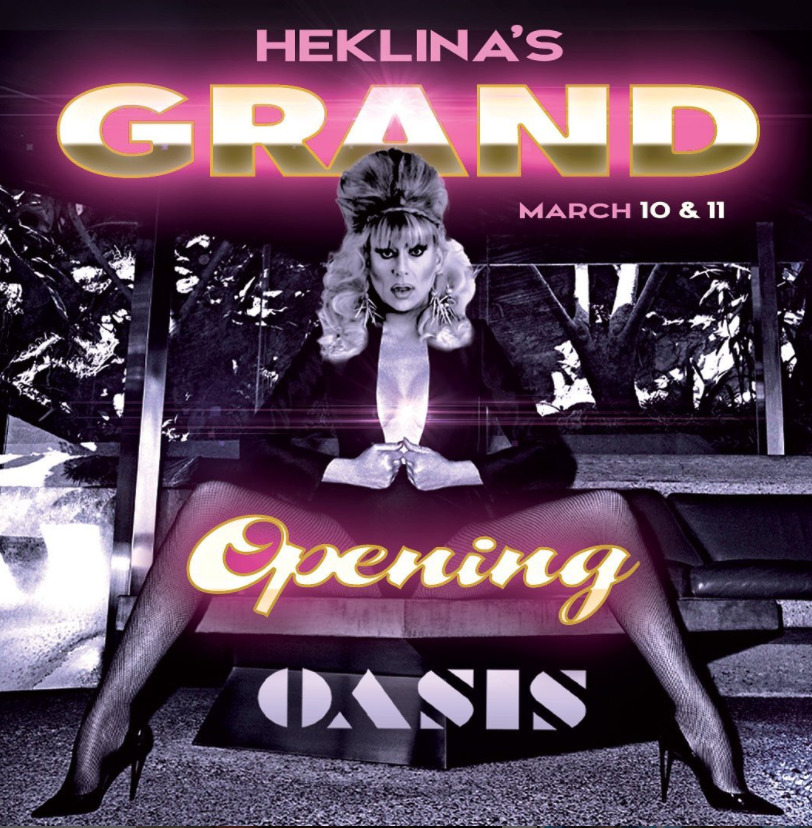 Strangeways: You should! You are beloved! I believe a little birdie told me your production of The Golden Girls will be returning soon, too.
Heklina: Lord knows I got really tired of the Trannyshack format of a big drag show with 1 million other people in it so the idea of doing a solo shows is just much more appealing.
Yes!
Strangeways: And, more lucrative! Only one bitch to pay!
Heklina: We were supposed to be there this month but everything got delayed because of you know what.
So I think we will get there in July, Also at Broadway Performance Hall.
Strangeways: Though I do missed the show formerly known as Trannyshack. It was great. My first exposure to some awesome SF talents…like Ethel Merman!
Heklina: It was great but I don't have the energy to wrangle a bunch of queens anymore.
Strangeways: That's a lot of work.
Heklina: Haha Ethel!
Strangeways: and, Fade Dra! That crazy bitch!
Peaches: OMG…Fade Dra was amazing!
Strangeways: Always bleeding all over the place! Is she retired now?
Peaches: She was Squeaky Blonde's drag daughter, CRAZY!
I don't know? Do you, Heklina?
Heklina: Um no . Stuff happened…..
(ominous chord of music)
Heklina: Yes!
Ominous.
(and, scene change!)
Strangeways: And, you both have big Easter events to promote….the return of MOTHER SHIP, the iconic drag road trip from SF to Reno that has been going on for decades. AND, Hunky Jesus contest! Which I'm so jealous of because Seattle doesn't do ANYTHING fun like that!
Heklina: No, my plans just got canceled for Mothership. People weren't ready for a bus trip and tickets were not selling quickly enough so I don't need the aggravation….we just canceled it. We're gonna try it again next year.
(sad chord of music)
Heklina: People still not ready to be on a bus exchanging bodily fluids quite yet.
Strangeways: Well, speak for yourself…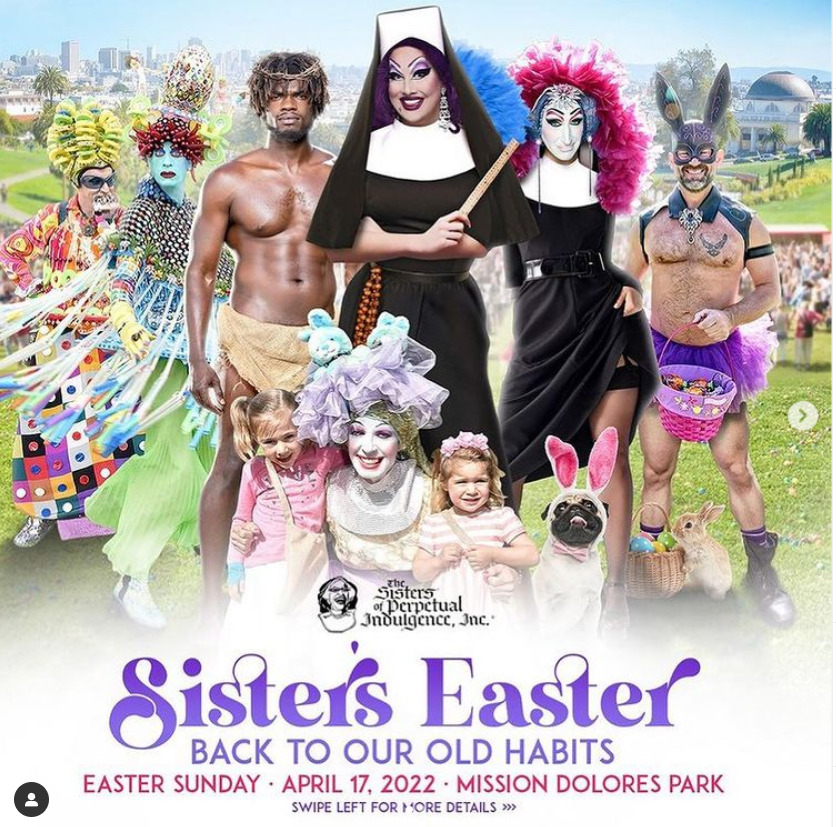 Peaches: For years, I didn't attend the Sisters' Easter in the Park event because I was doing Reno so it's a thrill to be doing it this year and of course I'm SUPER looking forward to seeing all of the Hunky Jesuses.
Strangeways: I pray they'll be some good ones! Anything else to promote/plug? Peaches, I know you're working on a special release of your movie, All About Evil.
Peaches: Yes, that's coming out in June. I'm really excited for that. It's a special edition BluRay and it will be streaming as well. Also, I'd love to plug my Midnight Mass cult movie podcast if people are into crazy cinema. Midnight Mass: https://midnightmass.buzzsprout.com/Midnight Mass
Strangeways: Send me the links for those things! Who is putting out the BluRay?
Peaches: Severin
Strangeways: Is that a pain reliever?
Peaches: https://severinfilms.com/Severin Films | Purveyors of only the best in horror, exploitation, sleaze, & more
Strangeways: Are you going to make another movie some day?
Peaches: I'd love to make another movie sometime. I wrote a new feature that we are shopping around now.
Strangeways: I should pitch you my movie idea: "Invasion from Uranus". It's about a troupe of drag queens lost in the woods who get stranded outside a boy scout camp that's being used as the set for a gay porno film. Then, alien pods from Uranus turn the porn stars into sex zombies. Hilarity ensues.
Peaches: Great pitch! Why aren't you working in Hollywood?
Strangeways: That IS the million dollar question! Ryan Murphy stole my career! That bastard!
Heklina: At the moment I'm just pushing Mommie Queerest, April 3rd in Palm Springs and April 9th in Seattle. And my podcast Drag Time with Heklina Podcast
But my podcast is winding down. It's too tied to the pandemic in my mind.
And if you're in San Francisco come to Daytime Realness, every third Sunday.
Strangeways: Back to Mommie Dearest for a moment…What do you think of Faye Dunaway as Joan? I actually think it's a great performance.
Heklina: It's an amazing performance, not a stick of scenery remains unchewed.
Strangeways: I liked Diana Scarwid as Christina, too. Though the Texas accent didn't make much sense. And, little Christina (Mara Hobel) was great, also.
Heklina: I think Faye Dunaway was the last Hollywood actress to act in that old Hollywood-Susan Hayward style.
Strangeways: And, she's STILL acting in that way! Her greatest performance was probably the Gucci ad she did a couple years ago! Though Deven Green's parody voice over version was the funniest thing ever.
Peaches: I agree that Faye is actually FABULOUS as Joan- and got a raw deal. She's an incredible performer.
Heklina: "Eyes of Laura Mars" is quintessential Faye.
Peaches: Such a great movie.
Strangeways: That's also a beloved "bad" movie that is very popular. Though not quite as much as Mommie.
Heklina: Time for a drag parody.
Strangeways: "The Eyes of Heklina…"
Heklina: (inserts Heart emoji which won't show up properly in WordPress)
Peaches: Or a mash-up: "The Hills Have Eyes of Laura Mars"
Strangeways: "The Eyes of Laura Mars Needs Women"
Peaches: Hey folks, I actually have to run!
I didn't realize it's almost 5.
Heklina: "Hey Folks I Have To Run" is a terrible title!
Oh, I see!
Peaches: I have the runs.
Strangeways: OK! Thank you both so much. It's been a treat and a delight. Except for Peaches' disgusting fecal fascination.
Heklina: This has been a delight.
Peaches: Don't poo-poo my jam. Later, ghouls!!!
Strangeways: I'll somehow manage to cobble this together into something that looks like a real interview!
I'll just add more swears!
And, poop jokes!
---
Tickets for MOMMIE DEAREST can be found here: https://www.eventbrite.com/d/wa–seattle/mommie-queerest/
It's at Broadway Performance Hall at Pine Street and Broadway on Capitol Hill and there's TWO big shows on Saturday, April 9th!
To keep tabs on everything Peaches Christ is up to, go to https://www.peacheschrist.com/ or follow her on social media!

As for Heklina, she performs frequently at San Francisco's Oasis, the club she co-founded, so go to https://www.sfoasis.com/ to keep tab on events there and follow Heklina on social media!
(Visited 35 times, 1 visits today)