April 23, 2020

•
by
Michael Strangeways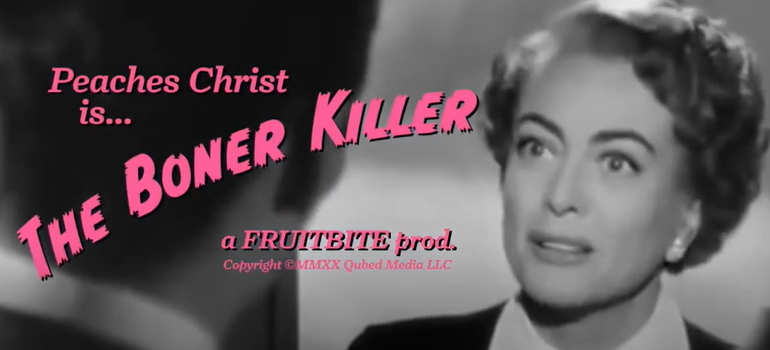 Looking for fun (queer) things on the interwebs to entertain yourself during the new Plague Years? Most of us are…we need stimulation in our quarantined lives!
Why not sample the delights of Seattle video artist Dave Quantic's new video podcast series FRUITBOWL, subtitled "An Oral History of Queer Sex" where Mr. Quantic talks to all sorts of LGBTQ people about our sexy sexy life histories…which in the case of some of us (uh, ME!) would be ANCIENT history at this point…
Here's a fun episode of Fruitbowl with the one and only Peaches Christ herself, or in this case, the man behind the mascara, Joshua, talking about a sexy encounter with someone who turned out to be a huge fan of Peaches but also totally unaware that he had just had sex with his icon!!!
AWK-WARD.
Check it out and subscribe to Fruitbowl HERE!
(Visited 1 times, 1 visits today)
As the Editorial Director/Co-Owner, Michael Strangeways writes, edits and does about a million other jobs for Seattle Gay Scene, Puget Sound's most visited LGBTQ news, arts and entertainment website now celebrating its 14th year as a media outlet. A semi-proud Midwesterner by birth, he's lived in Seattle since 2000. He's also a film producer who would like you to check out the Jinkx Monsoon documentary, "Drag Becomes Him" now available on Amazon.com. In his spare time, he gets slightly obsessive about his love for old movies, challenging theater, "otters", vodka, chocolate, "I,Claudius", Lizzie Borden, real books made out of paper, disaster films, show tunes, Weimar era Germany, flea markets, pop surrealistic art, the sex lives of Hollywood actors both living and dead, kitties, chicken fried steak, haute couture and David Bowie. But, not necessarily in that order.
Related Posts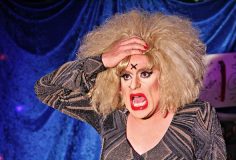 *Dragolicious • Arts & Entertainment • Capitol Hill News • Community • Community News • Drag • Drag O'Tainment • Gay 101 • Gay News • Heklina Land • In Memoriam • Legends • National News • News • Nightlife • Obituary • Queer News • Queer Theater • San Francisco Gay Scene
We have been hoping it was just a sick joke,
...