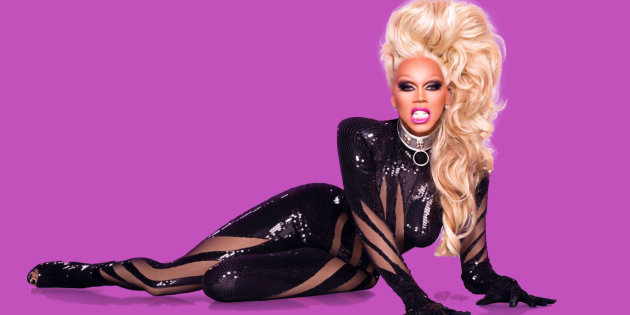 Lots of big juicy news released at this past weekend's RuPaul's DragCon event in Los Angeles…Ms Ru herself was announced as the star of her own 10 episode original comedy Netflix series, AJ AND THE QUEEN,  a project created by RuPaul and former Sex and the City producer Michael Patrick King.
The series will star RuPaul as "Ruby Red", a "down on her luck drag queen" traveling across America in an old RV with a scrappy 11 year old sidekick named….AJ (duh) having kooky life affirming adventures. Oh, and Miz Ru will visit drag clubs (GUEST STARS!!!) and do a number in every episode.
File this under "Could be Awesome…or Awful" depending on execution. Ru's love for 70s pop culture (this show is obviously mimicking 1970s programming) could be helpful here or….a painful chore to endure. Like "Snatch Game" on RuPaul's Drag Race, her draggy parody of the '70s game show Match Game which usually features one funny queen doing a celebrity impersonation and 6 or 7 really UNfunny queens that are a trainwreck in slow motion.
The OTHER big drag queen media news relates to San Francisco drag diva, PEACHES CHRIST announcing she is getting set to make here second feature film after 2010's All About Evil, which was directed/written by Peaches' male alter ego, Joshua Grannell.
The new project is titled SLAY GARDENS and is obviously inspired by Peaches Christ's very popular drag parody live stage show, Return to Grey Gardens, a spoof of the 1975 documentary film Grey Gardens about the odd lives of a pair of reclusive society women, the mother and daughter "Big Edie" Beale and her daughter "Little Edie" living in the ruins of their former stately home in East Hampton, New York. The new film will star Peaches as "Big Peachy" and RuPaul's Drag Race Season 5 winner/former Seattlite JINKX MONSOON as "Lil' Jinkxy". Jinkx's hilarious impersonation of "Little Edie" helped her win Season Five of RPDR and later teamed up with Peaches Christ to present their parody at theaters across the United States and the UK.
Slay Gardens will use their drag parody show as the starting point for the film's plot which will feature the two queens being driven to madness after performing the same show for 40 years.
"All About Evil felt like the movie I had to make as Joshua- a boy who grew up obsessed with horror movies, unhinged women, and gore…whereas Slay Gardens is a movie being made more from my Peaches-mind, and I want it to be the insane drag queen-driven feature film musical spook-show that any Peaches Christ fan will be thrilled to see. To say it's weird is a bit of an understatement," Christ said of the project.
The film will star Grannell as Peaches Christ AS "Big Peachy" and Jerick Hoffer as Jinkx Monsoon as "Lil' Peachy" with Grannell directing and co-writing the film with Michael Varrati. The film will also feature original songs written by Hoffer/Monsoon and their cabaret co-star Major Scales, aka Seattle actor/musician Richard Andriessen.
Peaches also announced that Mink Stole, star of several of John Waters' classic camp films (Pink Flamingos, Desperate Living) will appear in the film as well as Bob the Drag Queen, the season 8 winner of RuPaul's Drag Race.
Filming is set to begin in January of 2019.
(Visited 5 times, 1 visits today)