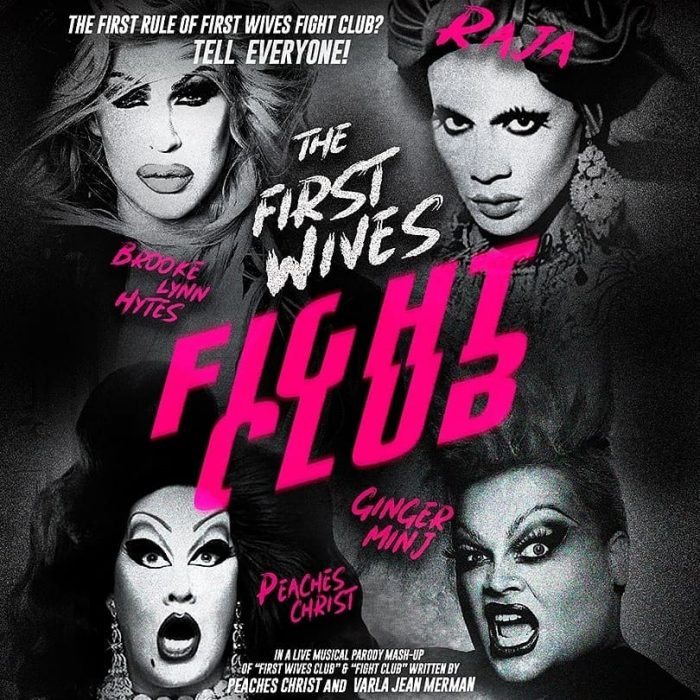 Sadly, local producers Qurb Live/Magazine have pulled the plug on the upcoming production of the next Peaches Christ show, THE FIRST WIVES FIGHT CLUB which had been scheduled for several shows in Canada as well as their usual stops at Seattle's Egyptian Theatre on April 18th and Portland's Aladdin Theatre on April 16th. Low ticket sales for those shows are apparently the cause; the original San Francisco and Los Angeles performances produced by Peaches herself will go on. 
The Peaches Christ shows produced locally by Qurb have traditionally been very popular in Seattle and Portland. Parodies of popular films, the shows all star Peaches Christ (who writes/co-writes all the shows) and feature top name drag stars, usually alumni from "RuPaul's Drag Race" in the main roles. Bob the Drag Queen, Bianca Del Rio, Kim Chi, Willam and local stars BenDeLaCreme and Jinkx Monsoon have all headlined shows in the past.
"First Wives Fight Club" may have been a tougher sale due to the fact it was a mash-up of two separate films that may not have had as much appeal as other productions that were parodies of more popular/better known to younger audiences films like "Mean Girls". There's also the question if this show's headliners had the necessary star wattage to sell tickets. All three have numerous fans, but Ginger Minj and Raja (who won "RuPaul's Drag Race" in Season 3 so…8 years ago) can't exactly be called A list names and the third star of this production was Brook Lynn Hytes, who is on the currently airing Season 11 of RPDR and really hasn't earned a huge fan base.  The old adage is, you need a hot title or hot stars to sell a show and this production suffered from a lack of both as well as a lack of a marketing plan to get fans to buy tickets.
This might also raise the question: are audiences getting burnt out by the quantity of big national drag shows that come through town? Has the big drag show peaked? Are too many "RuPaul's Drag Race" stars vying for the same audiences? Or, can only A+ names (Bianca, Katya, Alaska, Trixie, Bob) guarantee a success?
Remains to be seen. 
Here's more on the cancellation from Qurb:
CANCELED: A Statement from Qurb Live Regarding the Cancellation of "First Wives Fight Club" Tour Dates in Toronto, Saskatoon, Vancouver, Portland, and Seattle.

Qurb Media Group, LLC the production company behind a segment of the international tour of "First Wives Fight Club" starring RuPaul's Drag Race alumni Raja, Ginger Minj, Brooke Lynn Hytes, and San Francisco drag legend Peaches Christ have regrettably announced the cancellation of all Qurb Live produced dates. This includes the already announced cancellations in conjunction with Canadian production partner TFD Presents.

Dates impacted by this cancellation include Toronto (4/10), Saskatoon (4/13), Vancouver (4/14), Portland (4/16), and Seattle (4/18).

We sincerely apologize to all those affected by our decision to cancel the tour. There were many people involved who worked very hard to put together this incredible show. None of the cast, crew, or anyone associated with Peaches Christ Productions were involved in this tough decision. Due to slower than expected ticket sales, in conjunction with an insufficient amount of time to sell remaining seats, the financial viability of the tour became insurmountable. We did not make this decision lightly and we are sorry for any disappointment it has caused.

We are working with all venues and ticket vendors to ensure full refunds are processed to all ticket holders. If you have not already, you will be receiving an email soon with details about the refund processing. We appreciate all of you who purchased tickets to the show. We are sorry we will not get to share it with you this time around, but we are working diligently to schedule future shows in these cities and hope we will get to see you all when we return.

If you have any questions or concerns, please feel free to email us directly at hello@qurbmagazine.com
And, Peaches Christ issued her own statement from San Francisco:
I could not be more proud of our premiere of THE FIRST WIVES FIGHT CLUB in SF, and am so glad we get to do it in Los Angeles next Saturday- but it only makes the cancellation of our Canada, Seattle, Portland shows all the more devastating. I was waiting until the Seattle ticket buyers were notified before saying something but I want people to know that the performers, crew, and myself woke up Monday morning to find out about the cancelled dates and we wish more than anything we could have brought this great show to these towns. Ginger Minj, Raja, Brooke Lynn Hytes, April Kidwell, and Peggy L'eggs worked so hard to make the show fantastic and I could not be more impressed. I know that there are a multitude of reasons the tour producers had for making this decision and it's my hope that they can sometime soon reschedule and properly bring the show out on the road. People in SF have been raving about it and the entire cast and crew worked so hard to make it so great! If you're in Southern California and can catch us in Hollywood next Saturday, April 20th- we'd LOVE to see you! Matthew Herrmann is presenting the show at the fantastic Montalban Theatre in Los Angeles. What better way to spend 4/20? Tickets at themontalban.com.
Tags: Egyptian Theatre Seattle, Peaches Christ, Qurb Magazine, The First Wives Fight Club