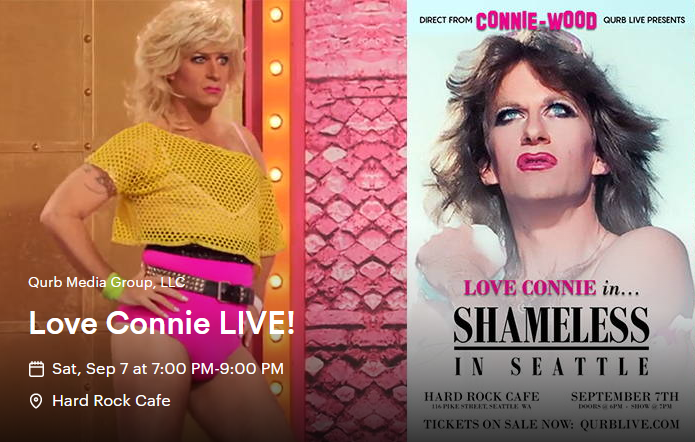 She was a sensation on RuPaul's Drag Race Season 11 and now LOVE CONNIE is jetting in from "Connie Wood" to delight all her new fans in Seattle this Saturday for a live show at The Hard Rock Cafe. And, not being shy about exploiting a locale, she's calling her show SHAMELESS IN SEATTLE!
The show also stars Lou Becker and Moises Josue Michel with special local guests, Strawberry Shartcake and Miss Texas 1988.
Advance tickets are MUCH cheaper than at the door, so go snag them over HERE!
"There are so many talented queens, and so many side-splitting shows, it's hard to pick. But we are rabid fans of Love Connie. Sick and twisted, cerebal and stupid, she gives us everything we want." – Randy Barbato & Fenton Bailey (Executive Producers of RuPaul's Drag Race)

"…a consummate performer who gives his all and had the enthusiastic and vocally appreciative audience in the palm of his hand." – Arts Beat LA
Avoid the shame of missing out and excercise your right to a good time…get your tickets today! This is a LIMITED seating engagement, tickets are first come first served while they last. Meet & Greet option available includes photo op, premium seating, and more!

This show is 21+ with valid ID.
No flash photography or video recoreding of any kind. All sales are final, no refunds.

Universe banner and event photo credit: Austin Young Photography
Additional Photo Credits: Fernando Guerrero & Jason Thompson


________________________________
About The Artist:

John Cantwell is a veteran comedic performer with over 25 years experience in "showbiz". After graduating with a degree in Music from a small Southern Baptist college in his home state of Louisiana he began performing in the Dallas, TX area with jobs in summer stock productions like "Chicago" & "42nd Street" as well as a stint at Six Flags Over Texas. He quickly saved up money and in less than 3 years moved to New York City where he began to cultivate his art and cut his performance teeth with legendary gay sketch comedy group, The Nellie Olesons, among other theatrical endeavors and short films, like the gay film festival classic, "Boot Camp", featuring Cantwell as a leather master initiating a novice into a song and dance routine ala "Fred and Ginger" about the joys of leather and rough sex.
With the Nellie Olesons he created, starred and produced a total of 9 critically acclaimed and very politically incorrect "variety" style shows is as many years. The character of "Connie Slocum" (aka Love Connie) took flight here, she being a southern, naive, ramshackle beauty queen (as played by a 6 foot, muscular, high-kicking guy in heels and a wig). After touring a year with the group, including a stop at the Just For Laughs Festival in Montreal and a rave review in the New York Times, Cantwell moved to LA and appeared (as "Connie") on shows like "Will & Grace" (directed by James Burrows), "The Riches" and the films NICK & NORAH'S INFINITE PLAYLIST and DOG GONE LOVE. He has appeared on TV alongside greats like Jack Warden, Norm MacDonald and Eddie Izzard but most people will remember John from the Reese Witherspoon classic LEGALLY BLONDE and his now famous line "Oh, my God, the bend and snap works every time!"

Most recently Love Connie appeared as a special guest on VH1's "RuPaul's Drag Race" guiding the Season 11 contestants in an exercise focused mini-challenge dancing her way into America's hearts. You can also see Love Connie in her World Of Wonder exclusive web series "Connie-Wood" available on WOW Presents Plus.

Follow Love Connie on Instagram:
(Visited 7 times, 1 visits today)