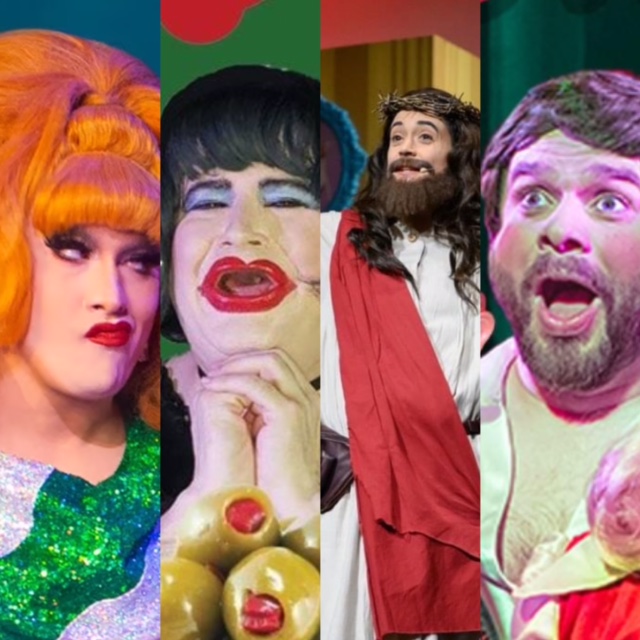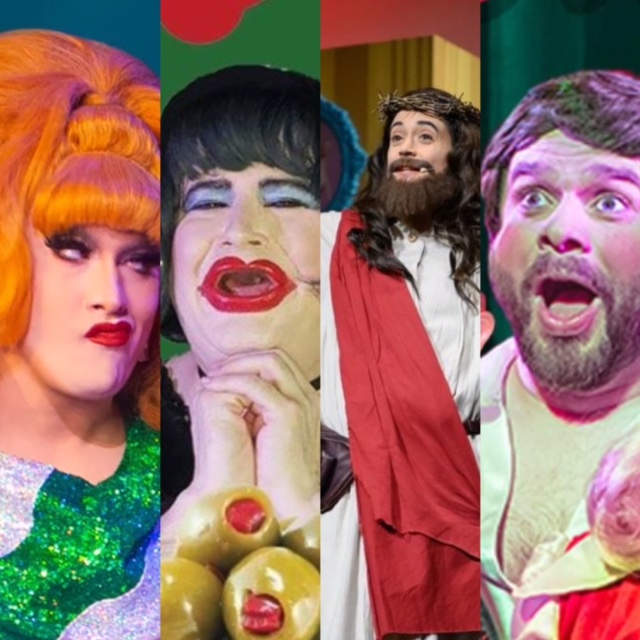 Good thing we have plenty of time on our hands!!!

Sigh.
The sad news dawned on us earlier this year when it looked like there wouldn't be ANY traditional local holiday stage shows to go see in 2020 because of Covid shutting everything down. It was a case of us curling up in a ball and mewling to ourselves, "No Dina Martina Xmas Show this year!" followed by sobs of anguish.
Fortunately, EVERY single local major live stage show all decided to put their shows on tape (well, digital tape so to speak) so they could still put on shows for 2020 via the magic of streaming them over the interwebs in order to delight their fans (as well as to make some money for all the artists onstage and behind the stages who have been financially devastated by the economic impact of the Covid-19 pandemic shutting down all live forms of entertainment for the last 9 months.)
So, that means you/we/us can all enjoy all of our favorite local holiday Xmas shows this year PLUS shows from other parts of the country that we don't normally have a chance to see! Yes, live IS better but the next best thing can also be fun, too!
Among the treats we can stream this year: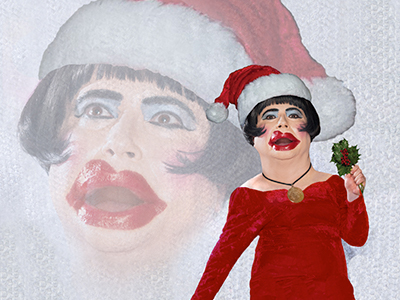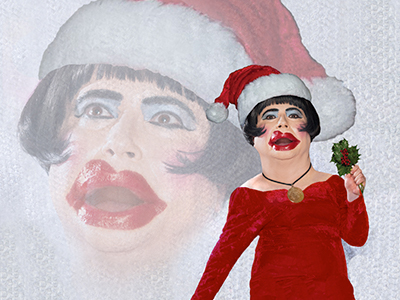 THE DINA MARTINA CHRISTMAS SHOW
Yes, Miss Martina is baaaaaaack for her 48th annual holiday show along with her chatterbox musical sidekick Chris Jeffries as they maul their way through most of the holiday songs you hold dear to your heart!
'Tis the season for one of the most surreal and hysterically funny Christmas shows ever: The Dina Martina Christmas Show! Join "The Second Lady of Entertainment" as she welcomes you into her home and fills you with a distant facsimile of the holiday spirit. Marvel at her fireside chats; question her fashion choices; sit with her at the dinner table and listen in awe as Miss Martina and lauded music man Chris Jeffries "interpret" Christmas songs of all kinds – in English!
Dina's show streams at specific times; you just can't watch it whenever you feel like it so go over HERE to snag tickets to the specific day/time you can experience the joys of Dina's Yule Log! Tickets are available through December 27th (though we're thinking she could add more dates).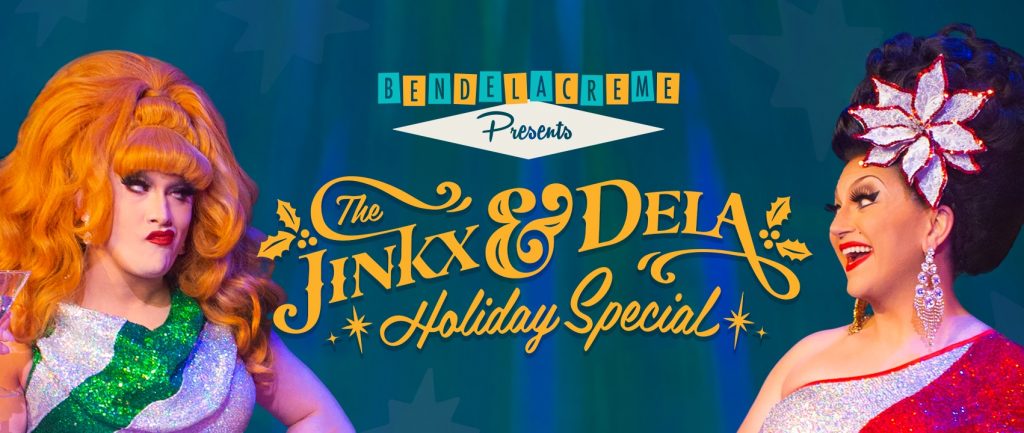 The Jinkx and DeLa Holiday Special
Seattle's most successful drag superstars who earned their international drag stardom via their turns on RuPaul's Drag Race started teaming up a couple years ago to jump on the lucrative holiday show bandwagon and for 2020, JINKX MONSOON and BenDeLaCreme have again joined forces for their first video special, The Jinkx and DeLa Holiday Special an hour long extravaganza professionally filmed here in Seattle back in August.
The plot:
With the help of a chorus of dancers and DeLa's deceased grandmother—whose spirit lives on in a glass of eggnog—DeLa tries her hardest to uphold the cheery Christmas traditions of her childhood. Meanwhile, Jinkx is much more interested in bawdy jokes, cute boys, and boozy libations. As they sing and dance their way through numbers about everything from St. Nick to the Christ child, the tension between them mounts, culminating in an all-out battle for control of the show. After some hilarious insight into the ghosts of their very different Christmas pasts, and with the help of a mysterious naked man with a surprising holiday secret, the two realize that tradition can be whatever we make of it, and family is whomever we choose.

This high camp, side-splitting romp is equal parts sacrilegious and sweet, with a sharp tongue and a heart of gold. The Jinkx & DeLa Holiday Special is sure to be a new holiday tradition for all the lost toys who know that the best traditions are the ones we create ourselves.
The show is currently streaming all over the place; you have options on how you can see it:
Fans worldwide can rent The Jinkx and DeLa Holiday Special at Vimeo on Demand!

Rentals can be streamed on iOS, Android, Apple TV, Roku, and Chromecast. Learn more about On Demand videos.

For our fans in the UK and Ireland, The Special is also available to rent through Soho Theatre on Demand.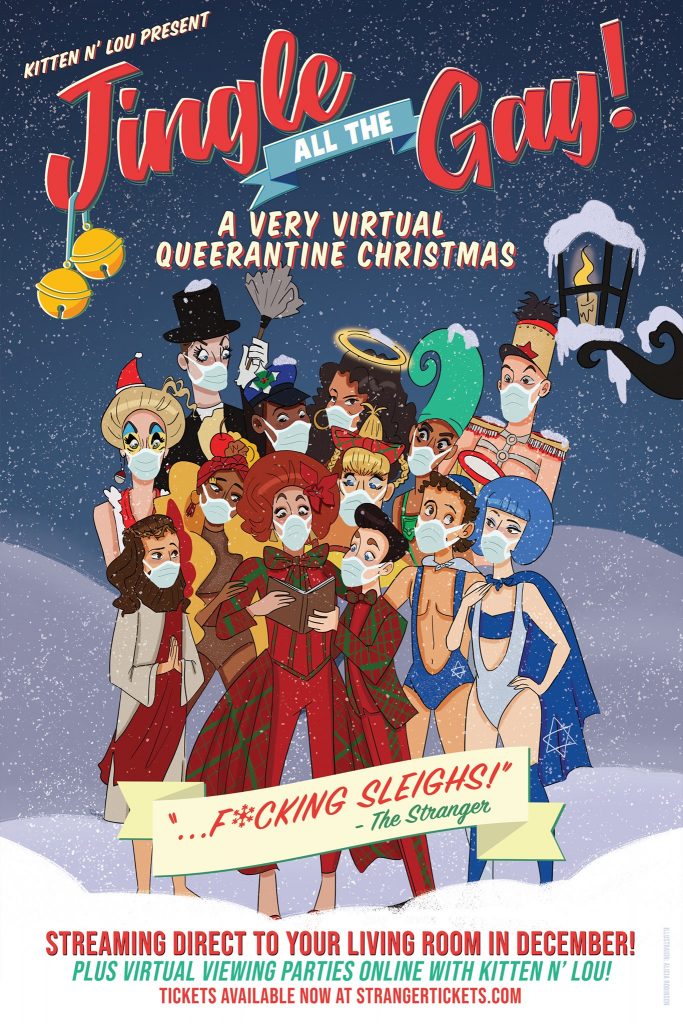 Kitten N' Lou Present: Jingle All the Gay!
BenDeLa's former partners in Xmas show production have recovered from his defection two years ago to recreate their popular holiday show, "Homo for the Holidays" as the rebranded JINGLE ALL THE GAY and these gals also being canny producers have also opted to film their show for streaming enjoyment along with their usual cast of stars including Cherdonna Shinatra * Markeith Wiley * Randy Ford * ilvs strauss * Mr. Gorgeous (NYC) * RedBone (San Francisco) * The Luminous Pariah and many others from the world of drag and burlesque. Via their press release:
Well folks, 2020 has been *quite* the year…one that has us feeling the importance of gathering strength and power as a community more than ever. While we are heartbroken not be able to join together in the same room to feel the comfort, joy, and magic of this annual event, we're thrilled to bring you an incredibly special and unique 2020 virtual experience of Jingle All the Gay to share with your nearest and dearest! Join us online for a special 2020 edition, complete with a cinematic edit of the production recorded in front of a live audience interwoven with phone calls, love letters, and other mid-pandemic musings from all your favorite characters in quarantine!

Choose one of two ways to watch:

On-Demand: Available to stream at your holiday leisure December 4 – January 2

Virtual Viewing Parties hosted by Kitten N' Lou!: Dress up and celebrate in a festive online "room" with your fellow Queers and Allies! Purchase tickets for December 11, 13, 19, or 20!

Get tickets HERE!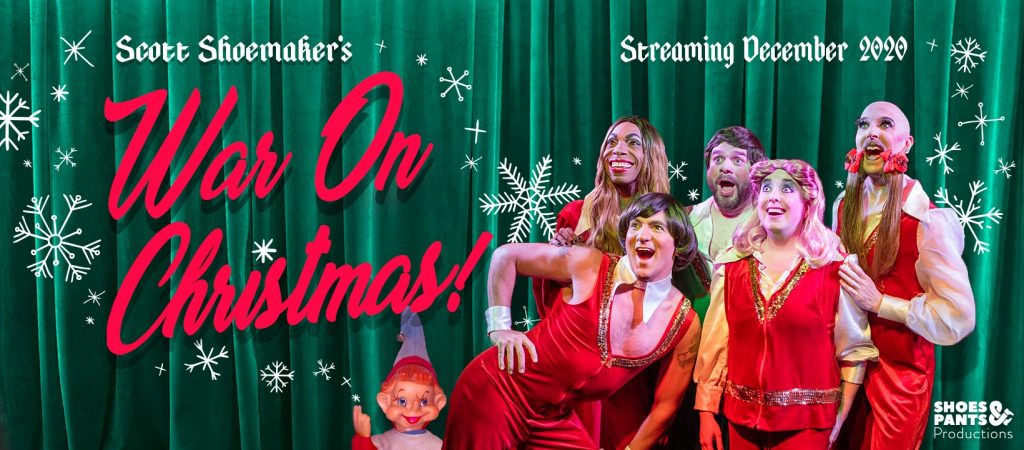 Scott Shoemaker's War on Christmas!
If you follow the genealogy of all these draggy faggy/hippy dippy/artsy fartsy Seattle holiday shows it quickly becomes more tangled than a Roman imperial family tree with just as much intrigue and incest! EVERYONE knows everyone else and starred in OTHER shows with each other before breaking off to create new shows…it's a wonder they don't all have congenital syphilis from all this mating/dating/collaborating and artistic frottage!
Happily, it all leads to delightful family fun for the holidays except in the case when the shows are performed in bars and no one under 21 can attend but one good thing about Covid-19 forcing all these stage shows to film themselves for streaming is the fact that now their filthy, filthy fun can be enjoyed by EVERYONE in the relative safety of their own homes! Impressionable youth can now watch dirty drag queens and raunchy rug munchers and be indoctrinated into the joys of socialistic liberalism and sodomy!
YAY!
Which brings us to our favorite socialistic sodomite, Seattle theater artist Scott Shoemaker and his hubby Freddy Molitch and their fun filthy show, SCOTT SHOEMAKER'S WAR ON CHRISTMAS which is normally onstage at Re-bar (which of course has now sadly closed due to Covid…sigh) but is now online for streaming enjoyment!
Shoes and Pants Productions Presents: "Scott Shoemaker's War on Christmas!" a hilarious holiday variety show. In its third year, this new Yule Tide tradition is back with a new virtual show!

Tune in to see Scott and a cast of Seattle luminaries as they try to figure out who's fighting a war on Christmas and what for?

Like always, this year's show is packed with ALL NEW hilarious comedy, songs, dance numbers, and partial nudity – along with some of previous year's favorites!

Joining Scott once again is a cast of illustrious superstars – Adé, Waxie Moon, Mandy Price and Faggedy Randy. Written by Freddy Molitch and Scott Shoemaker!

Tune in and treat yourself to some holiday cheer while you laugh your Christmas stockings off! But be warned! This show is definitely on the naughty list!
FINALLY, there's also this annual treat for those inspired by the choral: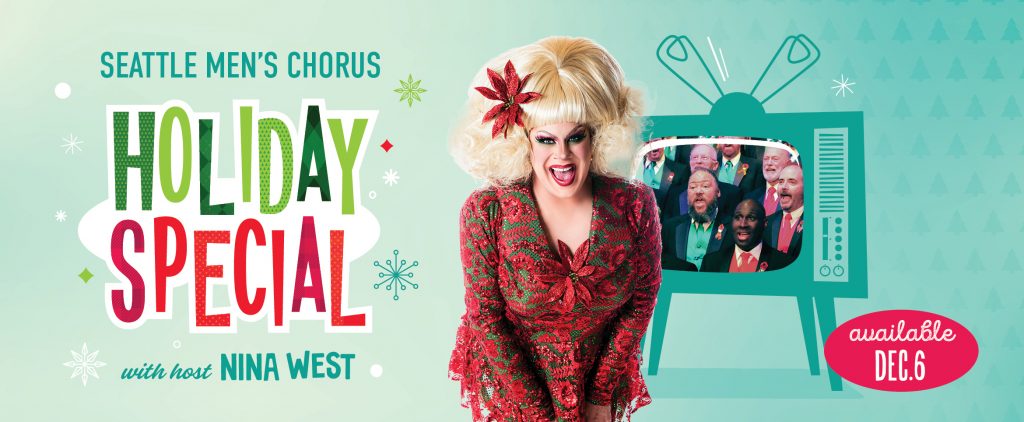 Seattle Men's Chorus Holiday Special with Nina West!
Since all the local big name queens were already booked with all the shows I already mentioned, the Seattle Men's Chorus was forced to book an out of town RuPaul's Drag Race star for their big annual Holiday Special…in this case, it's NINA WEST who joins them for their streaming 2020 show:
That's right, Seattle! Nothing's gonna stop us from bringing you our 40th annual holiday concert. This year you can't come to us, so we're coming to you…a-caroling!
In this holly jolly variety show, we've packed in our signature blend of classic choral splendor, familiar cheer, and zany hilarity. While we weave together beloved carols filmed from all across the region, host Nina West (with the help of her puppet friend, Holiday Herald) races against the clock to bake the perfect fruitcake before the show ends. Will they make it?

Featuring "Deck the Halls," "Auld Lang Syne," "Holiday Lament (The Fruitcake Song)," and many more seasonal favorites.

Read our Holiday Special FAQ for more information about how your virtual tickets will work.
Their show is available through December 31st and snag tickets HERE!
(Visited 5 times, 1 visits today)