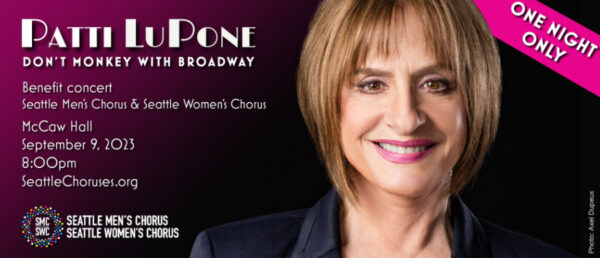 I think it's pretty much the same cabaret show she's been touring with for years, but….WHO CARES?!?!? It's the legendary PATTI LUPONE and she's back in the Emerald City on Saturday, September 9th at the cavernous McCaw Hall for a one night only performance where she showcases all her favorite Broadway songs in Patti LuPone: Don't Monkey With Broadway.
It's a fundraiser for Seattle Men's Chorus/Seattle Women's Chorus (who aren't performing; it's all Miss Patti!) Tickets are still available for Saturday's show…you can choose between paying full price and supporting the Choruses as much as you can and their yearly seasons of concerts by snagging tickets at: https://seattlechoruses.my.salesforce-sites.com/ticket/
If you're a poor person like myself but you still want to experience the Divine Patti LuPone, then you can still grab a discount ticket at Goldstar: https://www.goldstar.com/seattle/shows/33703-patti-lupone-dont-monkey-with-broadway
A bit more info about the concert:
Spend an evening with a true Broadway legend as three-time Tony Award winner Patti LuPone performs live in a concert to benefit Seattle Men's Chorus and Seattle Women's Chorus. Ms. LuPone will explore—through indelible interpretations of classic Broadway show tunes by the likes of Richard Rodgers, Lorenz Hart, Jule Styne, Stephen Schwartz, Leonard Bernstein, Stephen Sondheim, Cole Porter, and Irving Berlin—how her lifelong love affair with Broadway began and the unpredictability of the Great White Way.
You can also check out our interview with Patti from 2016 over HERE: https://seattlegayscene.com/2016/04/patti-lupone-tells-us-all/
It was done by the late, great and much missed David-Edward Hughes…salud!
Check out Patti in action!
(Visited 32 times, 1 visits today)