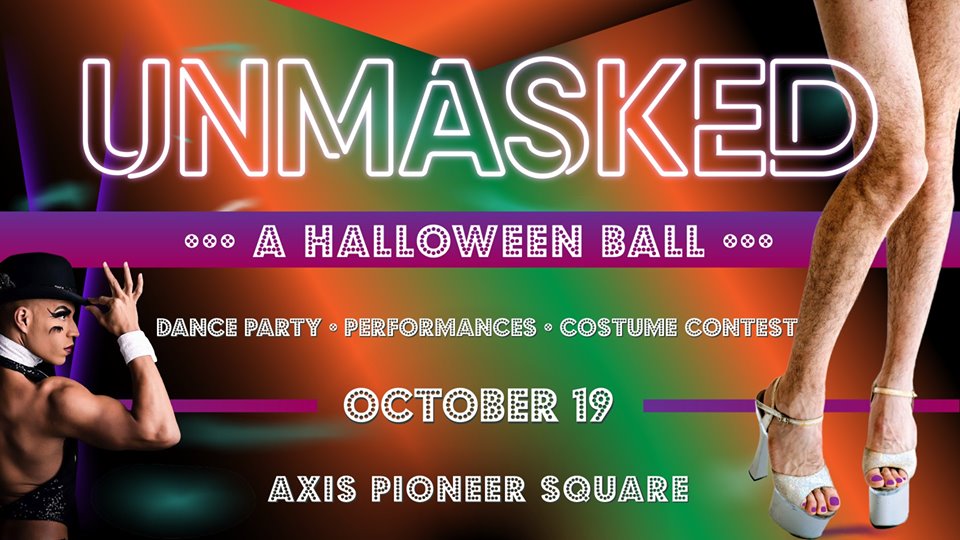 Remember when Halloween on Capitol Hill was a lot of big gay fun? It was full of great events including the Broadway Grill's annual costume party and Bump, the big Halloween ball that was last produced by Gay City before it was allowed to peter out and wither away. EVERY bar had a big party with costume contests and big prizes.
But, bit by bit it has all kind of dried up. Not as many gala events have been happening the last couple of years…there's a few, but….
Fortunately, Lifelong sensed there was an opportunity to bring the fun back into Halloween so they've come up with UNMASKED their new Halloween gala fundraiser scheduled for Saturday, October 19th at Axis in Pioneer Square.
More poo from the press release:
This October, join Lifelong at a scintillating costume party that will give you chills and drinks to thrill. Come ready to embrace your wildest fantasies during our sensuous performances from Aleksa Manila, Waxie Moon, and Luminous Pariah.
Unmasked is a place free from shame, free from judgement, free from expectation, and free to be empowered. Be YOU this Halloween season.
We will be awarding prizes for the most original costume, sexiest duo, and best group, so put on your lustiest outfit and dance until the stroke of midnight at Seattle's most exciting after-dark event!

This is a 21+ Event

Saturday October 19th 2019 • 7:00 pm
AXIS Pioneer Square, 308 1st Avenue South, Seattle, WA
Today (Friday, September 6th) is the last day to get Early Bird Tickets…go HERE to snag them NOW!
(Visited 3 times, 1 visits today)