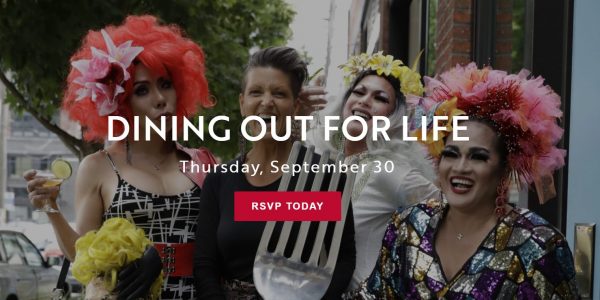 Dining Out For Life is the huge annual fundraiser for HIV/AIDS non-profits across the country including Seattle's own Lifelong group who provide thousands of meals every year to people fighting a variety of illnesses including HIV/AIDS. The premise of Dining Out is simple…you go out to eat at a participating restaurant and that restaurant donates a certain amount of money to the local non-profit.
Easy peasy!
Like everything else in the world, last year's Dining Out got fubar'd up due to Covid but it's on track to return to live dining for 2021 with Seattle signed up for participation on Thursday, September 30th. A number of area venues have already signed up with more to come.
Here's all the poo:
FEED YOUR HOOD FOR GOOD ON THURSDAY, SEPTEMBER 30!
Lifelong needs support from people like you at this year's Dining Out For Life event, presented by BECU! More than ever before, our neighbors living with serious and life-challenging illnesses are fighting for their health, but they shouldn't have to do it alone.
Join us for Dining Out For Life and feed your hood for good on Thursday, September 30 at a restaurant near you, and you'll be helping us reach our goal of $150,000 to support our services!
How to get involved!
BECOME A HELPER RSVP to attend the event and help your local community! Plus, you'll be entered for a chance to win two tickets on Alaska Airlines!
BECOME A SUPPORTER Make a donation or start a fundraiser for Lifelong with your friends and networks!
BECOME A FIGHTER Sign up to volunteer as a restaurant ambassador to spread the word about the event, and help us reach our goal!
Dining Out For Life is our annual fundraising event, where local restaurants come together to support us as we fight for health for all. Participating restaurants donate a portion of their proceeds back to Lifelong on the day of the event. Get involved by dining out on Thursday, September 30 at your favorite local restaurant and feed your hood for good!
Sign up to be a participating restaurant! This year, we have a couple of options for restaurant participation. However you choose to get involved, you will be making a direct impact in the lives of 2,500+ neighbors living with serious and life-challenging illnesses.
(Visited 2 times, 1 visits today)