I mean, the source material, Anne Rice's beloved book and subsequent series of books was already pretty queer and vampires in general are certainly on the sexually ambiguous spectrum but AMC's just released new trailer for their new 7 episode series based on Rice's novel, INTERVIEW WITH A VAMPIRE looks pretty homoerotic. It can't hurt that Rice's novel writing son Christopher is involved with the new series as one of the producers.
It doesn't hurt they have a couple of very attractive men playing the lead roles of relunctant vampire Louis and his alpha mentor Lestat. Both actors have been seen elsewhere with Jacob Anderson as Louis being very familiar to Game of Thrones fans where the British actor played Grey Worm. Sam Reid who plays Lestat is less known to American audiences; he's an Australian actor known for his lead role in The Newsreader and lots of work in the UK.
There's other big differences in this new version…well, besides the most obvious one being that Louis is now an African-American character. The novel and subsequent Tom Cruise/Brad Pitt film were both set in the late 1700s, at least when the story begins. For the new television series, that has been moved forward quite a bit to 1910. It also looks like the character of Claudia, a young girl vampire, has been aged up a bit from being a pre-pubescent child to a teenager. Not suprising in an era where it's pretty non-pc to feature young characters in such adult situations. They're still calling her a "child vampire" in the press release but…the actress is 19 and 5 foot 8 inches tall apparently. Not exactly child sized.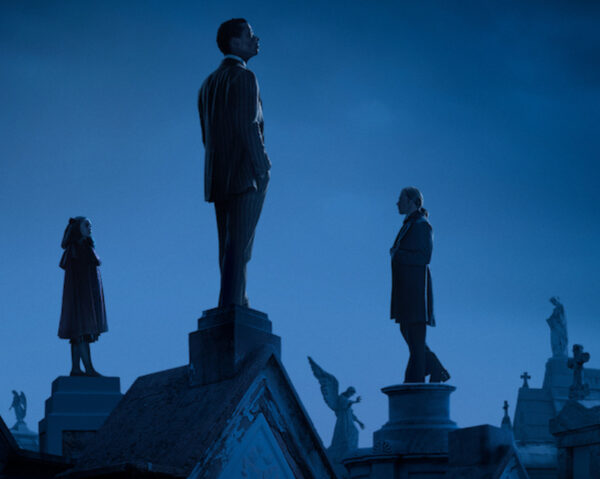 AMC is spending big bucks on this project. They built a huge outdoor set in New Orleans where the show was shot.
The new trailer was released at San Diego Comic Con last week along with a release date for the show: Sunday, October 2nd at 10/9c with the first 2 episodes dropping that night then a new episode the following 5 weeks.
And, it's just the first part of AMC's new package of Anne Rice projects…coming up soon will be an adaptation of Rice's Mayfair Witches books.
Per AMC, the new plot for their Interview with a Vampire will follow "Louis de Pointe du Lac, Lestat de Lioncourt and Claudia's epic story of love, blood, and the perils of immortality, as told to journalist Daniel Molloy. Chafing at the limitations of life as a black man in 1900s New Orleans, Louis finds it impossible to resist the rakish Lestat's offer of the ultimate escape: joining him as his vampire companion. But Louis' intoxicating new powers come with a violent price, and the introduction of Lestat's newest fledgling, the child vampire Claudia, soon sets them on a decades-long path of revenge and atonement."
We're eager to check this out…what do you think about this new version? How gay do you think they'll get? It's AMC not HBO so I wouldn't expect it to get too sexy…
(Visited 8 times, 1 visits today)