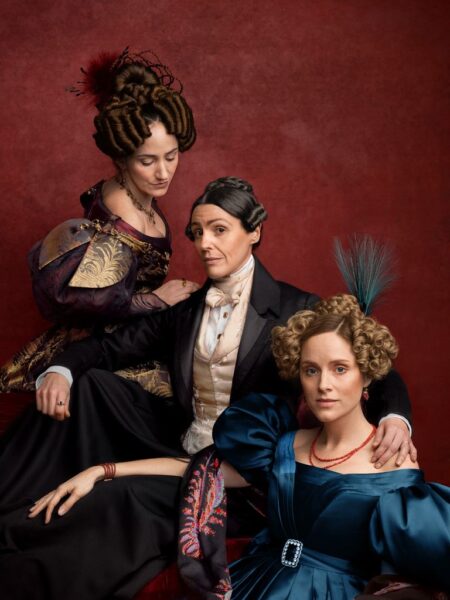 We sure hope so!
In case you're not aware or a fan, GENTLEMAN JACK is the terrific BBC/HBO series about the notorious Anne Lister, the early 19th century British lesbian who scandalized society by living quite openly as a gay woman at a time when…well, you just didn't do things like that.
She got away with it for a couple of reasons…she had money and thus some power and even as a woman in those times, that was helpful. And, while male homosexuality aka "sodomy" was specifically illegal and punishable by imprisonment and even death, the laws of the time weren't worded to include female homosexuality. (Though it should be stated that lesbians did face a lot of hardships and difficulties from society if discovered).
And, most of all, "Gentleman Jack" as she was called, had a larger than life personality and she didn't take much crap from anyone. Which makes for a splendid entertainment and one of the reasons why Lister's story has been told more tha once in the last few years. In addition to this series, there have been a couple other films and documentaries about Lister as she became more and more known with the publication of her notorious diaries, which she kept for many years and described in great detail, how she lived her life and how she LOVED her life. Lister used a secret code in writing about her raciest sexual exploits and it took a considerable amount of work to crack that code.
Season One of Gentleman Jack was a big hit with audiences and critics back in 2019 and the BBC/HBO gave the go ahead for a sequel series which is finally ready to hit our screens this April, both in the UK on BBC and internationally on HBO Max. The BBC just annouced that the premiere date is Sunday, April 10th; HBO hasn't confirmed if they'll also stick to that date but it seems likely.
All the major players from Season 1 are returning including the divine Suranne Jones as Anne Lister; frankly Jones should win ALL the acting awards for this role. She really is terrific in it.
Also back: Peaky Blinders actress Sophie Rundle as Lister's femme wife Ann Walker and the wonderful Gemma Whelan as Anne's much put upon spinster sister Marian. Game of Throne fans will remember Whelan as the very butch lesbian pirate Yara Greyjoy.
And, while I know this show has millions of devoted lesbian fans (for obvious reasons) we encourage the men to check out this show as well…it's enormously entertaining! The writing, directing, acting and design elements are all top notch and for fans of costume dramas it's really highly recommended. Especially if you became a fan of the truly awful (but still fun to hate watch) The Gilded Age drama that just ended its run on HBO Max last week. Gentleman Jack is set 50 years before that show but it's far better written and acted.
It should also be noted that the show is also very funny. The comedy is well mixed with the drama, the romance and the melodrama which in Season One included murderous pigs!
Check it out!
(Visited 6 times, 1 visits today)