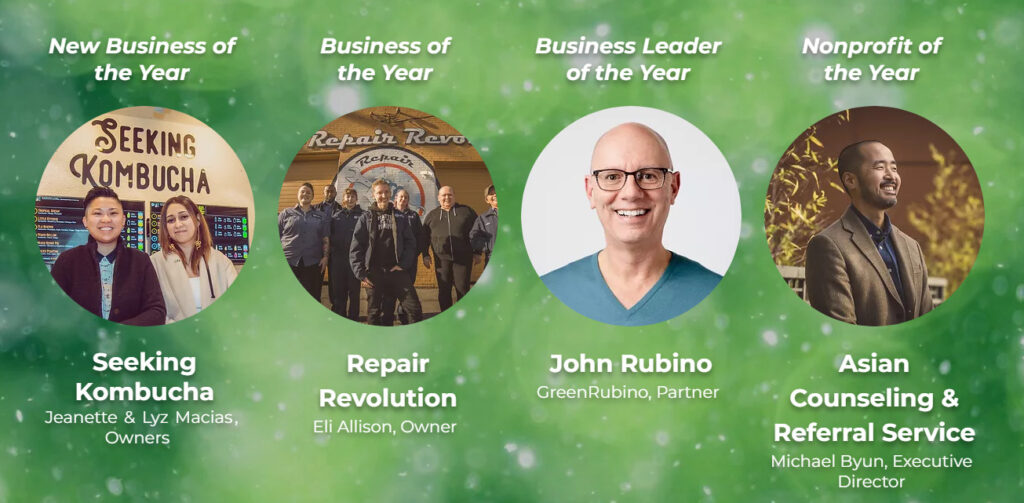 On the eve of Transgender Day of Visibility, the Greater Seattle Business Association (the GSBA) honors REPAIR REVOLUTION as this year's "Business of the Year" highlighting the impact transgender owned businesses and employees have on our community.
And, the GSBA honored these other community businesses, individuals and groups as part of this year's Business & Humanitarian Awards:
New Business of the Year – Seeking Kombucha, owned by Jeannette and Lyz Macias
Business Leader of the Year – John Rubino, Partner at GreenRubino
Nonprofit of the Year – Asian Counseling and Referral Service
Community Leader of the Year – Dr. Sheila Edwards Lange, Chancellor of UW Tacoma
Corporate Leader of the Year – Seattle Sounders FC
Board Chair's Award –Wakefield (Ret.), HIV Vaccine Trials Network at Fred Hutchinson Cancer Research Center
Special Recognition for Sustaining Community – Community Kitchen Collective; Food Is Love Project
Special Recognition for Voice for Social Justice – Dr. Ben Danielson, physician and clinical professor at UW Medicine
You can meet these leaders and learn more about them at the interactive website GSBA created for them and check out interviews with each recipient. Go here: https://www.gsbaevents.com/
MORE from the GSBA:
DURING TRANSGENDER VISIBILITY MONTH, GSBA HONORS BUSINESS OF THE YEAR REPAIR REVOLUTION
In light of International Transgender Day of Visibility on March 31, GSBA is highlighting the accomplishments of transgender and gender-diverse people as part of the 41st Annual GSBA Business & Humanitarian Awards
SEATTLE (March 28, 2022) – GSBA, Washington State's LGBTQ+ and allied chamber of commerce, is shedding light on the successes of transgender-owned companies during Transgender Visibility Month, with Transgender Day of Visibility being on March 31. One of the many ways GSBA supports the trans community is through its Business Academy program, as well as its Business & Humanitarian Awards, an annual recognition of LGBTQ+ and allied business leaders now in its 41st year.
This year's Business of the Year award recipient is Repair Revolution, an auto repair shop in Seattle's SODO neighborhood with a social justice focus. Owner Eli Allison joined GSBA ten years ago when they opened their business and set out to disrupt the auto repair industry, which is often made inaccessible to women and LGBTQ+ people. GSBA provided visibility, networking opportunities, and business technical support to Eli as they grew their business. A decade later, Repair Revolution now employs several technicians with over 90 years of combined experience. The auto shop seeks to change the customer's experience of the auto industry with what Eli calls "radical transparency," including educating car owners about basic maintenance throughout service. In addition, Repair Revolution is working to launch an apprenticeship program this year to build on their mission to provide a safe learning environment to empower women and LGBTQ+ people to pursue careers in the automotive space. Eli became a board member of GSBA earlier this year where they hope to help other trans entrepreneurs find success.
Established in 2019 in partnership with Ventures, GSBA's Small Business Incubator program takes transgender, gender-diverse, and QTBIPOC (queer and/or trans Black and Indigenous people and People of Color) entrepreneurs through an eight-week "Business Basics" course. GSBA then intentionally connects participants to business-aligned resources to grow and expand their companies. Now a part of GSBA's comprehensive Business Academy, the goal of this program is to empower these entrepreneurs to increase their incomes and achieve long-term financial stability, while making space for trans and gender-diverse people in various industries. LGBTQ+ people of color and trans entrepreneurs often have less access to resources, capital and safe spaces, and experience unemployment rates three times higher than the national average. Often the only safe employment that they can find is working for themselves.
GSBA members and leadership represent a diverse group of people aiming to make the world a better place. This message is also the goal of GSBA, which represents over 1,300 LGBTQ+-owned small companies, corporate, and nonprofit members who share the values of promoting equality and diversity in the workplace.
            For more information on GSBA, please visit thegsba.org.
About GSBA
Established in 1981, GSBA is Washington State's LGBTQ+ and allied chamber of commerce and is the largest of its kind in North America. The chamber represents over 1,300 small business, corporate, and nonprofit members who share the values of promoting diversity, equity, equality, and inclusion in the workplace. GSBA proudly serves as a connector across the region, bringing communities together through business while advocating for civil rights and small business. GSBA also promotes LGBTQ+ tourism through Travel Out Seattle, advocates for small businesses in Seattle's Capitol Hill Neighborhood through the Capitol Hill Business Alliance (CHBA), and invests in the next generation of LGBTQ+ and allied leaders through the GSBA Scholarship & Education Fund: www.thegsba.org/about-us
(Visited 6 times, 1 visits today)