Whistler is one of the world's premier ski resorts. Located in the heart of British Columbia, this Canadian winter paradise is just a short flight from Seattle and is one of the friendliest and most vibrant of all ski destinations.
While there are no gay bars as yet, the town has earned its inclusivity credentials thanks to its welcoming, safe and fun atmosphere. The Pride and Ski Festival, now in its 27th year, also continues to grow in popularity and draw international crowds.
Here's our essential guide if you're heading for the mountains.
Best places to stay…
The Aava
The Aava is the host for Whistler Pride 2019, and a superb choice of accommodation for your trip to Whistler. Located in the Village, Aava is decked with the standard trimmings of a luxurious Whistler hotel: pool, hot tub and sauna. A variety of room sizes- suitable for the needs of a single traveler, small families, and large groups- means that Aava can cater to the needs of all different group types.  
Fairmont Chateau
Host to the first same-sex wedding in Whistler, the Fairmont is a popular choice among loved up couples the world over. However, this luxury hotel complete with golf course, Vida Spa, and slope-side whirlpools is perfect for an indulgent stay at any time of year.
Best ways to play
Whistler has an abundance of activities on offer away from the slopes, and your only trouble will be fitting them all in.
Throw Axes: Whenever you choose to visit, make sure to stop by Forged Axe Throwing and check out one of the best things to do in Whistler. Formerly reserved to woodland lumberjacks, Forged has brought axe throwing to the masses. Way more fun than darts, you and your friends will attempt to sink a bullseye, hurling axes at a wooden target. There's no experience necessary – just a love for frivolity and plaid!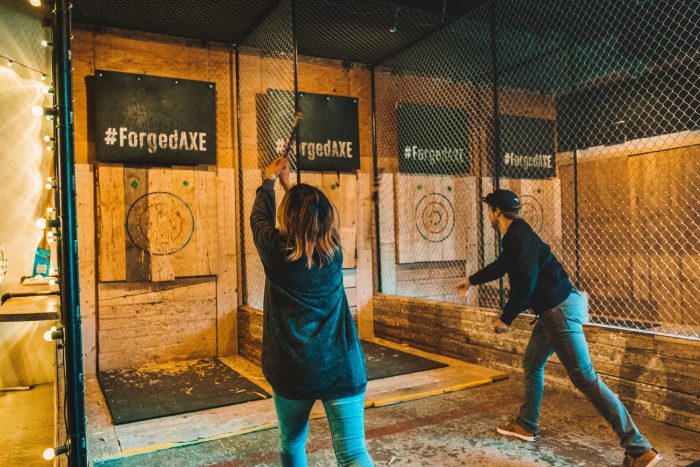 Sleigh Riding: Get romantic and head out on an unforgettable ride on a horse-drawn sleigh tour. You'll slide across the snow on a metal bottom runner while you sit comfortably on padded bench seats with warm cozy blankets. Sleigh rides are one of the best ways to enjoy this winter wonderland.
Go Zip Lining: See the valley, treetops and mountains from a different perspective, gliding over the Whistler creeks fastened to a high wire – under expert supervision of course! Enjoy a tour over the Fitzsimmons Valley between the Whistler and Blackcomb Mountains and even ride during twilight. Zip lining in Whistler should be on the bucket list of every thrill seeker.
Be an Olympian (for the day): Canada has played host to some of the most legendary moments in winter Olympic history. Who can forget Cool Runnings or Eddie The Eagle?! As one of the host venues for the Vancouver Winter Olympic & Paralympic Games, Whistler boasts an Olympic Park and an Olympic Sliding Center giving you the chance to live like an Olympian and try bobsleigh or skeleton. Brace yourself though, this is the fastest ice track in the world!
Don't miss…
The Rainbow Crosswalks
In celebration of the diverse LGBTQI communities of Whistler, inclusivity in general, and Whistler Pride's 25th anniversary two Rainbow Crosswalks were installed in fall 2017. They can be found on Main Street in front of and near the library.
These brightly-coloured crosswalks were instigated by Whistler Pride's executive director and CEO Dean Nelson who wanted people, and especially youth, to have a visual reminder that diversity is welcomed, is celebrated and is central to the community.
Spas & Wellness
If you weren't already familiar with the spas in Whistler, it's time you heard about them! Pride visitors usually have the chance to relax to DJ music with a glass of wine or beer during an exclusive night time opening in the peaceful spa's settings. During summer, many spas have reduced pass fees – just in case you fancy returning out of season.
World Class Skiing
Whistler is one of the world's leading ski and snowboard destinations so you can expect world-class snow sports between late November and late April.
Getting here
Fly to Vancouver International Airport from where Whistler is a two-hour shuttle journey. Alternatively, take the train or drive! Whistler is within 5 hours' drive time of Seattle-Tacoma.
– Rachael Hopwood
(Visited 3 times, 1 visits today)