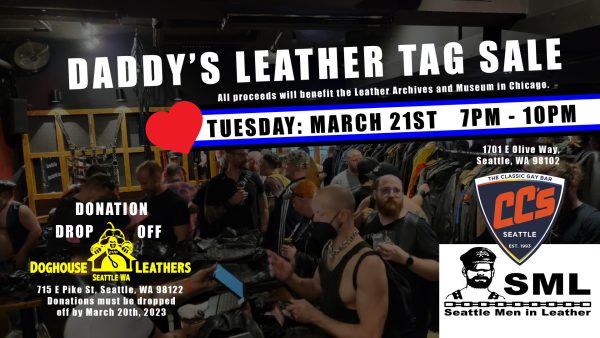 If you're a community member into Leather, then there's a couple of events for you to check out…ON A TUESDAY!!!!
I know….it's Madness. Leather. Madness.
First up, CC Attle's is hosting Seattle Men in Leather's Tag Sale from 7pm to 10pm at 1701 E. Olive.
All the skinny:
The past and current Leather Daddies and Daddies' Boys of Seattle Men in Leather announce this year's Daddy's Leather Tag Sale.

All proceeds will benefit the Leather Archives and Museum in Chicago.

Our sponsor, Cockeye Kink, will be having a separate popup event the night of the event in the CC's Seattle coat check area.

We will be taking cash or credit cards via Square.
The Tag Sale will occur:
Tuesday, March 21, 2023
CC's Seattle
1701 E. Olive Way, Seattle
Sale is from 7-10 pm. No early sales.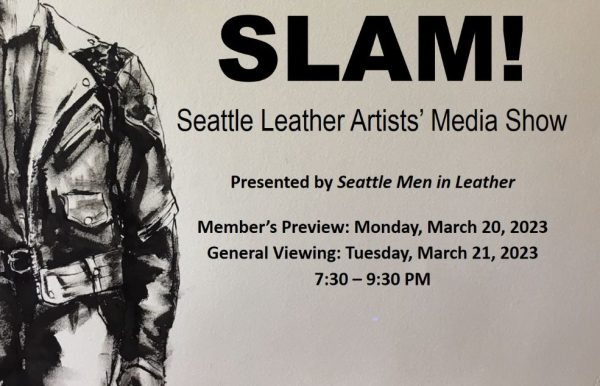 ALSO, Seattle Men in Leather is hosting their annual Seattle Leather Artist's Media Show aka SLAM! at Vermilllion Art Gallery & Bar at 1508 11th Avenue (near 11th & Pike) on Capitol Hill from 7:30pm to 9:30pm.
The event will, according to the FB invite: "celebrate and introduce artists who create erotic male leather, uniform, rubber, kink and fetish visual art by inviting them to display their to SML members and the larger Seattle leather community!"
Most works will be for sale!
If you are interested in joining Seattle Men in Leather, you can join from the web site.
https://seattlemeninleather.org/join/
The Tuesday reception is free and open to the adult public. Feel free to bring as many friends are you want to the Tuesday show!
(Visited 113 times, 1 visits today)