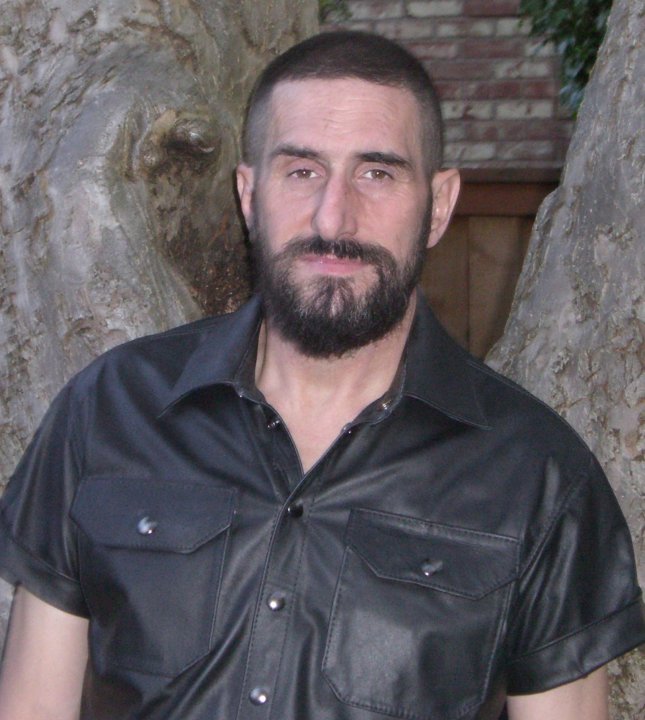 Friends and family of "Daddy Jeff" Henness are mourning the loss of a fixture of Seattle's LGBTQ community who died last week after years of illness. The loss is especially felt among the city's leather community as Daddy Jeff was a founding member of the group Seattle Men in Leather and participated in many leather events regionally and nationally over the years.
For many, he was long a familiar face working as head of security at The Cuff for many, many years before starting his own business, Doghouse Leathers in 2006, which is still a vital part of our community today at its location on Pike Street. Their social media announced Jeff's death August 26th: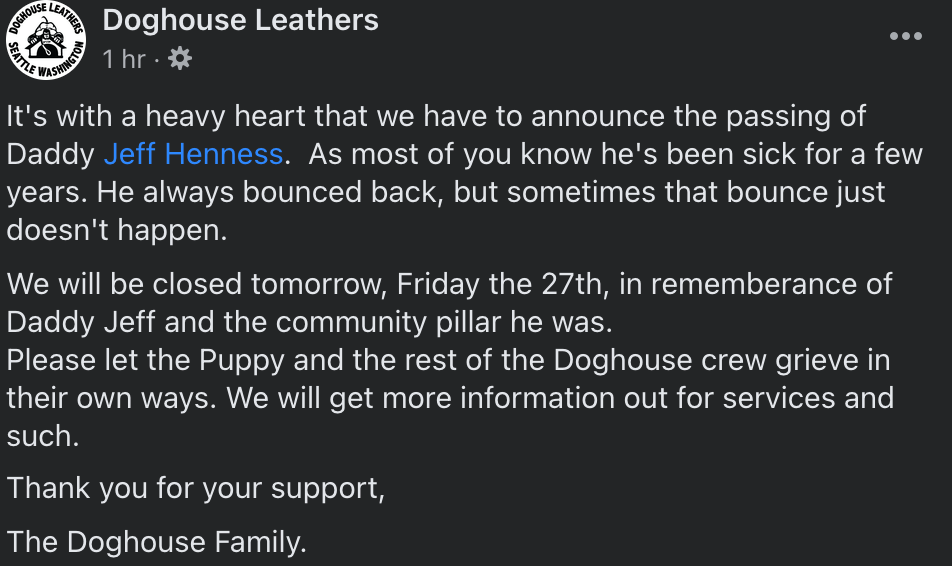 Doghouse followed up with this message earlier this week:
"Hello All. We at Doghouse want to thank everyone for your outpouring of condolences, affection and the flowers for Daddy Jeff, Puppy and the Family.We have been touched by the impromptu gatherings and memorials hosted by a variety folx access the community in the wake of Daddy's passing. Thank you for being there for each other, it's just one of the things that makes this community so very special. "
In the week since his death, social media pages for Doghouse and Daddy Jeff have filled with tributes and condolences from his many friends and admirers with many commenting that Daddy Jeff was a mentor figure to them.
A "Celebration of Life" for Daddy Jeff Henness has been organized by Doghouse Leathers at CC Attle's (1701 East Olive Way) for Saturday September 18th kicking off at 4pm. More info:
Greeting and gathering at 4 pm
Celebration at 5:30 pm
With a social to follow

For those who may not be able to attend, we are working on a Zoom/Broadcast option.We will post updated information here as we sure up the details. We should be finalized on the proceedings by next week.

If you have photos and/or memories of your time with Daddy that you would like to share, we will be putting together a video to play during the gathering and social times. Please post them here or email them to Daddy@Doghouseleathers.com

**PROOF OF VACCINATION IS REQUIRED**
Finally, a Toast to Daddy Jeff.
Salud.
(Visited 77 times, 1 visits today)