September 2, 2021

•
by
Michael Strangeways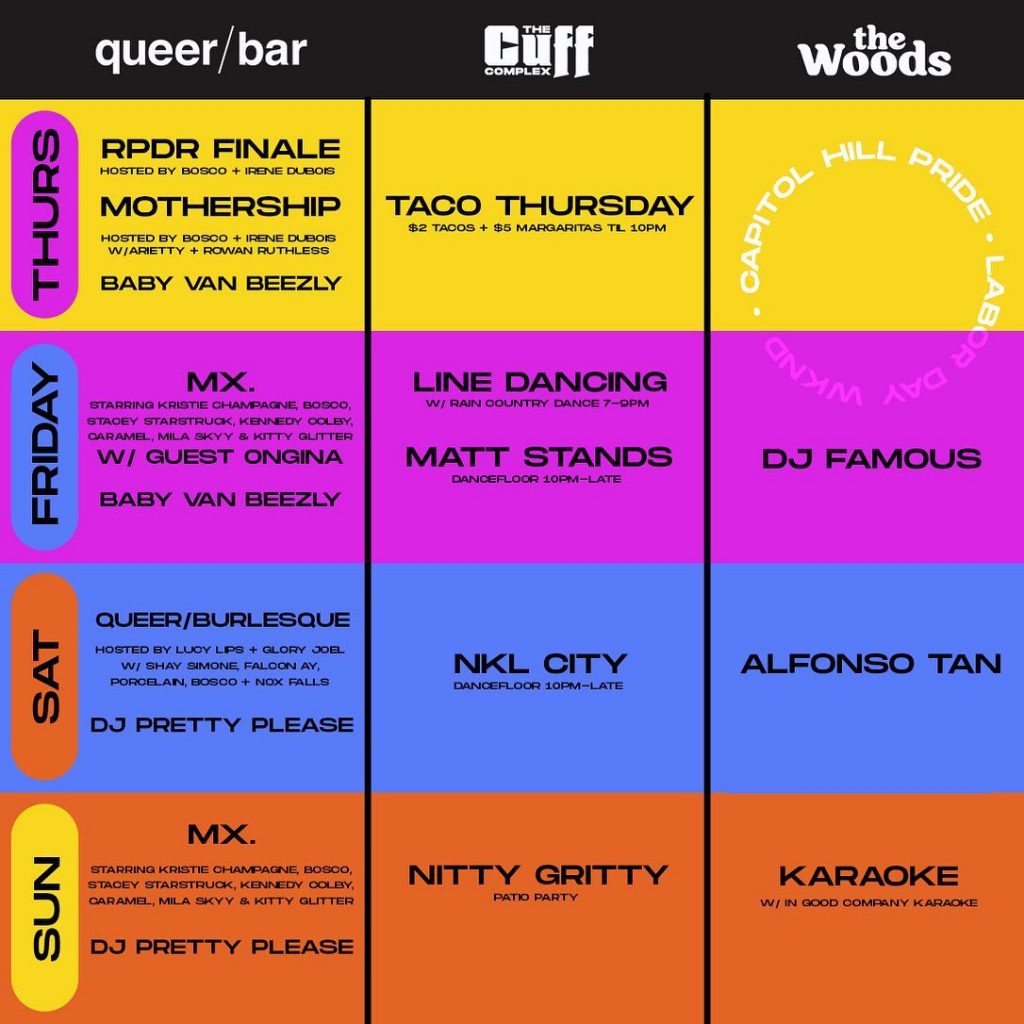 A lot of options at Queer Bar, The Cuff Complex and their straight (but LGBTQ people welcome) little sister The Woods this Labor Day Weekend…which also doubles as Seattle Pridefest Weekend this Saturday and Sunday as Pridefest gives us a delayed Seattle LGBTQ Pride Party on Broadway both of those.
TONIGHT, aka September 2nd, Queer Bar will naturally screen the final episode of RuPaul's Drag Race All Stars Season 6 followed by the debut of a new drag show, MOTHERSHIP with hosts BOSCO and Irene DuBois….hmmm, we've heard rumors that that Bosco is goin' places….
😉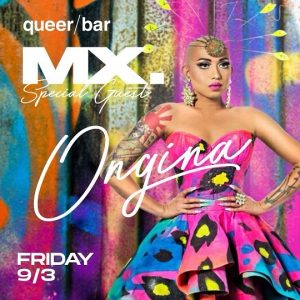 Then, on Friday September 3rd, Queer Bar has beloved RuPaul's Drag Race star Ongina as a special guest for Friday night's MX. Drag Show and the return of Queer Burlesque on Saturday night. The normal Saturday MX. show is then bumped to Sunday…got that?
Meanwhile, the Cuff has DJ Matt Stands on Friday night, DJ NKL CITY on Saturday and DJ Nitty Gritty on Sunday night.
The Woods features DJ Famous on Friday night and DJ Alfonso Tan on Saturday night.
So much to do…
(Visited 37 times, 1 visits today)
As the Editorial Director/Co-Owner, Michael Strangeways writes, edits and does about a million other jobs for Seattle Gay Scene, Puget Sound's most visited LGBTQ news, arts and entertainment website now celebrating its 14th year as a media outlet. A semi-proud Midwesterner by birth, he's lived in Seattle since 2000. He's also a film producer who would like you to check out the Jinkx Monsoon documentary, "Drag Becomes Him" now available on Amazon.com. In his spare time, he gets slightly obsessive about his love for old movies, challenging theater, "otters", vodka, chocolate, "I,Claudius", Lizzie Borden, real books made out of paper, disaster films, show tunes, Weimar era Germany, flea markets, pop surrealistic art, the sex lives of Hollywood actors both living and dead, kitties, chicken fried steak, haute couture and David Bowie. But, not necessarily in that order.
Related Posts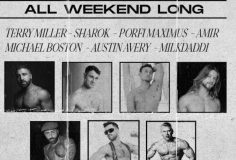 *Beefcake Babylon • Adult Entertainment • Bars & Nightclubs • Circuit Party • Day Time Nightlife • DJ Dance Party • Leather/Fetish/Gear/Kink • Nightlife • Pornolicious • Pride • Seattle Pride 2023 • The Bear's Den • We Love The Nightlife
While its big sister Queer Bar is offering up a
...