He's big. He's hairy. He's raunchy. He's a delightful mix of masc and femme. And he's ready to make you shake your ass this Pride, Seattle. Recording artist Big Dipper is a hunk of Grade-Q beef and has just dropped a new summer jam called Lookin.
To promote his new track and his upcoming Pride performance, Big Dipper met with SGS to give us all the deets.
Ryan: So Big Dipper, you have been especially busy ever since LaCroix Boi came out. What's this last year been like for you?
Big Dipper: This last year has sort of been a continuation of the last five years that I've been making music. "LaCroix Boi" was great because it tapped into a cultural zeitgeist moment that had a larger crossover audience. I think the websites that picked up that video and the people who saw it on YouTube or found it on social media enjoyed it for its content but didn't necessarily come to the video for a Big Dipper video or to see my performance or hear my music. They came because their friend was like, "Can you believe someone made a song about LaCroix water?" But the flip side is that I've also maintained a connection to a queer audience that I've been cultivating since I started making music. I've been able to tour around and play a bunch of shows and fun parties, drag events, pride events, that sort of thing. I definitely got bookings at straight and more mainstream events based on the "LaCroix Boi" song, and I'd get on the mic and be like, "I know a lot of you probably watched one of my music videos and then decided to come to the show. What you're gonna see is a wide range of content here." You know because sometimes people will send me videos of their kid dancing around to "LaCroix Boi". But don't keep the playlist playing. The next song is about eating ass.
R: You're luring them into a queer experience!
BD: Just doing my best to further the gay agenda.
R: Now I remember seeing you in Chicago long before LaCroix Boi came out, and the show was so fun. You had so much energy, and it was unapologetically explicit, and whimsical, and sexy. How would you describe your shows these days? Have they changed since you began performing?
BD: Of course I want to say they've changed because otherwise I'm like, oh no, I'm doing the same thing as a few years ago. But all of those things you've described are absolutely true. I consider myself a really energetic, bombastic performer. I like to elicit a reaction out of the audience. When I first started performing, it was really challenging for me to do shows solo. I always wanted people with me. I wanted lots of dancers, lots of extras, and props, and a lot of different elements. I do think that beefs up the audience experience but I also realized a lot of it was an insecurity of mine. This is what I do for a living—I'm a full-time performer—so over the last few years, I've definitely had the opportunity to go play 45 minutes by myself on a stage. Now it's always fun for me to get up there with other people on stage and do features on tracks or have backup dancers, because to me, it makes the show more dynamic. So in Seattle, I will have backup dancers and I have a few local friends out there who are gonna come up on stage and help me out for certain numbers. But my problem is, if I did everything the way I wanted it to be, I would be running a Beyoncé world tour with 12 backup dancers and visual projections. But I don't have enough space on my credit card to make that happen.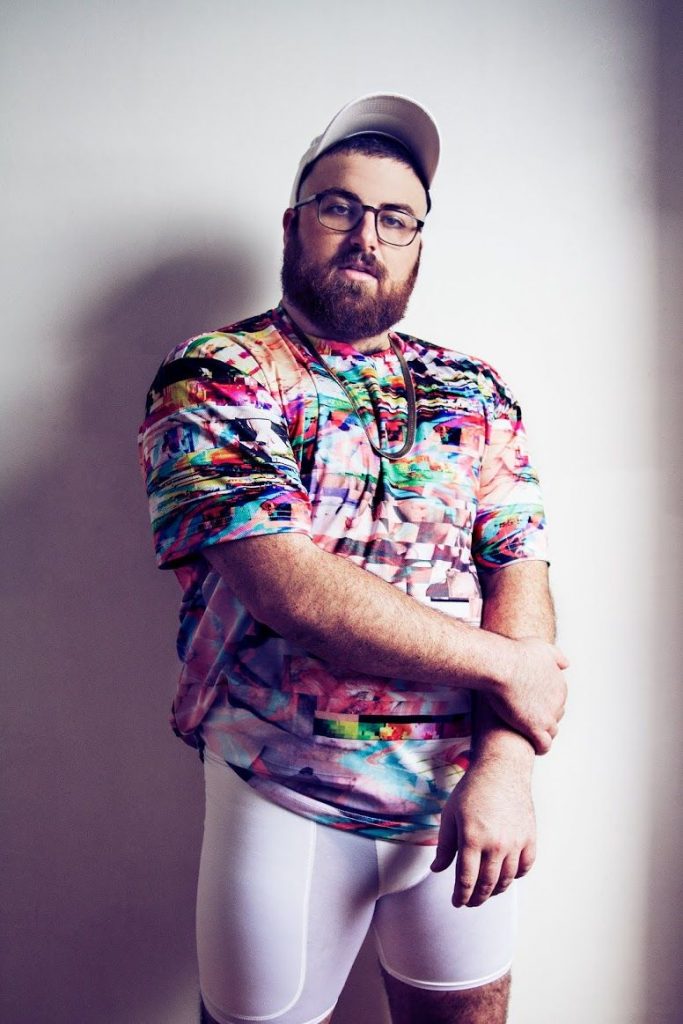 R: Yet.
BD: [Laughs].
R: Sounds like you're feeling more confident with your process and enjoying it, but you're still spreading the wealth. Tell me about your Seattle performance coming up.
BD: I'm playing at the Cuff Street Party. I'm performing the Saturday night  and Sunday. And the lineup is really cool. There's a lot of fun people in the lineup so I'm excited to lend my aesthetic and my show to that. I'm going to have backup dancers, and do two full concerts. And I'm definitely going to change up what I do Saturday and Sunday. I'll play the hits but it'll definitely be a different vibe for each show. Different costume, things like that.
R: This is not your first rodeo when it comes to Seattle. And it sounds like it's also not your first rodeo when it comes to queer-specific programming.
BD: Yeah, I mean I love playing Pride gigs and queer music concerts and festivals and that kind of thing. Well, I was gonna say there's not a worry that I have to win over the audience because I'm getting up there and doing a bunch of gay shit. But that's not true, because I have played at plenty of queer spaces, gay parties, wherever, where it's a night life thing and maybe they don't want to see a show. They just want to dance, or they're on ketamine and they just want to make out with the thumpy music and I have to win them over because I've been booked to perform there. Or I've performed in West Hollywood a few times here in LA and I feel very uncomfortable in West Hollywood because I'm not the typical West Hollywood type. I'm bigger and covered in hair and not, like, a model. And so that's really that West Hollywood aesthetic and I'm playing against that. So sometimes at gay spaces, I don't feel like I line up with what people are expecting. And even if I get booked at a bear event, sometimes they just want to see a drag queen. Sometimes they don't want any entertainment.  So my initial response is yes, I'm no stranger to playing in queer spaces, and I love playing for the community and being celebrated and celebrating with everyone. But the flip side to that is like, even in queer spaces, sometimes I have to prove my worth as a performer to get people's attention.
R: It sounds like you've been busy touring all over the country and sharing your music with folks, representing for big boys and the queer community. And it's great to see this in Pride programming where we can keep things distinctly queer. What does it mean to you to be performing in Pride events?
BD: To me, honestly, it feels like I'm being seen. To be given the opportunity to perform at a Pride event, from a logistics standpoint, it's great, because I'm an artist and a performer and this is what I do. It's nice to do that for people in the community. But from an intellectual and emotional and psychological standpoint, it makes me feel seen. Someone says, "Yes, you are a person who reflects back what we are celebrating and are prideful of in this community and we want to elevate you and cosign you and say yep, he's part of our community and he's here to put on a show for you to celebrate." That to me is a super cool feeling because it means I'm not screaming into a void. It means I'm being seen.
R: Especially in this current administration and all the dumpster fires going on, what does Pride itself mean to you these days?
BD: I think it's really tricky. Talking to older generations in the community, there's sort of this clear cut idea that Pride was a protest, and it should be a protest, and it is a protest, and it should be a resistance march. And now we live in this space where there's tons of injustice around the world and lots of bigotry and especially in this political climate, the LGBTQ community is not valued. But at the same time, we are living in a country where overall we have so many more rights than in much of the world. So corporations see the queer population as the Pink Dollar and there are these bits of representation popping up in the media. But it seems like most Prides are banks and cell phone companies and cable providers who buy a float and cover it in rainbows and find a bunch of queers to get on it and dance and celebrate. And that isn't necessarily in the true spirit of what Pride is. Some people say you're fighting for acceptance in mainstream assimilation–that queer identity is just part of being a person in the world. And that's great. But at the same time, the queer identity is not the mainstream. We are an other. We are special and different, and we need to recognize that and not fall into the trap of a corporatized thing. On the flip side, if some corporation wasn't sponsoring Pride, a lot of these festivals wouldn't be as big as they are. It's a tricky thing as an artist too because I have to stay alive. I have to get my gigs and show up and it takes money to produce work, and my new album and video is costing me a ton of money because of the quality of everything and I'm working hard to do that. But the only way to do that is to make the money, and the only way to make the money is to take the gigs, and a lot of those gigs are sponsored by larger money. It becomes this really tricky space of, "Yeah, well, maybe the people attending the Pride parade would never see an identity that they connect with reflected back to them if Wells Fargo wasn't running three floats down the parade and had all these bodies on it."
R: It's a tough line to toe, and in Seattle especially we've had this contention. Do we turn this year's Pride parade into a march–like the Women's March, or an immigration march, or a Black Lives Matter march–or do we stick to just the celebratory idea? It's the corporations who often say, "You're gonna celebrate."
BD: Right. Do you want fifty thousand dollars? You're gonna celebrate, and we're gonna take photos of you, then we're gonna put you on our diversity page.
R: You talk about how this money you make goes into the art you create. And you've got this new video out! What can you tell me about it?
BD: The video is for my new single. It's called "Lookin'". It's the first single off my new album which is coming out later this summer, called Late Bloomer. Which is very funny to me because I wanted the album to come out early spring, and of course it's coming out in late summer. Isn't that just poetic justice? Being an artist, everything just takes so much longer. I'm basically the record label, the marketing, the creative director, the performer, the executive producer, I do everything on it. So of course it all takes much longer. But "Lookin'" is basically a summer bop. It's about confidence, about catching someone's attention. It's just a ton of thick, fat boys at a car wash covered in soap and suds and dancing up on each other, washing these beautiful vintage vehicles. It's a super energetic video with a really catchy song. Super excited about putting it out.
R: Can't wait to see you perform it at Cuff!
Check out Big Dipper's new video above and catch his performances at the Cuff Pride Street Party Saturday 6/23 AND Sunday 6/24. (And, his website for more info on his music/performances/appearances.)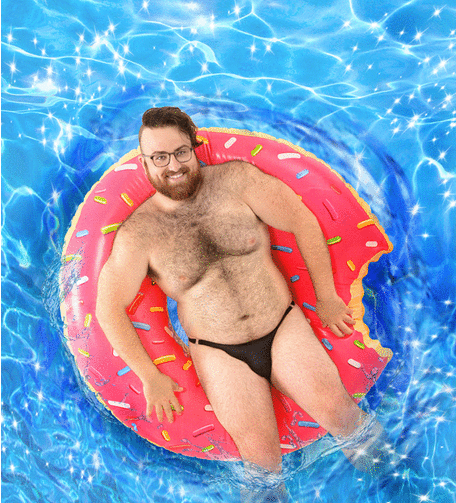 (Visited 17 times, 1 visits today)