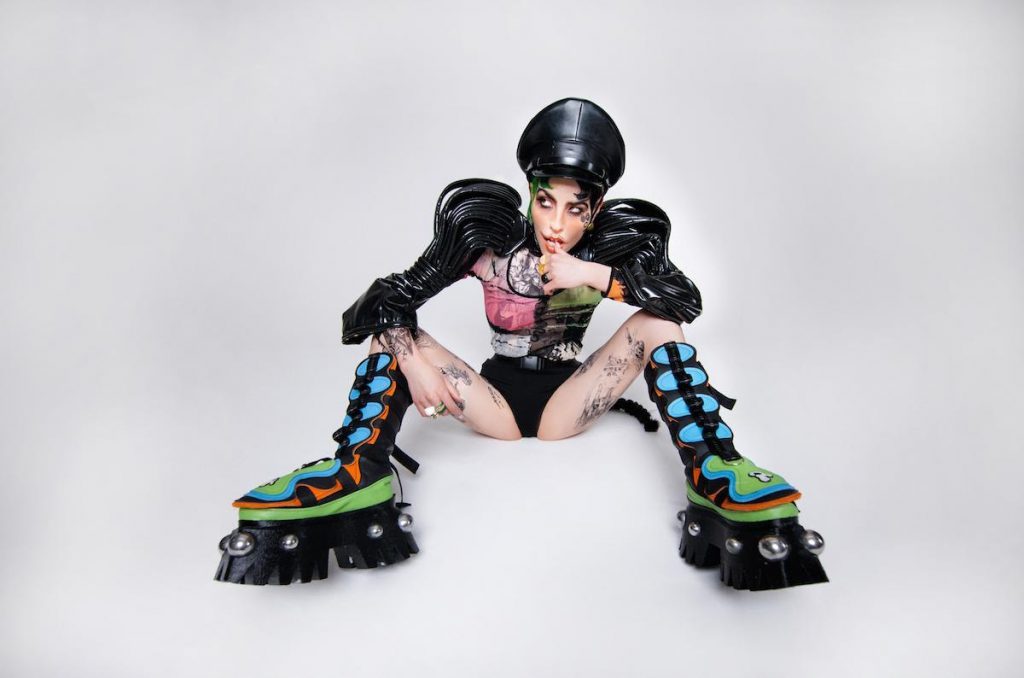 Hot queer pop provocateur DORIAN ELECTRA has a lot going on right now including dropping their new video MY AGENDA today, (Thursday, November 4th) and their 12 song album of the same name on Friday, November 5th. The winter will heat up with their world wide tour which will kick off on January 20, 2022 right here in Seattle at Neumos on Capitol Hill…but, that show is sold out as are the following shows in Vancouver, BC and Portland.
But, remember it's a ways off so they might release more tickets closer to the day of the actual show.
Or, you can snag tix to the Salt Lake City, the first one available that currently ISN'T sold out…
More on this rising star:
Today, Pop-music-agitator Dorian Electra shares their new music video for "My Agenda" featuring Pussy Riot and The Village People. Directed by Electra, Weston Allen (100 gecs, Ru Paul, Rebecca Black), and Mike Diva (Lil Nas X, SNL, The Lonely Island), the new visuals provide further context to Dorian's commentary on the conspiratorial "gay agenda" seeing them under the guise of a CEO of a water plant who is dumping chemicals in the water that are "turning the friggin frogs gay" (a la Alex Jones) and the leader of a gay military coup carried out by an army of furries that take over the city. The video features a cameo from Nadya of Pussy Riot, who is also a vocalist on the track as well as a dance troupe that pays homage to the legendary Village People.


This video arrives just ahead of the release of the upcoming deluxe edition of their most recent project My Agenda, due out tomorrow. The deluxe version of the project includes 12-new songs ranging from remixes, like the recently shared "M'Lady" featuring Kero Kero Bonito, remixed by S3RL, "Gentleman" featuring Danny Brown, remixed by d0llywood1, "Barbie Boy" featuring and remixed by ElyOtto and "Iron Fist" featuring Alice Glass and Faris Badwan, remixed by Alice Glass to additional b-side, never before heard tracks. Hailed by The Atlantic for being "an outright protest artist with a message to deliver" and Uproxx for "cementing their spot among pop boundary-pushers," it's no wonder that Dorian Electra has cemented their status as one of the most interesting artists to watch.

My Agenda's deluxe edition follows Dorian's critically-acclaimed 2020 project in which Dorian examines the 'crisis in masculinity,' queer identity, and the turbulent and rapidly shifting landscape of political ideology in the age of the internet. Featuring production by Dylan Brady, d0llywood1, umru, Count Baldor, Clarence Clarity, Sega Bodega, and more, the project includes a masterful assortment of genres, including hardcore, metal, pop, dubstep, and epic baroque just to name a few. Earlier this year, Dorian shared a video for "Ram It Down," a song from My Agenda, with NPR exclaiming it "is an unexpected, fun summer anthem with hyperpop eccentricities."
Since the release of My Agenda, Dorian has remained in the zeitgeist: in February Dorian appeared on the remix of Rebecca Black's "Friday" alongside the YouTube pop-star, Big Freedia, and 3OH!3, they collaborated with Pussy Riot and Dylan Brady for a brilliant track called "Toxic," they appeared in the Freak City SS21 Toxic World fashion show and performed and appeared in Collina Strada's NYFW show and remixed Lady Gaga's "Replay" for the Chromatica remix album Dawn of Chromatica.

Also at the start of 2021 Dorian began to drop a series of covers including ones for Pharrell's "Happy," featuring 645AR, Ed Sheeran's "Shape of You," Ariana Grande's "Positions," and a Tame Impala "Feels Like We Only Go Backwards."
Additionally, Dorian will set out for a run of world tour dates at the top of 2022, making pit stops in North America, the UK/EU, and Russia. Tickets on sale now. For more information and ticket purchase links, visit: https://www.dorianelectra.com/

Watch "My Agenda" above, see project details and full tour routing below, and stay tuned for more from Dorian Electra coming soon.
(Visited 2 times, 1 visits today)