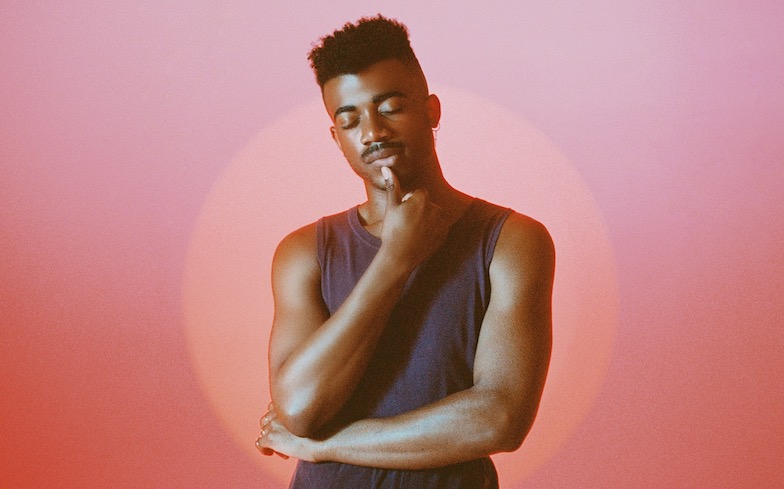 Masks. Vaccines. Immigration policies. Police funding. Abortion rights. Questions like, "Why the fuck was Ridley Scott hired to direct House of Gucci?"
It was a year of divisive perspectives and exhaustingly differing opinions. The deep traumas of 2020 gave way to the uncomfortable, confusing realities of learning how to live in an unstable world of climate change, political chaos, galvanized bigotry, and a hell of a virus.
Perhaps our one uniting experience was that no one shouted from the rooftops, "2021 was the best goddamn year of my life!"
But as vax rates rose, many of us had more freedom to safely reconnect with our communities and make memories. Seeing your favorite musicians perform live at a local venue is a very real sign of healing – and living! Even if you have to spend the whole show with a mask on, smelling your own breath and hoping the singer can hear your feeble "woooo" from behind your snot-stained N95.
LGBTQ+ musicians continued to create in this new world. Their work reflected joy, terror, loss, and love. But maybe most of all, artists tapped into what now seems like the cultural zeitgeist of the year: longing.
In no logical order other than a bomb-ass flow for a solid Spotify playlist, here are 20 of the best songs by queer musicians that 2021 had to offer. (Disclaimer: No Phoebe Bridgerses or Lil Nas Xs were harmed in the making of this list.)
Die On the Dancefloor by L Devine
English singer Olivia Rebecca Devine kicked off her public music career in 2017 with the release of her debut EP Growing Pains. The next year, she cavalierly came out as lesbian in an interview, and living her truth seems to have only helped her career blossom. Her wistful pop single "Die on the Dancefloor" taps into both an apathetic nihilism for the future and a sugary optimism for the present moment. In a word, it's a glimpse into Gen Z's pain and hope in quarantine.
Higher by VINCINT (feat. Alex Newell)
You may know VINCINT as a finalist from the first season of The Four, a short-lived singing competition show. His powerful voice and emotive singing style was certainly a standout, but it wasn't until this year that the Philly native released his first full length album called There Will Be Tears. And what an album it is! "Higher" is a clear highlight of the record, especially when paired with the incredible Broadway talent of gender nonconforming Glee alumni Alex Newell.
After recently coming out as non-binary, releasing a documentary about their journey to become sober, and starring in a docuseries about extraterrestrial life (DON'T call them "aliens"), Demi Lovato has had a big year – and several headlines to their name. Amid all of these events also came their newest studio album, Dancing With The Devil… The Art of Starting Over. The latter phrase is also the title of this particularly meaningful single from the record, offering a timely message of reinvention and independence after heartbreak and isolation.
Good Days by SZA
The artistry. The poetry. The tenderness. The ATHLETICISM. SZA never fails to deliver beauty and insight in her musical work. It's no surprise then that she's always had a massive queer following since her debut in 2017. But after coming out this year as lesbian, SZA's LGBTQ+ fans can now feel even closer to this St. Louis hometown hero. "Good Days" gives us all the exquisite production and soft delivery we know and love from SZA, with an authentic passion she continues to deepen as her career unfolds.
"We only have four days / I hope we make the most of it / 'cause every single moment is our whole relationship." For those with long-distance lovers, you know how true this is. And Lewloh, originally from Singapore, is no stranger to overseas connections. His experience studying abroad in the states, and his experience as a bi man, have informed the emotional fluency required to write the raw, poetic lyrics he crafts. His confessional songwriting, paired with his whispery vocal tambor, is evocative of contemporaries like Yuna and Sufjan Stevens. But unlike Yuna and Stevens, Lewloh's exciting career has only just begun.
Eat your 1980s heart out on this pretty-damn-perfect unlove pop song. As a supporting player in the Pitch Perfect trilogy, the star of Dear Evan Hansen (on both stage and screen), and the leading man of The Politician on Netflix, Platt has had a huge platform to demonstrate his versatile acting chops – and his earnest voice. Thankfully he brings the same amount of verve to his original music, including his newest album Reverie. "I Want to Love You But I Don't" is the song all tops should consider quoting before resorting to ghosting a wishful bottom.
Life's A Bit by NOAHFINNCE
Pop punk is enjoying a resurgence with The Youths Of Today. And while most of the new additions to mainstream punk (if that's not an oxymoron) are sugary and watered down, NOAHFINNCE brings a more refreshing edge with foundational rock and queer irreverence. The bi trans singer released this official music video last year, but the full album dropped in 2021. And in early 2022, he'll be on tour in his native UK.
I'm a Fag 4 U (Shamik Remix) by Vivek Shraya
Singer. Seven-time Lambda Literary Award finalist. Noted as one of Canada's Best Dressed. Bi trans woman of color. Vivek Shraya is a multitalented and widely praised artist, and when her original version of "I'm a Fag 4 U" came out in February 2020 – just before a certain worldwide catastrophe – it was an awfully relatable message for her LGBTQ+ fans. Then her brother (producer Shamik) sprinkled even more fairy dust on the track in 2021, and here we are with a grungy pop banger that touts distinctly queer pain and power. Here for it.
When you're British, you spell "Prioritise" with an "s." And when you're Rebecca Lucy Taylor, you create a stage name we all covet, you write two bingeable pop records, and you win a BBC Music Award. This particular jam serves us a combo of confessional rock, Kate Bush loftiness, and a touch of gospel that cements this song as the titular track for this bi dynamo's latest album.
Love Somebody by Teddy Geiger
Teddy Geiger made a name for herself in 2006 with her debut album Underage Thinking as a shy 17-year-old from Rochester, NY. Her sound then was heavily influenced by her record label at the time, and was certainly a different vibe than her contemporary work. But after transitioning in 2017, Teddy's musical career has become more artful, more honest, and much catchier. Standout singles like "Body and Soul" and "Sharkbait" are delightful bops, but "Love Somebody" remains one of Geiger's most touching musical releases to date.
When T.J. Osborne came out earlier this year, he became the only openly gay country singer currently signed to a major label. And while that may be uncharted territory for him and his brother John, the pair – originally from Maryland – are no strangers to winning Country Music Awards. This year they earned Best Vocal Duo at the CMAs for the fourth time, and after kissing his boyfriend, T.J. accepted the award by saying "It really does feel like love wins tonight." (The CMAs have a long way to go to prove that, but it's a wonderful moment for T.J.) This song in particular is a sweet and serious ode to honoring one's anxious, closeted child self.
Just Sayin' by Mila Jam (with MAKJ and Madds)
This summer bop may seem at first glance like a simple feel-good track to add to any playlist. But Midwesterner Mila Jam (the performer behind the catchy non-binary anthem "It's Raining Them") added significance while co-writing "Just Sayin'". The lyrics offer a challenge to cis men: Take pride in the trans woman who loves you. Show her off to the world and acknowledge how lucky you are to be with her.
Diva by Javiera Mena (feat. Chico Blanco)
Is the song about lusting over a white woman? Is it an ode to coke? It's a mystery that may go forever unsolved. What we do know is that Javiera Mena continues to play (and slay) the game. Originally from Santiago, Chile, Mena has been on the music scene since 2001. And at only 38, her career is still strong with an international fanbase. With electro pop dance singles like "Diva," it's no mystery why she has such impressive staying power.
Like a Ghost by Nomi Ruiz (feat. Sam Sparro)
Formerly known as Jessica 6 and a longtime collaborator to bands like The Ones and Hercules & Love Affair, Brooklyner Nomi Ruiz partnered up with queer musician Sam Sparro on this seductive groove. Her music career has spanned over 15 years, but she's also known for writing essays and appearing on TV to advocate for trans identity, both as an actor (in the Sons of Anarchy spinoff Mayans M.C.) and as herself (on shows like Slutever). Enjoy making out with someone to this effortlessly sexy slow jam.
Wild by BRONZE AVERY
Gabriel Brown, known to smitten fans as Bronze Avery, clutched little queer hearts with his 2020 single "Boys!" And he kept a good thing going with a new single "Wild," bringing a darker sensuality to the enticing dance bops we've come to expect from him. Avery is openly gay, originally from Orlando, FL, and proves in this visualizer that his dance moves are just as smooth as his velvety voice.
Rise! by Tyler, the Creator (feat. DAISY WORLD)
Indie rap phenom Tyler, the Creator has written a track that perfectly reflects the continued momentum in his career. It's been 10 years since his first studio album Goblin was released. Since then, he's won a Grammy, an MTV Music Video Award, and a Brit Award for his smart lyrics, sharp performances, and expert production. Tyler has been cagey about owning his queer sexuality, but has referenced same-sex attraction and relationships in several of his songs. Unfortunately, he has not been cagey about using homophobic slurs, and has failed to recognize the harmful impact therein. While Tyler's career continues to soar, we also hope he course-corrects and doesn't fade into manic queer-but-anti-queer obscurity like some others before him. (We're looking at you, Azealia Banks.)
Down by St. Vincent
Long has the road been from Annie Clark's bright-eyed start as a member of the Polyphonic Spree. Clark, originally from Tulsa and Dallas, went solo and became the St. Vincent we know and love today, now based in NYC. Her six solo albums over the past 14 years have won several awards, and she's been open about identifying her sexual orientation as fluid. In her new release of Daddy's Home – an album title partially referencing the release of her father from prison – she's tapped into some 1970s inspiration that has taken her creativity to new, exciting heights.
Baby 95 by Liniker
Name a sexier combo than 1.) Liniker's lips, 2.) Liniker's buttery voice, and 3.) literally anyone speaking Brazilian Portuguese. The nerve she has to use this exact combo for an even sexier song in "Baby 95," with rich jazz and neo soul influences that gracefully morph into a joyous Latin beat. This same smooth artistry was evident in her performance on NPR's Tiny Desk concert series. To match all this sexiness in Liniker's creative work, she also advocates for political rights as a trans woman and a proud scion of the African Diaspora. We stan voices like Liniker's, both musically and socially.
Though this song technically came out in 2020, the deluxe release of Brandy Clark's album Your Life is a Record brought this beautiful heartstring-tugger back to the forefront in 2021. The re-release also includes a version of "The Past is the Past" featuring Fleetwood Mac alumni Lindsey Buckingham, but this classic version of the song is purer, prettier, and does not have to make space for Lindsey fucking Buckingham. Clark, a Washington State native and out lesbian, has written songs for superstar folk/country artists like Kacey Musgraves, Darius Rucker, Sheryl Crow, and Reba herself. But thankfully this track gets Clark's own voice to convey all the emotion this bittersweet breakup song needs.
DPM (De Pxta Madre) by Kany García
To non-Spanish speakers, this might sound like a peppy anthem about family and love and attending your first Pride parade. But those who understand the lyrics will know this is actually a big Fuck-You-I-Never-Needed-Your-Lying-Ass-I-Make-More-Money-And-Am-Happy-You're-Gone kind of song. Puerto Rican crooner Kany García is a Latin Grammy winner with seven studio albums under her belt, and recently married her personal trainer Jocelyn. In "De Pxta Madre," García has given us the perfect exit to 2021: a joyful rally to acknowledge that we're better off embracing our independence and self-love.
These LGBTQ+ artists – and so many others – have served us throughout the year with channels for grief, reasons to celebrate, and helpful clues to remind us what it is we really long for. Support these queer musicians with your clicks, your streams, and if you got a mask on your muzzle and a vax in your veins, with a ticket to their shows!
(Visited 6 times, 1 visits today)