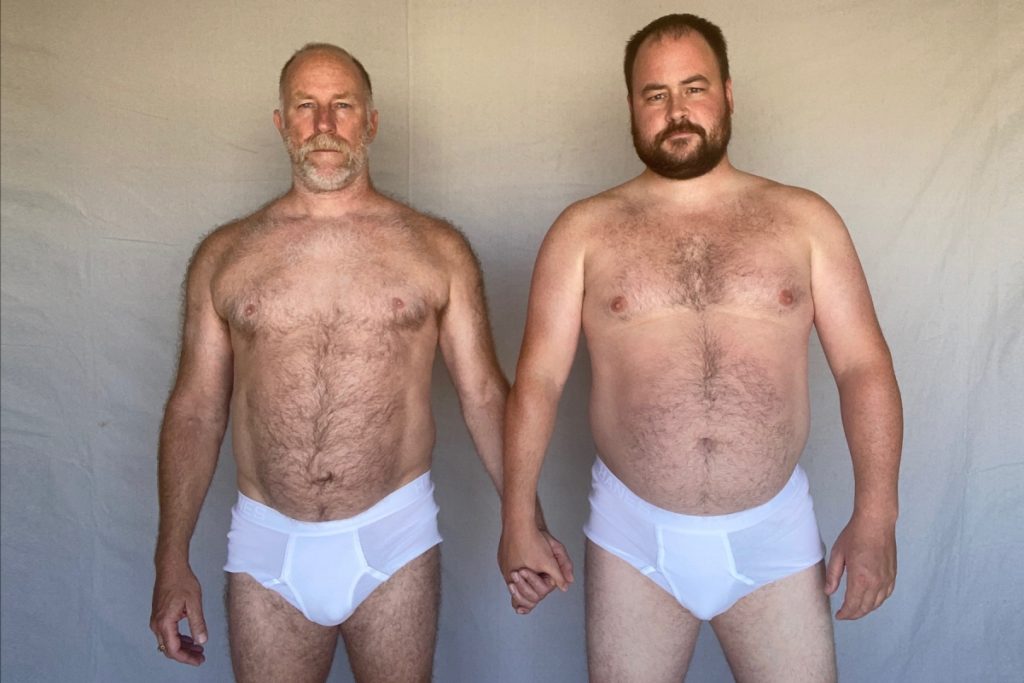 What do you do if you're a gay, middle aged couple and both of you are musicians and you're stuck in the house during the Covid-19 lockdown in 2020? Well, if the couple consists of Faith No More's keyboardist Roddy Bottum and Joey Holman from his own band HOLMAN, you start writing a bunch of queer indie rock songs that " are a meditation on the myriad of emotions of lockdown" and cleverly/naughtily call your new rock duo "Man on Man" 'cause….why the hell not?
It's all deliciously funny…
The pair released their self titled debut album on Polyvinyl Records last May and now "M.O.M" is hitting the road to support that album including a stop in Seattle at our very own beloved dirty little night club PONY at 1221 East Madison Street on Thursday, October 28th at 8:30pm. It's a rare occassion where you'll need to cough up some money…tickets are a very reasonable $15 and can be purchased here: https://www.ticketweb.com/event/man-on-man-dj-having-pony-tickets/11403195?pl=crocodile
We be guessing they'll be mostly playing from the album including the songs they've made videos for including "It's So Fun (To Be Gay)" which includes lots of gaylebrity cameos from folks like Christeene, Heklina, and John Cameron Mitchell.
There's also "Stohner", "1983" and "Baby, You're My Everything" and you can check out all those videos on their page at Polyvinyl Records website HERE. They're full of sexy daddy bear love!
If you like indie queercore daddy bear pop-rock, then go check them out!
Thu Oct 28 2021
8:30 PM
1221 E Madison StSeattle, WA 98122
$15.00
Ages 21+
Via Polyvinyl Records: "MAN ON MAN (M.O.M.), the musical project started by boyfriends Joey Holman (HOLMAN) and Roddy Bottum (Faith No More, Imperial Teen, CRICKETS, Nastie Band), is infused with indie-rock distortion and soaked in gay pop confidence while still maintaining an acerbic and pure sense of humor. MAN ON MAN's music has a timeless appeal, transcending genre and decade. The varied influences and textures of their debut album, MAN ON MAN, are a meditation on the myriad of emotions of lockdown, as well as this particular moment in their own lives."
(Visited 6 times, 1 visits today)