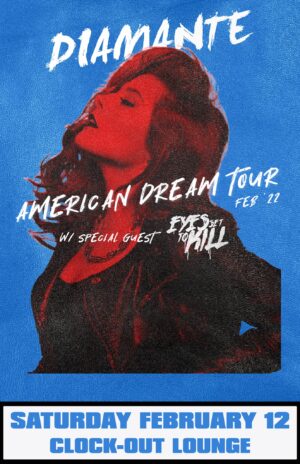 We're always on the prowl for info on shows for you to check out and there's a great LIVE music opportunity happening this Saturday at The Clock-Out Lounge up on Beacon Hill, our favorite queer friendly, neighborhood bar, pizza joint and live performance space. Los Angeles based rocker DIAMANTE will be heading the bill on Saturday, February 12th for a live show in support of her new album, AMERICAN DREAM.
What we know about her other than the fact she spent her Covid time working on this album and finishing her degree and graduating from college last year:
Diamante knows what it means to truly shine. With iridescent sapphire hair, a show-stopping voice, runway-ready fashion swagger, and an empowering message, the Boston-raised and Los Angeles-based Mexican-Italian-American siren brings a new (and blue) fire to rock and alternative music.


Diamante spent her teenage years cutting her teeth at local gigs on the Sunset Strip to become the powerhouse performer she is today. A disciple of both P!nk and Guns N' Roses who doesn't fall into rockstar excess or even sport tattoos, she devoted every waking minute to honing a signature "hard rock sound with a modern alternative edge.
After extensive touring with bands like Breaking Benjamin, Three Days Grace, and Shinedown… Diamante is in full force shining brighter than ever before. In 2019, Diamante teamed up as an independent artist with Howard Benson and Neil Sanderson to make her sophomore album, American Dream. Diamante capitalized on her newfound ultimate creative freedom and independence by being her own CEO throughout every facet of the album process. On working with Benson and Sanderson, Diamante praises that they were instrumental in "bringing my stories to life and pushing me to embrace my vulnerabilities". American Dream shows exponential growth, proving now more than ever that Diamante's fearlessness to bear her soul in her music is what truly sets her apart.
She told Screamer last year:
You can snatch tickets to her show at The Clock Out, at https://www.ticketweb.com/event/crocodile-presents-diamante-clock-out-lounge-tickets/11581835
Opening for her are Eyes Set To Kill and College Radio.
(Visited 1 times, 1 visits today)