I already posted one piece on the return of Team Dresch about their 25th Anniversary but now we have more details. The beloved queer band will kick off their West Coast tour on June 7th with a show at Beacon Hill's Clock-Out Lounge featuring Seattle local artists Wynne Greenwood and Pink Parts as support. 
Grab your tickets HERE for the Seattle show….Team Dresch then moves down to Portland during their Pride Weekend for gigs on June 14 and 15 at Mississippi Studios then stops in LA and SF later in the month.
More on the return: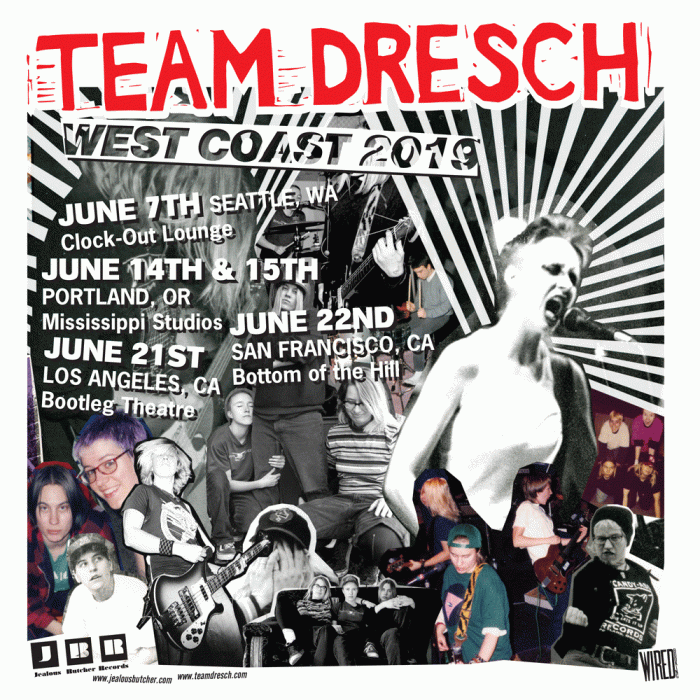 This June Team Dresch will be touring the West Coast in support of their 25 year anniversary re-issues (out May 31st via Jealous Butcher Records). For a taste of what's to come, the band have also re-released their energetic single "Uncle Phranc!" Their live shows are full of raw energy and raw sound, a connection to audiences that creates a sense of oneness; Team Dresch consider each show a family reunion, a place to celebrate queerness and love of all misfits and activists and literally anyone who shows up to feel TD's captivating sonic explosion vibrate through their bodies. Dance-sing-stage-dive-crowd-surf-be-held-up-by-each-other, mosh on children of metal! Also Donna's hair.
June 2019 marks the 50 year anniversary of Stonewall, in a political climate that has been retreating towards the horror and fuckery of the yesteryears, Team Dresch want to create a soundtrack and performance that help us all Remember who we are.
June 7th Seattle WA at the Clock-Out Lounge
June 14th Portland OR at Mississippi Studios (PDX Pride!)
June 15th Portland OR at Mississippi Studios (PDX more Pride!)
June 21st Los Angeles CA at the Bootleg Theatre
June 22nd San Francisco CA at the Bottom of the Hill
A limited amount of tickets go on sale this Friday, April 5th.
Team Dresch were an integral part of an impassioned group of radical queer artists who spearheaded the Queercore movement and have made a name for themselves as one of the most memorable queer/feminist icons of the 90s. The band is Donna Dresch (guitar and bass), Jody Bleyle (guitar, bass, and vocals), Kaia Wilson (guitar and vocals), Marcéo Martinez (drums), and Melissa York(drums). They will be re-issuing their 2 albums Personal Best and Captain My Captain, and have put together an exciting compilation of hard to find singles entitled Choices, Chances, Changes (the title an homage to the names of various queer bars they played at in the 90's) via Jealous Butcher Records.
Do you believe in love, cuz we got something to say about it and it goes something like this….
(Visited 5 times, 1 visits today)