Olympia/Portland Queercore/RiotGrrrl music icons from the 90s, TEAM DRESCH are getting back together to reignite your nostalgia for a grungier era in the Pacific Northwest. 
The group has just released a fun new video for their song "Fagetarian and Dyke" and they're announcing a re-release of all their recorded material via Jealous Butcher Records, including cool sets with vinyl and happening on May 31st.
There's also a reunion tour being planned…no dates yet, but stay tuned.
Though the 90s still live in the mind as 'just yesterday' for many, Team Dresch is bringing back the iconic era in full angsty swing with the premiere of their video for "Fagetarian and Dyke" out now via Pitchfork. Featuring rare glimpses of crowds without cellphones, the accompanying footage serves as a piece of memorabilia from the depths of the queercore revolution. The sheer force Team Dresch bring to the stage is amplified by their screeching guitars and wailing cries for inclusivity and acceptance of all genders and sexualities. These original themes have only grown in power since the conception of the band and will be reimagined through the 25th Anniversary full catalogue reissue including their first two albums Personal Best and Captain My Captain in addition to a singles compilation, out May 31st. Of the reissue the band states, "Just when you thought life couldn't possibly get any gayer, Team Dresch is back to dance this Queercore mess around and talk about the climate crisis in between drop-D grunge licks! Why? Because we're alive and want to be with our people."
Team Dresch combined the likes of punk and metal with the then-radical ideologies of sexuality and femininity to earn their respected place among the queercore and riot grrrl movements. As already established musicians, Donna Dresch (guitar and bass), Jody Bleyle (guitar, bass, and vocals), Kaia Wilson (guitar and vocals), and Marcéo Martinez transformed the primal Olympian DIY scene.  After a brief break up, they reunited in 2004 for occasional touring with unmatched power and abandonment of any preconceived judgement. Nearly three decades after forming, the works of Team Dresch have never resonated louder as the relevance of such social concerns and opinions continues to enter modern day discussion.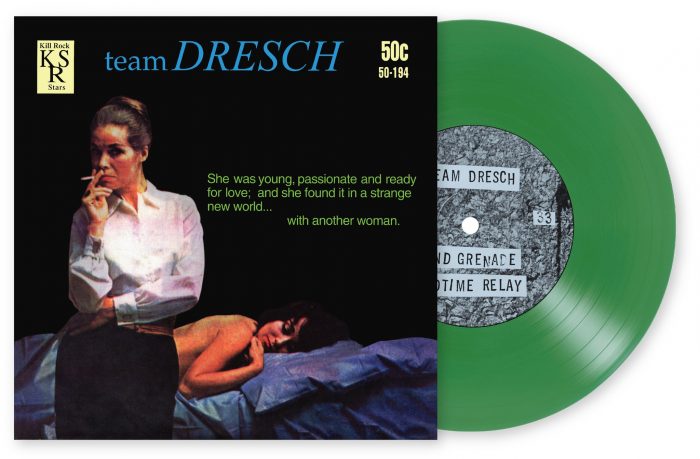 • Vinyl Bundle includes: Personal Best LP, Captain My Captain LP & Hand Grenade 7" all on limited edition colored vinyl, plus the singles comp on CD and a sticker. ONLY 300 COPIES AVAILABLE!
• CD Bundle includes: Personal Best, Captain My Captain & the singles comp on CD plus a sticker.
• Digital Bundle includes: Personal Best, Captain My Captain & the singles comp as a hi fidelity digital download delivered to your inbox on the May 31st release date.
• Awesome new shirt designed by the amazing Miriam Klein Stahl!  Available in a wide variety of sizes.
• All Preorders receive and instant download of the "Fagetarian & Dyke" single
*** These are pre-order items and will ship to arrive on or around the May 31st, 2019 album release date. ***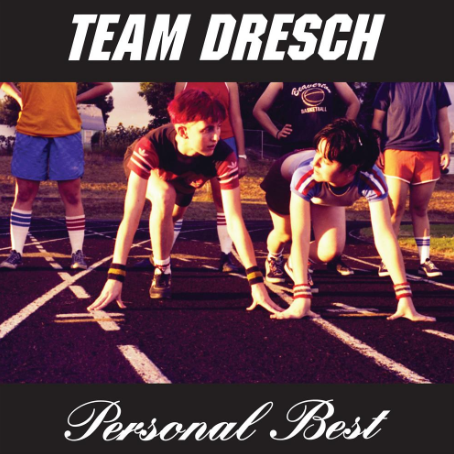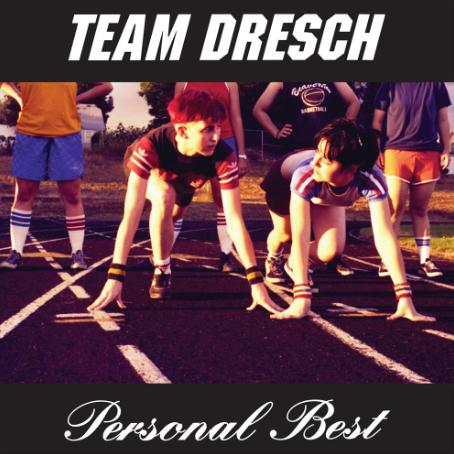 Combining the brazenness of Riot Grrrl with the angst dirge of grunge, Team Dresch didn't just raise the stakes of queercore: They created two near-perfect albums about longing, freedom, and belonging over guitar riffs as epic and intense as Jody Bleyle (Hazel) and Kaia Wilson's (Adickdid, The Butchies) poetic couplets. On their 1995 debut, Personal Best, they rage against the Christian right and small towns, then kiss their girlfriends on the mouth. Donna Dresch (Danger Mouse, Dinosaur Jr.), Bleyle, and Wilson play ferocious, intricate riffs fast while Marcéo Martinez (Calamity Jane, The Vegas Beat) hits the drums hard. To paraphrase their own song, they are amazing; their words save us.
Captain My Captain shows Team Dresch finding and creating community, elevating and becoming dykons. Drummer Melissa York (Vitapup, Born Against) joins the fold, adding a level of NYC showmanship to the quintessentially Northwestern, T-shirted live act. Already they commanded a level of assurance and confidence, staying true to the underground's autonomous spirit; "Remember who you are, Make up who you are," they roar over the noise of busted closets. The fierce and biting lyrics are aided by raging, skilled punk rock sounds, creating one of the most intense and meaningful punk revival albums to date. Team Dresch is able to accomplish more in this 35 minutes than many bands can in their entire career. Punk rock will never be the same.
(Visited 1 times, 1 visits today)