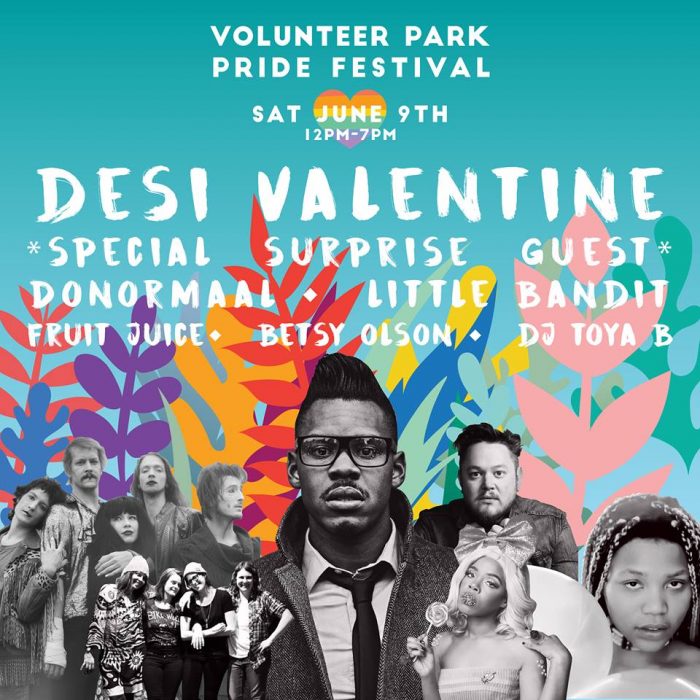 There's much to do in Seattle and the surrounding vicinity this weekend but cloudy/rainy skies may put a damper on some of the outdoor options like Saturday's annual VOLUNTEER PARK PRIDE FESTIVAL produced by Seattle Pride (and formerly known as the Pride Picnic) going on from Noon to 7pm with a big line-up of local and out of town talent. Some poo on it:
Join us for the annual Volunteer Park Pride Festival (formerly known as the Pride Family Picnic) on Saturday, June 9th, 2018 from 12noon-7pm! The Volunteer Park Pride Festival is a chance for family and friends to come together in one of Seattle's iconic parks and celebrate our amazing LGBTQ community. As in years past, the event will be FREE and ALL-AGES, and there will be LIVE MUSIC, BEER GARDEN, FOOD TRUCKS, CRAFT BOOTHS, AND MORE!

2018 VOLUNTEER PARK PRIDE FEST MUSICAL LINE-UP:
Desi Valentine
Tacocat
DoNormaal
Little Bandit
Fruit Juice
Betsy Olson
DJ Toya B
It's going on rain or shine, so stop on by…after all, it's FREE!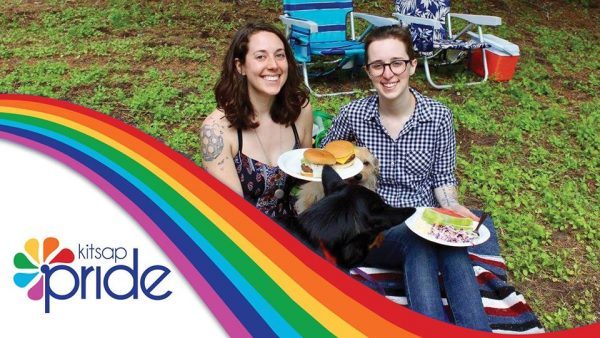 Kitsap Pride is getting in on the rainsoaked picnic thing too with their annual Pride Picnic at Lake Flora in Port Orchard. Go HERE for more details on the event (and how to get there…)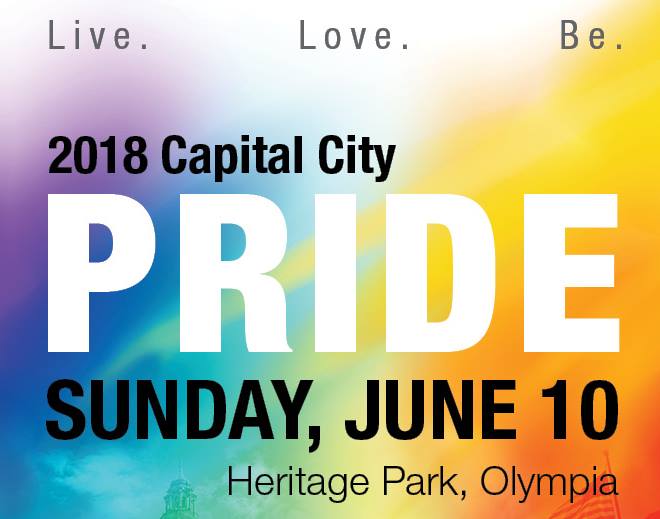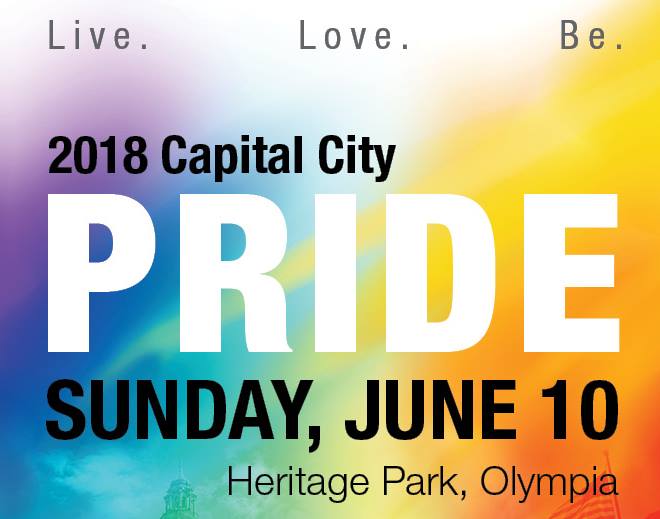 Olympia is getting in on Pride festivities with their annual Capitol City Pride Festival this weekend with other venues having events as well including SPEAKEASY PRIDE BLOCK PARTY and JAKE'S ON 4TH PRIDE PARTY  and SUMMER BEACH PARTY AT THE SOCIETY with stuff happening all weekend long. Here's a line-up of Olympia Events:
LIVE. LOVE. BE.
Interfaith Pride Service at Temple Beth Hatfiloh: June 7th @ 7pm
Speakeasy Block Party at Adams and 4th: Saturday, June 9th @ 3pm
Pride BINGO at the Olympia Senior Center: Saturday, June 9th @ 6pm
Pre-Parade: Sunday, June 10th: 11am-12pm
Pride Parade: Sunday, June 10th: 12pm-1pm
Pride Festival at Heritage Park: Sunday, June 10th: 1pm-6pm
Wrap up party and drag show at Jake's on 4th: Sunday, June 10th: 9pm-2AM
There's also an indoor Pride-y thing to do in Seattle on Saturday…PrideFest is doing their PrideFest FilmFest event again at Northwest Film Forum with several screenings starting at 12:30pm and continuing through the evening with a screening of the smash gay coming of age hit, Love, Simon at 7pm. The line-up:
The 4th Annual PrideFest Film Fest, now with ALL free film screenings. REGISTER for your free tickets with the links below.

AGELESS SHORTS
Stories of young love, reflections of elders on lifetime experiences, and seeing how the two intersect. The common struggles and joys in this short film collection prove to be ageless. TRT: 78 min
http://www.strangertickets.com/events/55564610/ageless-shorts-short-films-for-all-of-us

CONVERSATIONS WITH GAY ELDERS  2:30PM
Conversations With Gay Elders is a compilation of of single-character video documentaries of varying length, focused on older gay men. In addition to creating a repository of passing history, it will also function as a vehicle for facilitating intergenerational dialogue and understanding. David Weissman, producer/director
http://www.strangertickets.com/events/55564478/conversations-with-gay-elders

EDIE WINDSOR: To a More Perfect Union 4:30 PM
To A More Perfect Union: U.S. v Windsor is a feature-length documentary that tells a story of love, marriage and a fight for equality. The film chronicles octogenarian Edie Windsor and her battle with the U.S. government who was forcing her to pay a huge estate tax penalty simply because her late spouse had been a woman. Edie decided to sue the United States government – and won.
http://www.strangertickets.com/events/55564326/film-edie-windor-to-a-more-perfect-union

LOVE, SIMON: 7:00PM
From the producers of The Fault in Our Stars comes this heartfelt coming-of-age story about the adventure of finding yourself and falling in love. Everyone deserves a great love story. But for seventeen-year-old Simon Spier (Nick Robinson) it's a bit complicated: he's yet to tell his family or friends he's gay and he doesn't actually know the identity of the anonymous classmate he's fallen for online.
http://www.strangertickets.com/events/55564721/love-simon
Panel with youth and elders to follow to explore representation in Hollywood, tokenization, and actors chosen for LGBTQ roles.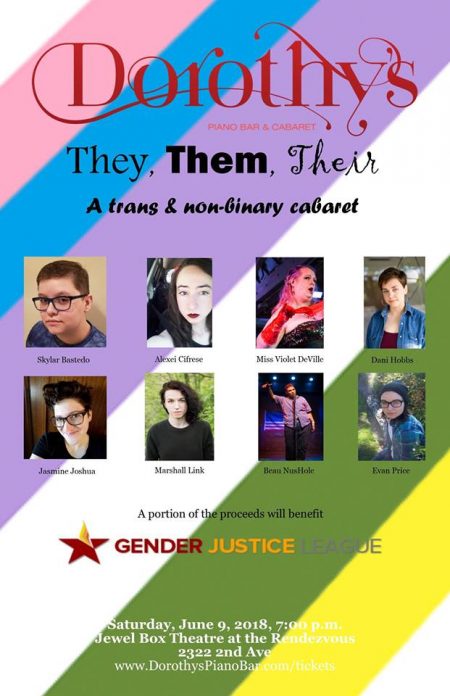 Dorothy's Piano Bar is kicking off Pride month with a terrific cabaret starring trans and non-binary performers at Jewelbox Theatre at The Rendezvous,2322 2nd Ave in beautiful Belltown. It's called THEY, THEM, THEIR and it's happening Saturday, June 9th at 7 pm. And, a portion of proceeds will benefit Gender Justice League's annual Seattle Trans Pride event. More deets:
Dorothy's is proud to kick-off Pride Month with this cabaret starring trans and non-binary performers. The evening will feature music, comedy, burlesque and more. Come celebrate with this great show!

Starring Skylar Bastedo, Alexei Cifrese, Miss Violet DeVille, Dani Hobbs, Jasmine Joshua Marshall Link, Beau NusHole and Evan Price.
Check out more Pride events at the huge Seattle Gay Scene Pride Calendar!
Looking for non-Pride events, go check out the regular jam packed SGS Calendar!
(Visited 1 times, 1 visits today)