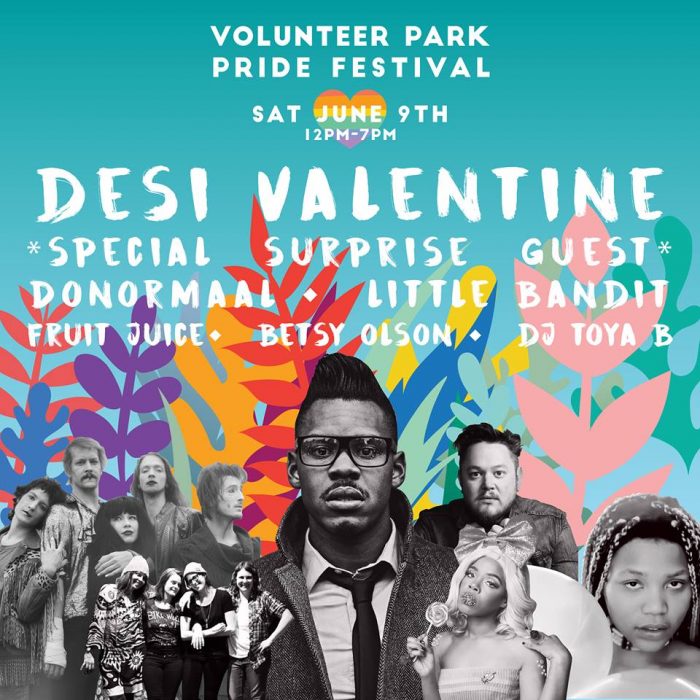 FINALLY! 
Seattle Pride has figured out how to program their annual "Family Day/Pride Picnic" event traditionally held on the second Saturday in June at Volunteer Park. In the last couple years, they rebranded the event as "Volunteer Park Pride" and learned how to book fun, exciting, interesting and DIVERSE performers for the event, with a mix of local talents and national acts, of different genres. In other words, a move away from the rather dull, old fashioned, (and lazy) "church social" method of booking gay pride events where it's 3 local drag queens, a bad singer or two and maybe some clog dancers….Seattle Pride upped their game last year and this year will provide a day of great music and entertainment options for the entire family.
For this year's "Volunteer Park Pride" happening on Saturday, June 9th, they've announced a variety of performers including soul and blues singers, a modern c/w band, a hip-hop artist, some glam rock and a TBA local Seattle rock band (Heart? Nirvana? Death Cab For Cutie?) This totally free (to attend; food trucks will be onsite to buy grub) event is family friendly and open to the public.
The deets:
Desi Valentine: a London-born singer & songwriter known for his bluesy-baritone voice and his modern twist on retro soul.

Special Surprise Guests: We can't let the cat out of the bag on this one just yet, but these hometown heroes and staples of the Seattle queer community definitely ROCK!

DoNormaal: a Seattle-based hip-hop artist who experiments in "morbid, emotional prayer" through her unique, genre-bending style of rap.

Little Bandit: an East Nashville band who Rolling Stone describes as "rule-breakers putting a gorgeous, gay-friendly spin on their city's Countrypolitan past".

Fruit Juice: Retro-glam darlings of the Olympia scene who boast "infectious energy, sparkling oddities, and 13 shades of eye shadow."

Betty Olson: a gritty, soulful, blues-rock singer from Seattle whose band includes the inimitable Sera Cahoone on drums.

DJ TOYA B: a soul, hip-hop and dance DJ "addicted to glitter, hip hop glamour and Barbie doll fashion."
On June 9th from 12-7 PM, the Volunteer Park Pride Festival kicks off a month of celebrations for Seattle Pride in one of Seattle's most iconic parks. The festival is a free, all ages celebration of LGBTQ arts, performance and culture. In addition to live music, Volunteer Park Pride Festival will come alive with a beer garden, food trucks, craft booths and more.
MUSICAL LINEUP:

*Special Surprise Guest* – To be announced SOON!

Festival Registration

Craft & Commercial Vendors should use this link to register for the festival.
Tags: Betsy Olson, Desi Valentine, DJ Toya B, DoNormaal, Fruit Juice, Little Bandit, Seattle LGBTQ Family Events, Seattle Out and Proud, Seattle Pride 2018, Volunteer Park Pride, Volunteer Park Pride 2018