Brandon J. Simmons is very talented. He's been on-stage performing in incredible works of Seattle theatre, such as the Seagull Project series (a biannual repertory series of the great works of Chekhov). He's been writing plays, one of which, Is She Dead Yet?, won the 2016 Gregory Award for Outstanding New Play and was produced at Annex Theatre. Now, you see what happens when Brandon is in the director's seat, by checking out ArtsWest's production of AN OCTOROON, written by Branden Jacobs-Jenkins. This play first came out in 2014, itself being an adaptation of Dion Boucicault's The Octoroon, which appeared in 1859 and based on a popular novel by the same name.
The show is set in 1859 on a slave-plantation, where George, the white heir to the slave-plantation, falls in love with Zoe, who is one-eighth Black, the titular octoroon, a daughter of one of his uncles. The overseer of the plantation, M'Closkly, however, has his own plans for the plantation and for Zoe. The play presents important issues of race and racial dynamics, in a 19th century antebellum melodrama. It is definitely a controversial piece, that several theaters have picked up and put down, trying to avoid the difficulties that such controversies bring. In Seattle, ArtsWest has decided to take on the challenge of producing this work, and Brandon J. Simmons is just the right director to make this happen.
I catch Brandon right after he exits rehearsal for The Picture of Dorian Gray, the adaptation of the classic novel by Oscar Wilde which he is acting in next and coming soon from Book-it Repertory Theater. We sit down outside a coffee shop in Queen Anne, discussing An Octoroon, and I learn how important this project is to him.
"I first saw An Octoroon about two-and-a-half years ago, in Minneapolis, at the aptly-named "Mixed Blood Theatre". The theatre has been around for 30 years. Their mission is to produce plays that have diverse racial perspectives. It was with this production that I fell in love with this play. When I saw that ArtsWest was producing it this season in Seattle, I reached out to be the director. The rights got passed around Seattle for a few years until ArtsWest snatched it up. This season it looks like they are producing every show that has been rejected by the other theatres in town. I had one meeting with them and they brought me on the project!" says Brandon, with excitement.
When I ask him about that viewing in Minneapolis and how it made him feel, he smiles warmly and says, "I felt, for the first time, that I was seeing a play that was absolutely calculated to inspire my imagination. Firing on all cylinders. I was THRILLED to see the play that I have been waiting for my entire life, not only as an audience member but as an actor and as an artist!"
But there were some mixed emotions as well, he tells me. "I had just closed Is She Dead Yet? two months before I saw An Octoroon. So seeing Branden Jacobs-Jenkins' play produced like this made me both thrilled and envious, in equal parts. I knew then that this play will be a part of my future, somehow."
On this talk of future, I decide to ask about Brandon's past, to help me understand how he visualizes his own future. I learn that Brandon himself has mixed-race heritage. His father is Black and his mother is Irish-Scandinavian. He has lived in Seattle for 14 years but he grew up in the Minneapolis-St. Paul  area and has two uncles who have worked in theatre. "I'm queer. My uncles were queer. But I couldn't really attend the theatre they were working on. The work they were doing was edgier, such as solo shows in bars, which were off-limits to me as a kid. My immediate family was not into theatre as much. So almost all of my theatre experience ended up coming through school and college. I went to university in St. Paul as well, and majored in English."
He describes to me the theatre ecosystem of the Minneapolis-St. Paul region. "The impression I have gotten is that the Guthrie Theater really dominates the landscape, while there is also a ton of theater happening elsewhere in the city, more even that what happens in Seattle. Minneapolis prides itself in having more theater than any other city, though I am not sure how true that statement is. I can definitely say that the Guthrie has spawned a lot theatre in that region."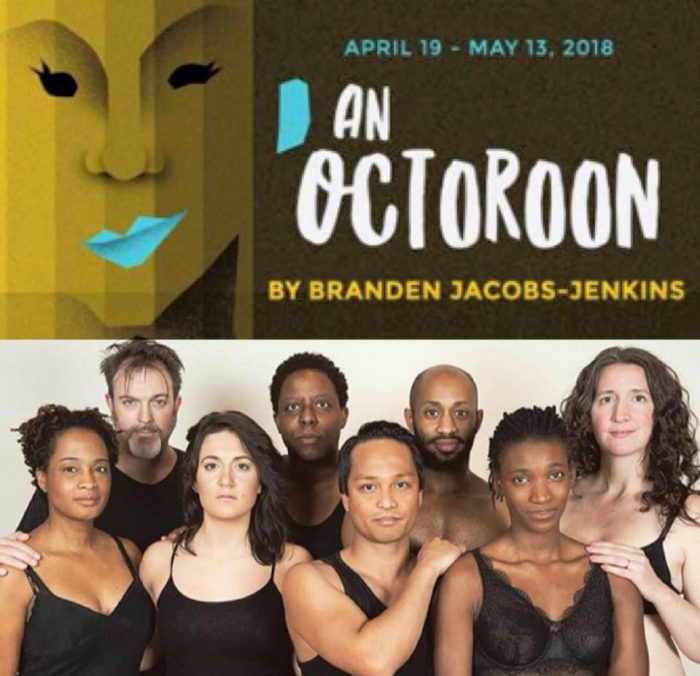 We talk further about careers in theater in the two regions he has lived in. "I've worked in theater in both regions. I was actually working on a production out there in Minneapolis when I first got to see An Octoroon. There are a few differences in how career pathways work in both regions. The Guthrie is a monolith out there in Minneapolis. It is a national theatre. The barriers to entry for local artists are quite high. The ecosystem that has been built around it has little cross-pollination. Seattle, in comparison, has more cross-pollination across its theatres. Barriers to entry are lower. Anyone with the energy, stamina, emotional resources and mental resources, who sticks with it long enough, can gain entry to any theatre in this city as an artist. In the past few years, this has become even more the case. But out there in the Twin Cities, the Guthrie is not as penetrable. You need to move out of the area, to New York, become successful there and then you can get into the Guthrie."
Sound advice for artists of the Puget Sound area!
I ask him what audiences should be excited about when it comes to An Octoroon. He energizes further with this question. "This show is an extremely rare opportunity for you to watch a balls-to-the-wall 19th century melodrama. It's got all the bells-and-whistles. It's theatrical genre-work that seeks to present it as a living medium. It is essential, relevant and has a lot to say about our current predicament as Americans. In that same vein, it is also a play about race, in the structure of a melodrama. I have never seen any other play do this. The melodrama frames the story in a certain way to give it that uniqueness. What it does is that it shows an American audience how everyone in this country PERFORMS their race. Race is a PERFORMATIVE act. In private and in public. It is bizarre. And its theatrical! Our lives are like theatre, in a beautiful way. This play shows the cost and the toil of performing your race."
I ask about which races are depicted in the show and he responds. "The play deploys and employs some very provocative and dated theatrical tropes. On one level, it about whiteness, blackness and redness, as racial categories. There are actors in redface, blackface and whiteface, in this play, and there is a reason for it. It is the first thing that happens in the show actually: a white actor in redface, a black actor in whiteface and, for our production, a Filipino actor in blackface."
This intriguing line of conversation is something I ask further about and he continues. "The show doesn't only deal with the black-white binary. In addition to the offensive outdated stereotypes of blackface and wearing a Native American headdress, we have a Filipino actor in blackface playing the role of an 'Uncle Tom' and a 'picaninny'. That arrangement and stratification opens up the experience to people of all races, I feel."
The playwright, Branden Jacobs-Jenkins, won the Obie Award in 2016 for Best New Play jointly for the two Off-Broadway shows that opened that previous year, one was Appropriate and the other was An Octoroon. Mr. Jacobs-Jenkins' later works, Gloria and Everybody, ended up being finalists for the 2016 and 2018 Pulitzer Prizes for Drama respectively. He was named a MacArthur fellow in 2016. This has cemented Branden Jacobs-Jenkins as one of the most important modern American playwrights today. He is already a modern icon when it comes to Black playwrights.
What we know deeply about Jacobs-Jenkins' work is how boldly upsetting it can make some members of the audience, who may not be ready for what this playwright has cooking. When I ask Brandon about whether or not An Octoroon will upset people, he responds, "It is an upsetting play, that's for sure. In the same breath, I will say that what it is, first and foremost, is a brilliantly funny and deeply interesting play as well. You never know what is coming next. You never know where the play is going. It can take you anywhere, and it actually DOES take you EVERYWHERE. But I don't consider it to be controversial. I don't see the controversy around it. This work needs to be produced. These words need to be on stage. The real controversy is that it is not being produced by larger theatres! There is a broader audience that this show deserves! This play is five years old and it has not attained the level of attention that was given to Disgraced or The Humans."
At this point, the two of us share agreement. Both of those plays, while good solid plays on their own, really didn't deserve the national attention they got, especially when much better works of playwrighting have been coming out at the same time, covering the same ground in a much more nuanced and sensitive manner, that don't involve a man-of-color hitting his white wife or white people having a nervous breakdown over the prospect of living in near-poverty. I can see how a play like An Octoroon has much more important things to say about American racial and sociological dynamics, in a manner that will make you laugh as well.
"When it comes to An Octoroon, come ready to see a play unlike any play you have ever seen and unlikely to see again. It is an entirely unique experience.", he says.
When I ask him how this unique experience has changed him as an artist, he says to me, "I don't know yet! It's not over. It's still happening to me. Ask me in a year! This play realizes some of my particular strange life experiences as a racial being in the world. It's both personal and professional in that way, to me. It is, simultaneously, a continually complex and generalist script. It reveals opportunities for showing the audience the absurdity of race, as a concept".
We then talk about what Brandon wants to do with his career. "This is the first full production with a main-stage budget in a bigger theater that I have had the honor of directing. I would like to continue to direct, without giving up on acting. I continually feel the pressure to settle into one discipline: actor, writer or director. But I am deeply moved to write my own stories. When I tell my own stories, I feel at home and I feel competent. But when I am a director, all my synapses are fully firing. This is why I want to seek out opportunities where I can write and direct my own work.
I ask him about his next few projects coming up. He tells me about his next acting role as Lord Henry Wotton in Book-It Repertory Theater's upcoming adaptation of The Picture of Dorian Gray, part of their ongoing incredible season. He also tells me about a writing project he is working on for a new play, with The Umbrella Project. It is a new piece that is based on the works of Jorge Luis Borges and Johann Sebastian Bach. He is also directing an exciting upcoming show at Annex Theatre based on West African Folklore called Anansi and the Halfling, written by Madison Jade Jones.  These are definitely works to look out for.
Brandon J. Simmons is an incredible gem of an artist who knows where he is going and what he wants to do. He is in the prime of his craft, forging ahead in three disciplines, bringing us all kicking-and-screaming into a new way of thinking about theatre, race and storytelling. We can expect amazing things from him.
(Visited 1 times, 1 visits today)