Compiled by Miryam Gordon from press releases.
Check out this list of theater/stage productions opening this month and see if something meets your fancy. Get out those calendars!
Bruce, Seattle Repertory Theatre, 5/27/22-6/26/22 (World Premiere) (opens 6/8)
In 1974, a virtually unknown 26-year-old director set out to film a best-selling novel. Invading a sleepy fishing island off Cape Cod to shoot on the open ocean, he battled weather, water, hostile locals, an exploding budget, endless delays, and a highly dysfunctional mechanical star named Bruce. Based on The Jaws Log by Carl Gottlieb, this world-premiere musical takes you behind the scenes of the world's first summer blockbuster.
The Prom, 5th Avenue Theatre, 5/31/22-6/19/22 (tour)
The Prom is a new musical comedy about big Broadway stars on a mission to change the world and the love they discover that unites them all. Variety raves, "It's so full of happiness that you think your heart is about to burst."
Air Play, Seattle Children's Theatre, 6/1-12/22 (tour)
Wmbrellas fly, fabrics soar over the audience, balloons swallow people, and snow swirls, filling the stage. Part comedy, part sculpture, part circus, part theater, this play has it all.  No translation necessary in this circus-style adventure of two siblings journeying through a surreal land of air, transforming ordinary objects into uncommon beauty.  Great for all ages (5 and up).
Click HERE for tix.
Skin Flick, The Phoenix Theatre, 6/4-27/22
Norm Foster is Canada's version of Neil Simon – a prolific comedy playwright. The Phoenix Theatre loves performing Foster's work! Here, Rollie finds himself in a financial bind. He's always provided for his wife Daphne, but now he's lost his job at the costume shop, and he's going to have to come up with something fast! What he finds leads Rollie and Daphne to learn what's at the heart of their marriage.
www.tptedmonds.org/season-13–20202021.html
The Bonesetter's Daughter, Book-It Repertory Theatre, 6/8/22-7/3/22 (World Premiere)
Ruth wants to be a better daughter to a mother whose mind is quickly sliding into the haze of dementia. If only her mother—who spent Ruth's childhood talking to ghosts, lamenting a family curse, and refusing to acclimate to life in America—was just a little easier to love. When Ruth rediscovers a stack of papers in the bottom of a drawer, carefully penned in calligraphy, she realizes that it may not be too late to meet a woman she thought had been lost to her long ago. The Bonesetter's Daughter is a deeply moving chronicle of war and revenge, joy and connection, and the profound love that can exist between mothers and daughters. Adapted by Desdemona Chiang from award-winning Amy Tan's intimate novel.
Mamma Mia!, Village Theatre, Issaquah 6/8/22-7/10/22 | Everett 7/15/22-8/7/22
When Sophie is due to be married, she wants her dad to walk her down the aisle. The only problem is she doesn't know who he is. She has determined that he must be one of three old boyfriends of her mother's. After inviting all three of them, without telling Mom, to attend the wedding, things heat up at their already sizzling Grecian getaway. ABBA's songs fit perfectly into this now-classic musical everyone loves to have fun watching.
Strawberry Jam, Strawberry Theatre Workshop, 6/9/22-7/9/22 (at 12th Avenue Arts)
STRAWBERRY JAM is a Directors Festival of ten plays in ten days from playwrights ranging from Pulitzer Prize winners (Quiara Alegría Hudes, María Irene Fornés) to local novices (Alanah Pascual, Shanna Allman, Kaytlin McIntyre).  Strawberry Theatre Workshop–which has been shuttered for two years–returns to 12th Ave Arts with its most ambitious program ever.  See any play for $12, see all the plays for just $36.  
miku, and the gods, ArtsWest, 6/16/22-7/3/22 (World Premiere by Julia Izumi)
Miku wants to be a god. Ephraim wants to be an Olympian. Grandma Seiko wants to remember. And minor god Shara just wants people to include him in the conversation, you know? As they journey from the schoolyard to the river to the underworld and back again, Miku and company will learn what it actually takes to become a god. As funny as it is moving, miku, and the gods is an epic adventure that braids together friendship, death, memory, time, rhythm – and power beyond what one could ever desire.
Fragmented Flow Festival, On The Boards, 6/16-26/22
This year, OtB will bring four artistic teams together for an intimate investigation of different concepts of identity and relationship. These interdisciplinary performances will allow you to explore your inner human psyche, memories, and more. Fragmented Flow will feature performances by Degenerate Art Ensemble (Seattle), Allie Hankins (Portland), Vanessa Goodman (Vancouver), and Gender Tender (Seattle).
https://www.ontheboards.org/performances/fragmented-flow-festival
TBD (to be devised): A Celebration, Shattered Glass Project, 6/24/22 6PM, 6/25/22 2PM
(at Lavizzo Park, 22nd Ave. S and S. Main – Free)
TBD (To Be Devised) is a celebration of our personal heroes – women and non-binary folks past and present who inspire and lead us forward.
LIZZIE, Just Us Girls & Co., 6/24/22-7/2/22 (at The Give Inn, 2220 NW Market Ste #L00)
LIZZIE is American mythology set to a blistering rock score. This murder musical is about the notorious Lizzie Borden. On August 4th, 1892, Andrew Jackson Borden and Abby Durfee Borden were found dead in their home, the victims of a brutal hatchet murder. The main suspect was Andrew's daughter Lizzie. The trial of Lizzie Borden was a national news story and over a century later the story is still an American legend. Learn things about Lizzie Borden and family that you never knew.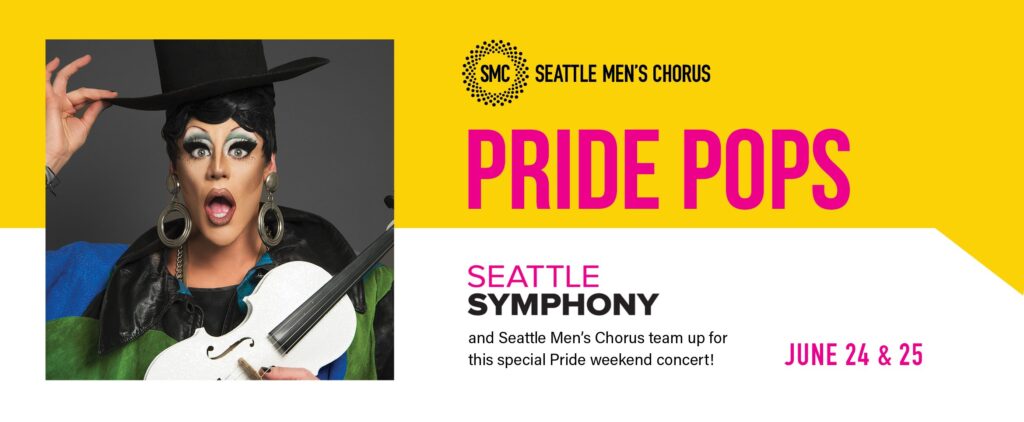 Pride Pops, Seattle Men's Chorus & Seattle Symphony, 6/24/22-6/25/22 (at Benaroya Hall)
The vibrant voices of the Seattle Men's Chorus join the Seattle Symphony for this special Pride weekend concert event with conductor Lee Mills at the podium. Plus, sensational NYC-based drag performance artist Thorgy Thor (RuPaul's Drag Race, Dragnificent) leads the celebration as our fabulous host. Pride outfits encouraged!
https://seattlesymphony.org/en/concerttickets/calendar/2021-2022/21pops6
(Visited 4 times, 1 visits today)