Upcoming Events
Events Search and Views Navigation
January 2020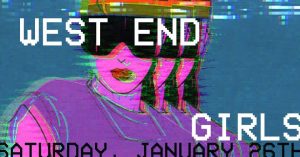 ⭐ West End Girls: A Drag Extravaganza! ⭐ 🎟️ TIX: buytickets.at/theskylark/284336 🎟️ Hosted by Cookie Couture Performances by: Anita Spritzer Betty Wetter Londyn Bradshaw Old Witch Stacey Starstruck Thadayus Poster Design: Alex Thomas | http://alextthomas.com/ Door: 7PM | Show: 8PM $10 online | $13 day-of 3803 Delridge Way SW
Find out more »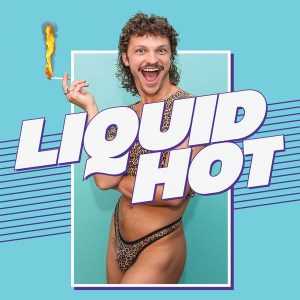 Liquid Hot by Woody Shticks and directed by The Libertinis Slip into something a little uncomfortable as comic stripper Woody Shticks gets trapped on a porno set with little more than his spicy signature blend of stand-up, strip, and story. In a night thick with slick satire and compromising positions, Woody reveals more than secrets as he gets down and dirty with power and privilege. Come for the snickers but stay for the kickers in this scalding #sexcomedy directed by…
Find out more »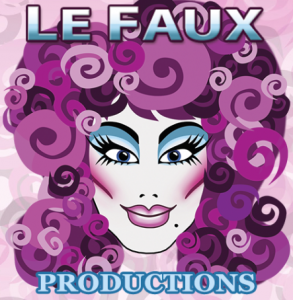 Le Faux at Julia's on Broadway A celebrity impersonation show featuring a full cast of professional impersonators, choreographed dancers and completely outrageous acts. You and your friends will have the time of your lives seeing our Las Vegas style productions of Britney, Cher, Pink, Taylor Swift, Adele, Nikki Minaj and many more concert-like performances that are truly unbelievable. Le Faux is the largest cabaret-style celebrity impersonation show in America. You've never seen drag like this before. Come for the show,…
Find out more »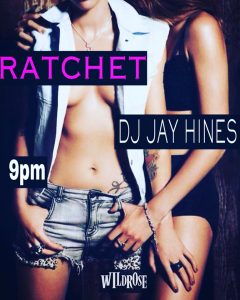 Ratchet w/DJ Jay Hines Weekly Saturday dance party for the women of Seattle...and nice allies. With DJ Jay Hines spinning the hits. $3 21+ w/ID
Find out more »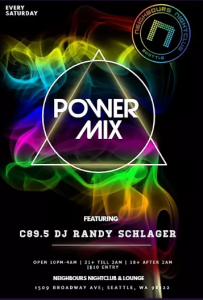 The latest and self-acclaimed greatest in EDM and house with some classics thrown in for good measure, thanks to DJ Randy Schlager. All you 18+ babies can join in on the fun at 2am. Enter in alley 21+ 9pm to 2am 18+ 2am to 4am Cover is $10 at the door
Find out more »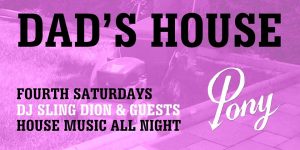 Dad's House brings you house music all night long! Whether you are a fan of the mid 80s house explosion of Detroit and Chicago, or more of a 90s club-house kid, come to Pony to shake your buns. Resident Dad, DJ Sling Dion, brings you the soundtrack, with a steady stream of four-to-the-floor guest DJs.
Find out more »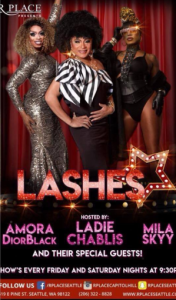 Seattle's looooooooong running weekly drag show every Saturday night at RPlace, with hosts Amora DiorBlack & Ladie Chablis & Mila Skyy plus a slew of special guests. 9:30pm to 2am 21+ w/ID Cover is usually $10/May be higher for nights with out of town guests/special events Followed by Therapy with DJ Flow and Go Gos. Dance party until 2am
Find out more »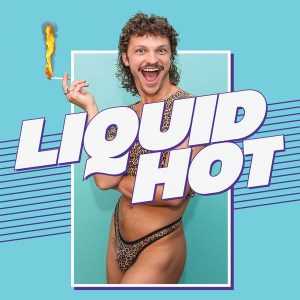 Liquid Hot by Woody Shticks and directed by The Libertinis Slip into something a little uncomfortable as comic stripper Woody Shticks gets trapped on a porno set with little more than his spicy signature blend of stand-up, strip, and story. In a night thick with slick satire and compromising positions, Woody reveals more than secrets as he gets down and dirty with power and privilege. Come for the snickers but stay for the kickers in this scalding #sexcomedy directed by…
Find out more »

The Cuff Complex Seattle hosts international DJs every Saturday night from 10pm to 3am! Check website and Facebook for weekly updates on line-up! 21+ w/ID Note: The Cuff advertises itself as a Gay Man's Club. The clientele is mostly gay and male but allies are welcome. Cover varies from week to week depending on talent: $10, $15 and up.
Find out more »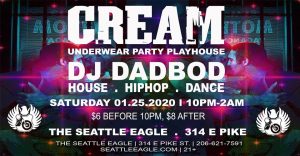 CREAM UNDERWEAR PARTY PLAYHOUSEW/DJ DADBOD SATURDAY JANUARY 25TH 2020 . 9PM-2AM ................................................................................ Join us for an evening of dark corner, dirty alley STRIPPED DOWN FUN - CREAM DJ DADBOD provide the hard edge, sexy & soulful soundtrack. HOUSE - DISCO - TECHNO - HIPHOP #LUST#LIPLOCKING#DIRTYGUYFUN#MUSICMANIA#BEQUEER #cashruleseverythingaroundme .................................................................................................. THE SEATTLE EAGLE . 314 E PIKE $6/$8 AFTER 11PM CLOTHES CHECK PROVIDED
Find out more »
+ Export Events