February 28, 2019

•
by
Michael Strangeways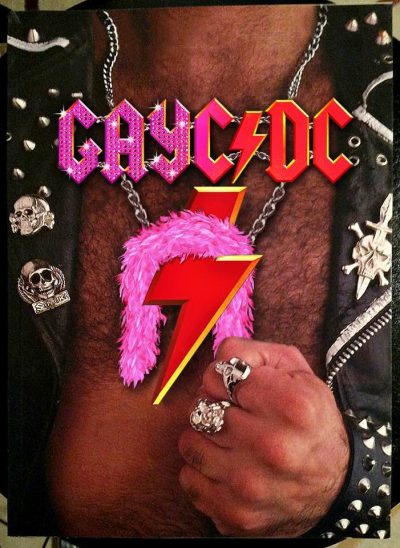 We may not be big fans of heavy metal music but we do firmly believe in "Different Strokes for Different Folks!" and there ARE many LGBTQ people out there who LOVE loud, noisy, metallic rock n' roll music…including AC/DC, the much loved metal icons from Australia. Seattle even has a well-known all female AC/DC cover band called Hell's Belles who tour all over the place playing their versions of beloved AC/DC songs.
But, since 2013 there has also been an all gay male version of the band called GayC/DC that describes itself as "Not quite a cover band. Not quite a tribute band. But some hybrid of both of those." The creation of Chris Freeman from the legendary queer band Pansy Division,  and Steve McKnight (also of Cry Wolf), Karl Rumpf, Brian Welch, and Glen Pavan the band has become a big hit in Southern California. They're said to:
throw a healthy dose of Alice Cooper, Rip Taylor, G.G. Allin, Freddie Mercury, Phyllis Diller, Lady Bunny, and of course those boys Down Under into the mix…
And, now the men of GayC/DC will invade Seattle this Friday night, March 1st for a big gig at the famed El Corazon, 109 Eastlake Ave East at the foot of the Denny overpass up to Capitol Hill. The rock 'n' roll club (which has hosted thousands of bands over the years, under various names…as the Off Ramp it hosted Nirvana) is actually in grave danger of gentrification (of course) but it's still around to host this big gay metal party.
(Note to nervous folks: obviously this is not a traditional venue for a gay event but El Corazon IS actually gay friendly; the owners of the very gay friendly and beloved The Funhouse are partnered with El Corazon…and, since this is an event with a very openly gay headliner, you should be fine.)
Doors are at 8pm and show at 9pm with opening acts The Heroine, The Dee Dees, and Custom…which means GayC/DC will go on last. Yes this is strictly 21 and over and you can grab tix over here. It's a modestly priced show with tix at $15 for advance/$17 at door.
So more fun info about the creation of GayC/DC:

GayC/DC is the world's first and only all-gay tribute to the music of AC/DC!

Founded by Chris Freeman (bass player from iconic queer punk band Pansy Division), the idea for GayC/DC came from bouncing around names for more tribute bands with gay members after he'd been playing with the Gay Gay's (gay tribute to the Go Go's) for more than a decade. After the Gay Gay's went on hiatus, Freeman moved forward with forming a band that could be as good as AC/DC.

Freeman began by recruiting lightning-speed guitarist, Steve McKnight after meeting him online and sharing similar musical tastes. McKnight has been a part of the LA music scene since the late '80s in Cry Wolf, a melodic hard rock band that made their mark on the Sunset Strip and beyond with several major albums under their belt.

Also recruited was Karl Rumpf on rhythm guitar, who Freeman had met while on tour with Pansy Division and later worked with in a band/project called Dart. Rumpf was also in the last incarnation of the Gay Gay's, along with drummer Brian Welch who Freeman had also met while on tour. Welch had spent years touring with Extreme as their drum tech, so he was a natural fit.

This four-piece spent months looking for a gay vocalist to no avail. Finally, Freeman asked the others if HE could audition. Nervously, he did, the band agreed, and they were off—but now they needed a bassist, so Freeman recruited bass player extraordinaire, Glen Pavan, once again someone Freeman had met while on tour. Pavan had previously been keeping the low end down for LA queer punk rockers Best Revenge (who got their name from a Pansy Division song). Now in their third year as a band, the word of mouth has been intense, even scoring a "pick of the week" in LA Weekly for a recent LA gig.

The band remains true to the music (working diligently to replicate the actual sound of AC/DC), while playing around with the lyrics and changing pronouns to suit the gay angle. Hence, TNT becomes PNP (a song about the "party-n-play" status some gay men post in their online sex ads), Bad Boy Boogie becomes Gay Boy Boogie (do you really need to ask?), and Big Balls needed … no changing at all!

To say the band is off-the-hook live is an understatement. There is never a dull moment with all the costume changes and props being trotted out, all in the name of outrageous entertainment. Even those who say they don't like AC/DC end up being fans.
(Visited 12 times, 1 visits today)
As the Editorial Director/Co-Owner, Michael Strangeways writes, edits and does about a million other jobs for Seattle Gay Scene, Puget Sound's most visited LGBTQ news, arts and entertainment website now celebrating its 14th year as a media outlet. A semi-proud Midwesterner by birth, he's lived in Seattle since 2000. He's also a film producer who would like you to check out the Jinkx Monsoon documentary, "Drag Becomes Him" now available on Amazon.com. In his spare time, he gets slightly obsessive about his love for old movies, challenging theater, "otters", vodka, chocolate, "I,Claudius", Lizzie Borden, real books made out of paper, disaster films, show tunes, Weimar era Germany, flea markets, pop surrealistic art, the sex lives of Hollywood actors both living and dead, kitties, chicken fried steak, haute couture and David Bowie. But, not necessarily in that order.
Related Posts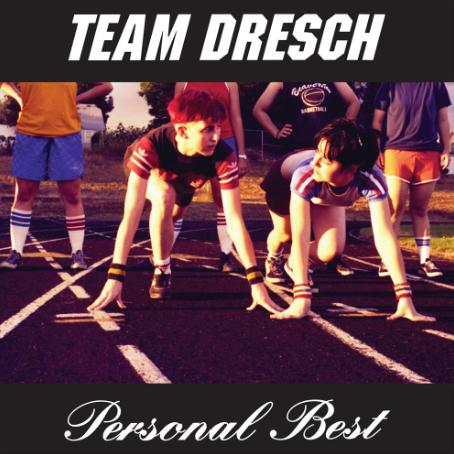 *Resist. Protest. Obstruct. Inform. • *Seattle Musicland • Arts & Entertainment • Gay 101 • Music • Music - 90s • Music You Should Know • Music-Queercore • Queer Music • Seattle Lesbian Scene • Women's Arts • Women's Events
Olympia/Portland Queercore/RiotGrrrl music icons from the 90s, TEAM DRESCH are
...