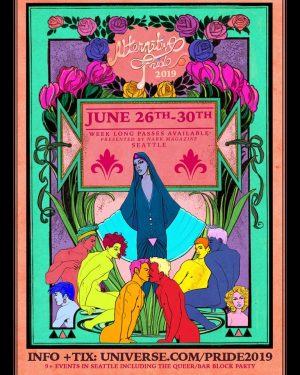 AND, there's more announcements about line ups and ticketing for big events/festivals happening in Seattle for 2019 LGBTQ Pride celebrations occurring the last week of June. Just two weeks back, queer/bar announced their huge 3 day street festival on 11th Avenue between Pike and Pine in the heart of Seattle's LGBTQ neighborhood Capitol Hill…Big Freedia and Grammy-Award winning singer, songwriter and dancer, Mýa are headlining that fun fest along with dozens of other performers. 
Now, a queer/bar event producer, DJ Nark has announced early plans/schedule for his annual and popular ALTERNATIVE PRIDE FESTIVAL which includes tie ins to the queer/bar festival as well. Nark will host events at GRIM'S which is 2 doors down from queer/bar on 11th. The multi-story venue which has ties to queer/bar (different parts of a locally owned business group) is not traditionally a gay only space but has been very LGBTQ friendly over the years and hosted many community events. Grim's will be re-branded as "Nark Bar" during Pride Week while it hosts Alternative Pride festivities (obviously not a legal name change). And, purchase of the Alternative Pride 2o19 Weekend Pass will also gain entry to queer/bar Pride Festival events, so it's a lotta bang for the buck. (And, it's the only pass/ticket option currently on sale; more options/individual tickets will go on sale soon. Go HERE to snag the Alternative Pride pass but do note it does not include entrance to the very popular Nark Magazine Pride Cruise which is sold separately!)
Nark has released his schedule of events and initial line-ups but more talent will be announced in weeks ahead as well. Tons of information down below and note the addition this year of an all-ages Laser Show at the Pacific Science Center at Seattle Center on Thursday, June 27th. Obviously, if you're under 21 and are excited to attend this event, you should wait for individual tickets to go on sale; Alternative Pride passes are strictly 21+.
The skinny:
Nark Magazine and Bottom Forty present Seattle's Alternative Pride Festival Weekend 2019, Pride is for Everyone! A weekend of fun, togetherness and debauchery celebrating the beautiful scenery, communities and vibrant cultures of Seattle across many different events of varying degrees from block parties to boat cruises to endless raves to drag to brunch to Backdoor revelry and more, celebrating local and foreign talent in music, visual arts, drag and more.

Part of proceeds this will directly benefit those in need in our queer community (community members falling on hard times, gender affirming surgeries, etc). More information and how to apply released soon.

Alternative Pride is for Everyone, Everybody and Every Body.

It is highly encouraged to snag a week long pass. With this pass you get entry to our special venue "Nark Bar" all week long where many of our events are taking place, plus you get access to our show at the Science Center Laser Dome, Vermillion, and any other event that comes up between now and then AND as a BONUS you also get access to the queer/bar Block Party all weekend long and queer/bar events, this is the one ticket to rule them all! (Please note: the one item NOT included in the week long pass is the Pride Cruise, that will be sold separately and can be found here www.universe.com/cruise2019 )

Week long pass buyers also receive a wristband for easy entry and a very specially curated party backpack containing all the needed information for the week, a t-shirt and gifts and accessories from queer artists and other necessary supplies, week long pass holders will have free access to catered foods and snacks available all weekend long to help keep you raving.

More information about individual events and lineups coming soon! Currently known event info below-

🌈🌈🌈🌈🌈🌈🌈🌈🌈🌈🌈🌈🌈🌈🌈🌈
Fri-Sunday – Access to queer/bar Block Party and queer/bar
Fri-Sunday – Visit RGB on 12th Ave for any of the RGB events, all Moscow Mule sales will generate $1 towards our beneficiaries!

June 26/Wednesday Night – LQQKS Market
Join us for your first look at Nark Bar Wednesday night when we set up a special market for local merchants and mini queer group-garage sale, the perfect place to buy and exchange clothes and accessories to get your new looks together for the weekend! To inquire about selling at LQQKS Market please email kevin@narkmagazine.com

Where: Nark Bar (aka Grim's, 1512 11th Ave)
7pm-Midnight (drinks and DJs serving til 2am)
June 27/Thursday Night – ALL AGES LASER SHOW at Pacific Science Center
Thursday night we have a very special laser show featuring talented underground budding and fresh DJs curating live sets to laser shows at the Pacific Science Center Laser Dome, this show is ALL AGES!
w/ DJ Gag Reflex and s O F T P E A K s (Portland)

Where: Pacific Science Center Laser Dome @ Seattle Center
7pm-10pm
After Party at Nark Bar (more info tba/obviously this will be a 21+ event)
June 28/Friday Evening – Rooftop Social at Mbar
Let's kick off the meat of this weekend by gathering at the beautiful rooftop deck, bar and restaurant that is Mbar, soak in the gorgeous views and the beautiful sunset of our sparkly emerald city and meet up with all the cute friends to start planning all the weekend trouble! Part of proceeds will go to our beneficiaries.
Where: Mbar
When: 5pm-10pm
June 28/Friday Night at Queer Bar – The Make Out Party!
Where: queer/bar, 1518 11th Ave
8pm-Close
June 28/Friday Night at Nark Bar – Pigs Fly Fetish Night
A fetish encouraged night of leather and lace for all with grimy dance floor action, live demos and more.

Where: Nark Bar (aka Grim's, 1512 11th Ave)
8pm-Close
June 29/Saturday Afternoon 12pm-4pm Pride Cruises
Our annual babe-packed double boat party takes off at 1pm, featuring Erin O'Connor and special guests TBA

Where: The Islander Yacht + The Spirit of 76 (on Lake Union)
12pm-4pm

Note:  Pride Cruise is NOT included in the Alternative Pride Pass and will be sold separately and can be found here www.universe.com/cruise2019 . Be advised this event does sell out. 
June 29/Saturday Night 5pm – June 30/Sunday 9pm – Pride is for Everyone 28 Hour Party by Bottom Forty
This is the biggest dance party of the year featuring all the local community-caring crews and now it's also going to be the LONGEST! Very special lineup TBA, alcohol will be served at all hours except between 2 and 6am, specially catered brunch foods and snacks available to all wristband holders for free, space is limited, full set times will be posted so you can find your best time to attend, this party is for EVERYONE, EVERYBODY and EVERY BODY.

w/ Nathan Micay (Bwana, Berlin), Bottom Forty, Wesley Holmes, Sean Majors + Many More TBA

Where: Nark Bar (aka Grim's, 1512 11th Ave)
5pm Saturday being 9pm Sunday end
June 30/Sunday Night 9pm-?? – BACKDOOR SEATTLE
Vancouver's biggest rule breaker soiree returns to Seattle for another round of induced debauchery, featuring special guests DJs, queens, hosts and more
w/ South East, Gluttony, Matt Troy and many more TBA

Where: Nark Bar (aka Grim's, 1512 11th Ave)
9pm – ??
More Events added as they come up.
Rachel's Ginger Beer 12th Avenue (RGB) is an official Alternative Pride Weekend stop, $1 from every Moscow Mule sold on this weekend will go to our Alternative Pride beneficiaries.
Alternative Pride Weekend Current Lineup (more to be announced)
Nathan Michay (Bwana, Berlin), Orso (DX), Sappho (PDX), Pavone, Hyasynth, Drake Forsyth, Nark, Sean Majors, Wesley Holmes, Julie Herrera, Mz ArTiz, The Prey (PDX), s O F T P E A K S (PDX), DJ Gag Reflex, DJ Having Sex, Heavy Pleasure, T.Wan, Erin O'connor, Baby Sam, thEO, Succubass, Dolce Vida, Terry Miller, KungPowMeow!, South East (Vancouver), Gluttony (Vancouver), Matt Troy (Vancouver), Kara Phoebe, Michete, Britt Brutality, Jesse Iglesias, Derek Flora, Justin Fairley, Fazaad Feroze, Carrol Pfifer, Lunchables
Queer Bar Block Party Lineup


Big Freedia, Mya, Miz Cracker, Shea Coulee, Vanessa Vanjie, Pearl Liaison, Brooke Lynn Hytes, Silky N. Ganache, A'Keria Chanel Davenport, Mercedes Iman, Shuga Cain, Ra'Jah O'Hara, Matthew Camp, Donormaal, Left at London, Brandon Wilde, Keegan Whicker, Dorian Electra, Jojo Guadagno, Bret Law, Micah Brandt, Cade Maddox, AJ Watkins, Chris Diprete, Arson Nicki, DJ Nitty Gritty, La Saveona Hunt, Bosco, Kitty Glitter, Stacey Starstruck, Solana Baby, Andrew Scott, Cherry Markos, Revenge Fantasy, MMMelt, Dj Catch24
Party Photos by
Roman Robinson
Week Long Wristband to Alternative Pride and Queer Bar/Block Party: $130 (almost $100 savings from individual event purchasing)
Individual Tickets Available, Coming Soon
(Visited 5 times, 1 visits today)