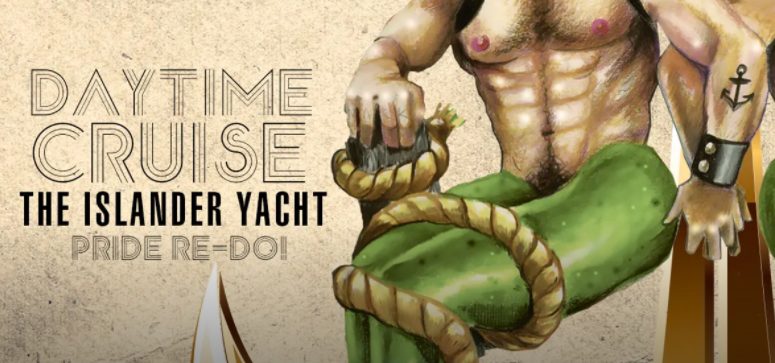 DJ Nark's annual Pride Cruise which normally happens on Pride Saturday in Seattle (the last Saturday in June) naturally got the axe last year due to Covid. There were a lot of unhappy seamen in town, disappointed they couldn't go on their favorite booze cruise of the year.
Those drunk old gay gobs are all Jim Beaming today with the news that Nark has rescheduled last year's cruise for… Saturday, August 21st!
Snatch tickets your tickets at this link: https://www.universe.com/events/seattle-pride-cruise-makeup-date-82121-tickets-TJMGPR
From the FB invite:
WE'RE BACK! Welcome back to life queers and steers, the annual Nark Magazine Pride Cruise is BACK! It's not pride but who cares because we lost a year anyways…we can make any day pride! Besides, August is the best time to be on a boat! ALL TICKETS Purchased for the original 2020 date are STILL VALID! Please email kevin@narkmagazine.com for any questions or if you are unsure if we still have your ticket. Also: if you requested a refund before you will need to repurchase a new ticket!

BOAT ONE is SOLD OUT – Don't sleep on your chance to get on boat 2! *BOTH BOATS BOARD AND CRUISE TIMES ARE THE SAME – BOAT LEAVES FROM THE SAME DOCK

-BOAT ONE The Islander Yacht
Featuring DJs: Nark + Alfonso Tan

-BOAT TWO The Spirit of 76
Featuring DJ's: Recess + TBA
HOSTD BY TERRY MILLER

Space is limited and THIS CRUISE *ALWAYS* SELLS OUT, don't sleep on getting your ticket!!

SATURDAY 8/21/21
1PM BOARD – 2PM SAIL – 5PM RETURN
1611 Fairview Ave E
And, as they state above, these cruises have always sold out in the past….if you wanna drift around the waterways of Seattle on a hot August afternoon, getting ripped, you'd better SNAG those tickets before they're GONE! Go HERE to grab'em!!!
(Visited 3 times, 1 visits today)