May 12, 2021

•
by
Michael Strangeways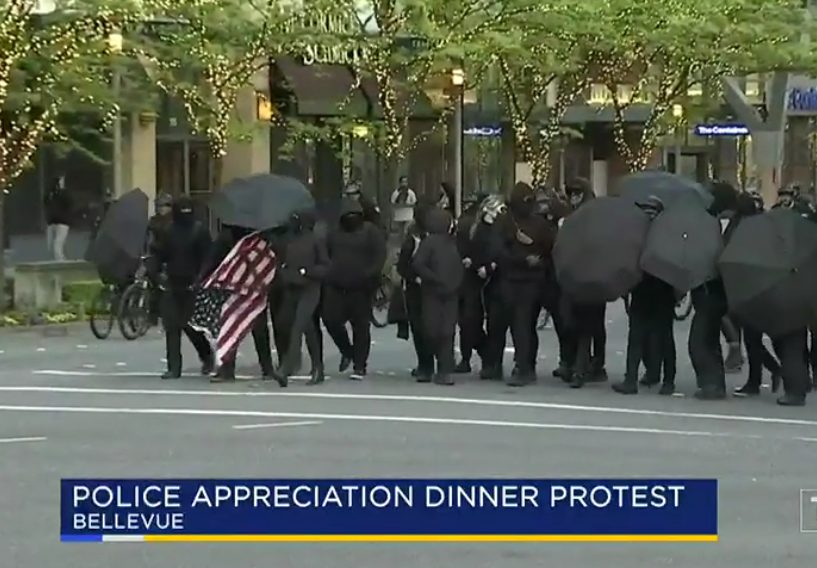 A group of protesters made it clear on Tuesday night that the homophobic, right wing rhetoric of preacher Franklin Graham wasn't welcome in Washington State as they gathered outside a Bellevue hotel to protest an event sponsored by Franklin's organization, the Billy Graham Evangelistic Association, which is named after Franklin's father, the famed evangelist Billy Graham.
The "Seattle Washington Law Enforcement Appreciation Dinner" was supposedly Franklin's way of showing support for area law enforcement officers by giving them a fancy free dinner but many local LGBTQ activists weren't having it and strongly urged area police departments to boycott the event. Charlette LeFevre of the Capitol Hill Pride group sent out multiple media messages over the last few weeks encouraging the event be protested.
The Seattle City Council and the Seattle Police Department both heard those concerns and issued statements with Lorena Gonzalez, president of the Seattle City Council saying the event would alienate our own LGBTQ officers, and Interim Seattle Police Chief Adrian Diaz released this statement:
"Based on Graham's history and affiliations, the email has raised concerns that the SPD may not be committed to the equity of our community's LGBTQ members. I want to make clear the Department fully supports the equity and just treatment of all people. The SPD did not sponsor this event and is not connected in any way to its hosts. Today I sent a department-wide email to rescind the invitation because its hosts do not share the inclusive values of the SPD."

– Interim Seattle Police Chief Adrian Diaz
The invite from the group was posted on Eventbrite and included this cloying invitation (via Malcontent News):
"Come relax in this safe setting and enjoy a delightful meal, an uplifting message, encouraging and practical wisdom from God's Word, live music, and fellowship with other law enforcement officers. This special time is our gift to you, and there is no charge."
Yeah…sounds like a real hoot. An evening of "fellowship" and rubber chicken with a bunch of right wing 'phobes who support conversion therapy. BRING ON THE DANCING GIRLS!!!!
Which Raises The Question(s): was there an open bar? Did they have any entertainment? I'm guessing it was Christian Soft Cop Rock.
According to local TV channel reports, a sizable crowd of protesters did gather (as well as Franklin/police supporters) but protesters were hugely outnumbered by Bellevue Police Department officers who were apparently worried about violence breaking out. The protest was apparently mostly peaceful though one person was arrested though it wasn't clear if that person was arrested because of the protest or if they just happened to be arrested NEAR the scene of a protest.
And, KOMO TV did get a quote from darling Charlette LeFevre (though they misspelled her name…):
Charlotte LeFevre, representing Capitol Hill Pride, was among the first to rally outside the high end hotel Tuesday, saying she wanted to create awareness and advocate for the LGBTQ community. She said the religious group behind the free dinner for police is not inclusive.

"it is an affront and offensive to the LGBTQ community," she said.
Anything to do with Franklin and his brand of hate is an affront. And, kudos for area protesters for showing up Tuesday night to let Franklin know what we think of his "Christian" values.
(Visited 3 times, 1 visits today)
As the Editorial Director/Co-Owner, Michael Strangeways writes, edits and does about a million other jobs for Seattle Gay Scene, Puget Sound's most visited LGBTQ news, arts and entertainment website now celebrating its 14th year as a media outlet. A semi-proud Midwesterner by birth, he's lived in Seattle since 2000. He's also a film producer who would like you to check out the Jinkx Monsoon documentary, "Drag Becomes Him" now available on Amazon.com. In his spare time, he gets slightly obsessive about his love for old movies, challenging theater, "otters", vodka, chocolate, "I,Claudius", Lizzie Borden, real books made out of paper, disaster films, show tunes, Weimar era Germany, flea markets, pop surrealistic art, the sex lives of Hollywood actors both living and dead, kitties, chicken fried steak, haute couture and David Bowie. But, not necessarily in that order.
Related Posts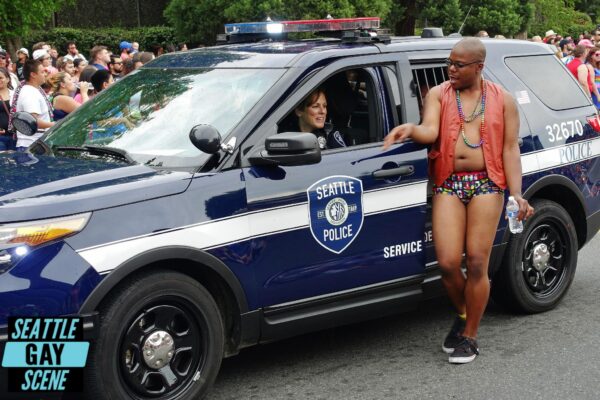 Controversy • Feuds • Gay News • News • Pride • Queer News • Seattle News • Seattle Out and Proud • Seattle Politics • Seattle Pride 2022
I've been waiting for this…every year during Pride there is
...