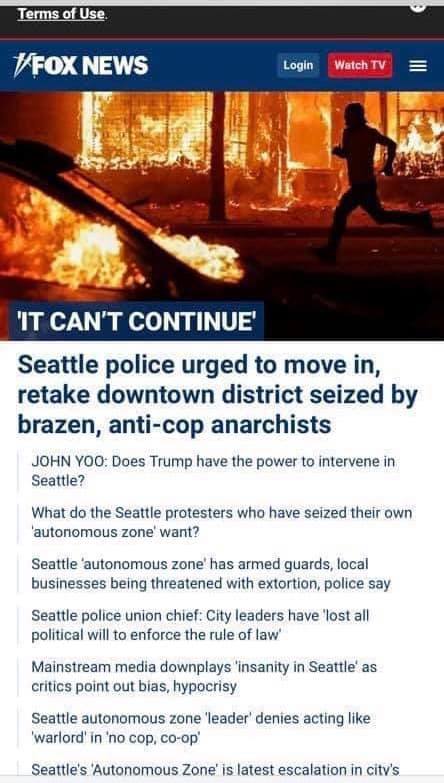 Dear Outside World Who Have Mostly Ignored Us for the last two weeks:
Seattle is fine. We're not on fire or besieged or taken over by anarchists or under martial law or living in fear for our lives. We're actually….pretty good! (Albeit kinda fat after months of quarantine…and, pretty shaggy headed with deplorable manicures and terrible posture from 16 hours of Netflixin' and Chillin'. And, despeate for human contact because Redtube can only provide so much companionship, but other than that…we're super!)
After two weeks of protesting the murder of George Floyd and demanding that police departments and law enforcement agencies across the United States stop killing black citizens, the city of Seattle is actually calm, peaceful and delighted that the Seattle Police Department have stopped aggressively attacking peaceful protesters with chemical gas and projectiles over the course of nearly 10 days of protests that mostly centered on Capitol Hill, the city's center for the LGBTQ community and immediately outside Seattle Police Department's East Precinct building at 12th and Pine Street.
Under orders by the City, the Police Department vacated that building earlier this week and protesters immediately took over the streets around the center of the protests and renamed the neighborhood, the "Capitol Hill Autonomous Zone" aka "CHAZ". Since then, protesters continue to gather outside the police station, in peaceful solidarity, but also to ensure that other groups wishing to make their own statement or to discredit the Black Lives Movement, wouldn't damage, destroy or set the building on fire.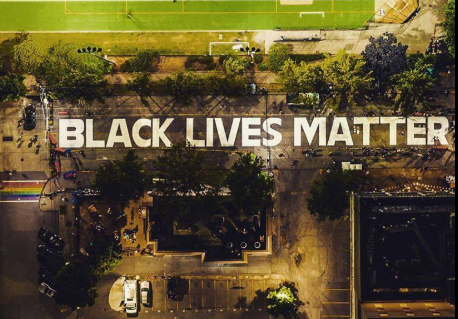 People have set up stands serving food and water as people continue to visit the area in support. Businesses not still shut down by the ongoing coronvirus pandemic are open and for the first time since protests began, the area feels calm and secure…without the presence of the Seattle Police Department.
But, after President Trump 'stooopidly' tweeted his outrage over the fact that a leftist progressive protest successfully won in a battle against oppressive racist policies, the national, corporately owned press finally took notice of what's been happening in Seattle the last two weeks and began posting a series of inaccurate articles and stories about out of control mobs taking over the city with "war lords" extorting local businesses and essential services cut for buildings in the area. Some of these tall tales are being spread by Seattle's police chief, Carmen Best. None of these stories are accurate or truthful.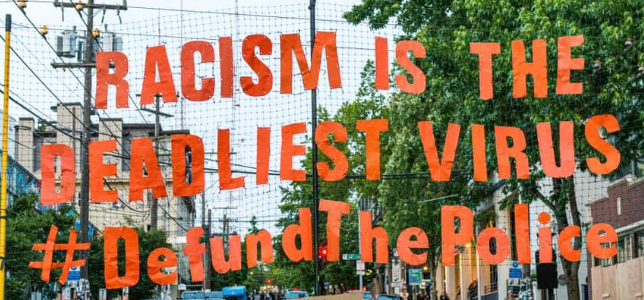 The reality:
The worst day of protests over the murder of George Floyd occurred on Saturday, May 30th when a peaceful march and protest in downtown Seattle became violent after Seattle Police tried to disperse crowds in a heavy handed manner that included chemical gassing and projectiles. Angry crowds retaliated that probably included anarchists and white supremacist groups like "The Proud Boys" trying to stir up trouble and violence and pining it on Black Lives Matter groups. Windows were broken and retail shops were looted and Seattle Police cars were set on fire.
The protests in the days after that original afternoon of out of control anger were all peaceful protests and marches that attempted to focus on downtown establishments but Seattle Police Department deliberately herded all protests to Capitol Hill, the neighborhood adjacent to downtown and specifically to Pine Street immediately outside the East Precinct headquarters. There, the SPD formed a line and protesters were kept behind barricades. The protests were peaceful but nearly every night of the standoff, SPD would seek out excuses to disperse crowds at the end of the night with gassing and projectiles. This caused a city wide outrage and demands that Mayor Jenny Durkan and Chief Carmen Best immediately cease these aggressive stances taken by SPD. The Mayor promised the gassings would end but they reoccurred the day after she made the promise. Her failure led to considerable outcry that she resign.
On Sunday the 7th, on the scene citizen cameras captured a car racing down an adjacent street full of people towards the main intersection containing a bulk of the protesters. Citizens near by stepped in to place a barrier before the car to get it to stop, which it did, while another young man confronted the driver through the open window. The assailant/driver then used his handgun to shoot the young man, exited his car flashing his firearm and fled through the crowd and then crossed the barricade and casually approached the line of armed police with a thumbs up sign and turned himself into police. The hero who confronted him and was shot, was taken to the hospital with a gun shot wound to his arm but is recovering. The assailant was given a minor charge and made bail. He was revealed to be a brother of a police officer at the East Precinct and has now allegedly claimed he was "scared" and being chased by a mob and only fired his gun because he was afraid he was being assaulted. This, despite the fact the videos of the incident indicate no one was chasing him in his car and he was speeding down a street full of people towards a larger crowd of people and in an area that was known to be the sight of a large public demonstration.
By this Monday, the 8th, the standoff was taking its toll on the city and the Seattle Police Department was ordered to stand down and remove all items from the East Precinct and abandon the building which was boarded up.
On Wednesday the 10th, Trump tweeted his anger and threatened the Governor Inslee and Mayor Durkan that he would take steps if the protest wasn't ended. Today, national news outlets began spreading a number of bogus stories and images about the situation in Seattle.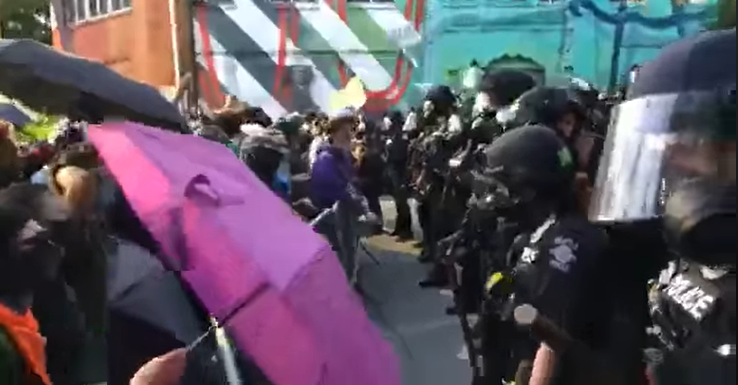 Things to be aware of:
There is no "warlord" in charge of the area. No one is being extorted. There are activists and protesters in the area but they are there to educate as well as ensure that outside agitators don't try to burn the East Precinct building. The area continues to be the site for peaceful gatherings that have included screening an educational documentary about the Black Lives Matter movement in front of the police building.
The "CHAZ" zone is not cut off from food, or any kind of utilities. Again, despite Chief Best making vague claims that local businesses are being forced to pay money to "war lords" in order to remain open, none of that has been substantiated with numerous people contacting businesses and businesses themselves speaking up to say, "this is not true".
No one is being prevented from entering or leaving the area. If someone showed up acting inappropriately (threatening to commit violence against property or people) then it's probably very likely that they would be confronted by protesters not allowing that to happen. The area is actually the safest it has been in days, since the people inflicting the most violence (gassings and projectile bombings) were the Seattle Police Department and they are now gone.
So…there you have it, Rest of the World. Seattle is not in ruins or controlled by a mob of Liberal Anarchist Warlords! We're actually delighted the nightly tear gassings by the Police are gone and the streets are now quieter than they have been in over two weeks. Yes, there was some damage/looting/bad behavior from some protesters on that first big rally day on May 30th and some random nonsense since then, but most of the bad stuff was caused by the cops, the violent attacks against people protesting against…police aggression towards the Black community.
You can all rest assured that you may continue to drink your Starbucks blended beverages while ordering your favorite merchandise via Amazon as you type away on your computers utilizing the finest Microsoft products as you plan your vacation getaways on a Boeing aircraft.
WE'RE FINE!!!
(Visited 8 times, 1 visits today)