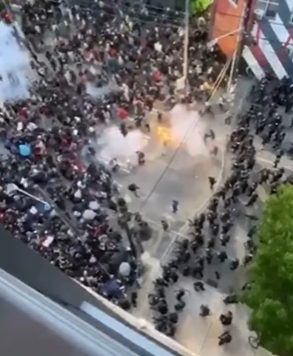 Normally the first day of June would involve a lovely gathering of community leaders at Seattle City Hall for a joyfully "proudful" photo opportunity with the Mayor and community leaders to raise the Pride flag at City Hall thus starting a month of LGBTQ Pride events in Seattle and the metro area.
Things were a BIT different this June 1st as the year 2020 has provided not only the local LGBTQ community but the world in general a number of devastating setbacks including the coronavirus pandemic which has killed thousands of people around the world as well as crippling economies and ripping apart the lives of nearly every person on the planet to one degree or the other. As a result, the annual Seattle Pride Flag raising event was postponed from its usual June 1st date.
On top of that worldwide crisis which has hit the United States particularly hard thanks to the devastating lack of leadership from the failed administration of President Donald Trump, we're now dealing with justified protests and riots caused by decades of systematic racism and the murder of unarmed people of color, particularly people of African descent at the hands of murderously racist police officers who refuse to obey the law and are seldom punished for their actions. In the last two weeks, the murders of unharmed African American men, especially the slaughter of George Floyd in Minneapolis by a gleeful police officer has now resulted in not only nationwide but worldwide protests at a problem politicians and city, county and state officials have refused to resolve.
Floyd was murdered a week and protests erupted nationally over the course of the last week most violently in Minneapolis but other cities saw violence over this past weekend including Seattle which saw an originally peaceful demonstration downtown spiral out of of control with the Seattle Police Department impatiently trying to end demonstrations by a show of force as well as acts of looting and destruction by a variety of elements including alleged acts by anarchist groups and white supremacist organizations trying to stir up antagonism towards the Black community and the Black Lives Matter movement.
Those protests resulted in Seattle Mayor Jenny Durkan ordering a 5pm to 5am curfew for the city which had little effect as protests both peaceful and not continued throughout the weekend. There were hopes that the start of a new week would result in a cooler atmosphere and fewer demonstrations of any kind but even larger crowds showed up Monday, June 1st with the bulk of protesters both peaceful and respectful of property.
But, apparently the city of Seattle and the Seattle Police Department headed by Chief Carmen Best have tired of dealing with the situation and have shown increasingly heavy handed reactions towards lawful gatherings of protest. The SPD have been routinely "rounding up" crowds and corralling them into designated staging areas in an effort to totally control situations. Both Sunday and Monday, that resulted in SPD herding crowds to barricaded areas around 11th and Pine Street on Capitol outside the East Precinct Station.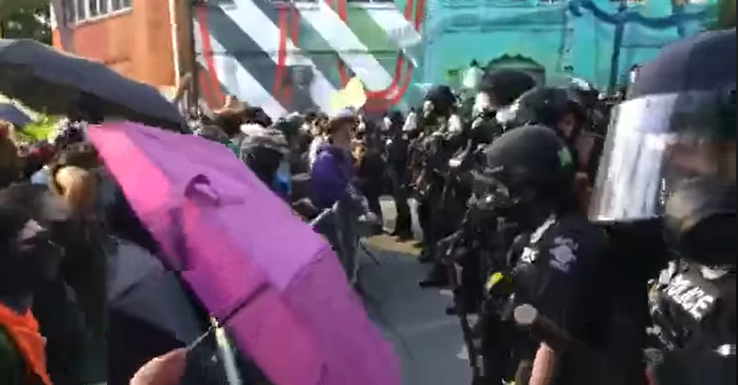 The crowds were respectful on Monday night but apparently SPD grew restless and decided to "wrap up" before sundown by spraying tear gas and shooting off explosive flash grenades on terrified crowds who fled from the scene. Multiple videos from the night (here and here among many and a trigger warning for disturbing images of violence) captured the horror of the excessive violence committed by the Seattle Police Department including live video from a CNBC camera crew that featured a rattled on air reporter being hit by a grenade and CNBC anchor Brian Williams urging the reporter and crew to remove themselves from the scene of the violent attack.
We're gonna express an opinion here that last night's actions on the part of the Seattle Police Department, led by Chief Carmen Best and Mayor Jenny Durkan and her administration, were an over the top, dangerous, ill-conceived and fascist response to the situation that cannot be repeated. Chief Best and Mayor Durkan need to take control of their police force and they need to listen to the citizens of Seattle and not violently attack them.
For a city that is supposed to be a liberal stronghold of freedom and civil rights, the actions of the Seattle Police Department on June 1st are an embarrassment and an affront to its citizens. It cannot happen again.
(Visited 10 times, 1 visits today)