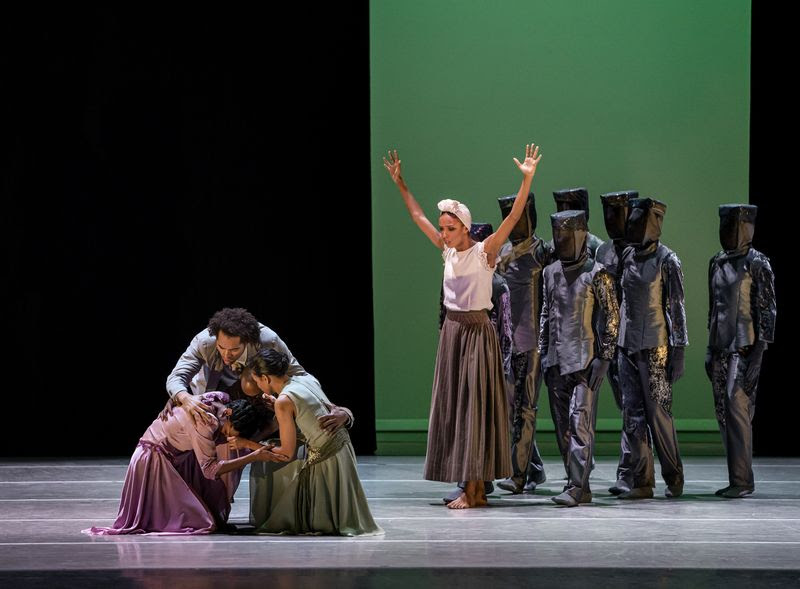 In his fifth collaboration with Alvin Ailey's American Dance Theatre, Seattle based choreographer and artistic director of Spectrum Dance Theatre, Donald Byrd created GREENWOOD, a piece inspired by the 1921 Tulsa Massacre that destroyed a thriving and successful Black community at the hands of angry white mobs.
(If you watched HBO's Watchmen limited series that debuted in 2019, you should be aware of the Tulsa Massacre; it was depicted in the series and served as an important plot point.)
Greenwood premiered in New York this past December and it was filmed. I In a timely move, the film debuts online Thursday, June 18th and will be available through June 25th on Alvin Ailey American Dance Theater's YouTube, Instagram, and Website – Ailey All Access.
Via press release from Spectrum Dance Theatre…you can support the work of Donald Byrd and Spectrum by going HERE to make a donation.
As a way to support the ongoing education, awareness, and consciousness of Black Lives and Black History, our offering this week, "GREENWOOD," is presented in conjunction with observances of Juneteenth, the oldest nationally celebrated commemoration of the ending of slavery in the United States.


Most non-Black Americans, until recently, probably have not heard of it. On June 19, 1865, Union soldiers, led by Major General Gordon Granger, landed at Galveston, Texas with news that the war had ended and that the enslaved were now free. This was two and a half years after President Lincoln's Emancipation Proclamation – which had become official January 1, 1863. (The History of Juneteenth)


"GREENWOOD," inspired by The 1921 Tulsa Massacre, was created for the Alvin Ailey American Dance Theater and premiered at New York's City Center on December 6, 2019. It is one in a series of works (including SHOT and STRANGE FRUIT) that I've created as a response to the historical and current violence inflicted on Black people and Black communities. Each work investigates various methods and theatrical strategies for telling the stories of those murdered, terrorized, and brutalized; and in the case of communities, often destroyed and razed. 

Before you watch "GREENWOOD," read this first: The Greenwood Story.

While "GREENWOOD" focuses on a specific community, it was not unique for its time. Another shockingly similar event was The Rosewood Massacre in 1923. It was an attack on the predominantly African American town of Rosewood, Florida by large groups of white aggressors. "The town was entirely destroyed by the end of the violence, and the [Black] residents were driven out permanently" (History.com, 2020). 

Greenwood and Rosewood are like the murders by police of George Floyd, Breonna Taylor, Rayshard Brooks, Nina Pop, and, sadly, numerous others, whose deaths are not the actions of a few "bad apples." But rather evidence of how deeply embedded racism and white supremacy are in America's history, its culture, and its institutions.

As I write this, I feel my OUTRAGE rising up, yet again…

– Donald Byrd
(Visited 2 times, 1 visits today)