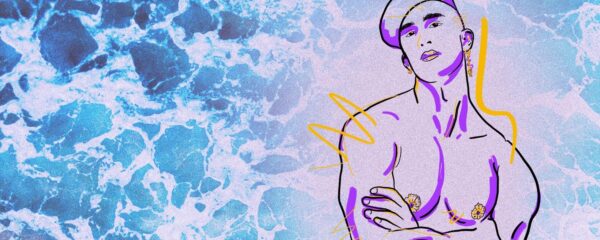 DJ Nark's uber popular Pride Cruise will return for Seattle's LGBTQ Pride Weekend this year. And, once again there will be TWO boats afloat on Saturday, June 25th…set sail on a gay drunken booze cruise on the SS Islander and the SS Spirit of 76 for a three hour cruise around Lake Union/Lake Washington. It's a super special way to celebrate your Gay Pride…with horny, boozy men on a boat!
Even though ticket prices are a tad bit higher than previous years (it made us gulp, actually…inflation!) it's an event that tends to sell out! Snatch those tickets quickly at www.universe.com/pride2022
More skinny:
Seattle's legendary pride cruise by Nark Magazine returns, this event sells out EVERY year, don't sleep on it! Featuring two boats cruising around Seattle in tandem, join us on the Islander Yacht or the Spirit of 76 as we celebrate pride, summer, and general hot girl shit. Featuring multiple DJ's, full bar, and lots of butts. Special Guest DJ's TBA. Hosted by Terry Miller (Tom of Finland). Boats start boarding at 1pm, depart at 2pm, and return at 5pm! Space is limited due to COVID restrictions, snag your ticket!

Note: Normal refunds available up until week of event, as an adaptation of the chaos COVID has rained down upon events and nightlife refunds will not be issued if event is canceled due to mandated lockdown or similar occurence, but a new date will be rescheduled if so and tickets will remain valid, thank you for supporting your communities!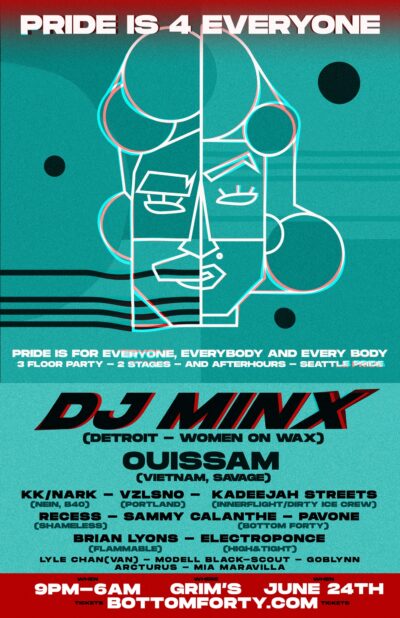 Nark Magazine is also producing a Pride Party event the night before, on Friday, June 24th. In collaboration with Bottom Forty, PRIDE IS FOR EVERYONE will take place at The Woods, 1512 11th Avenue (next door to Queer Bar) and feature a " 2 stages, 3 levels, a fkton of lazers, installation, demos and an all night love affair of dance into the morning light brought to you by some of the best this beautiful and amazing city has to offer in this one-time only space.This is a pride party for everyone, everybody and every body, because love and dance floors are not exclusive."
It's very much a DJ centered night with this line-up:

DJ MINX (Detroit, Women on Wax)
OUISSAM (Vietnam, Savage)
VZLSNO (Portland, Chanti Darling)
KK/NARK (NEIN, Bottom Forty)
KADEEJAH STREETS (Innerflight / Dirty Ice Crew)
RECESS (Shameless)
SAMMY CALANTHE (Bottom Forty
PAVONE (Bottom Forty)
BRIAN LYONS (Flammable)
ELECTROPONCE (High&Tight)
Oh, and lots of hot gogos.
Go to https://www.universe.com/events/pride-is-for-everyone-2022-by-bottom-forty-tickets-Z2SKW1 for tix.
(Visited 62 times, 1 visits today)